Dispatches From the Culture Wars - May 25, 2021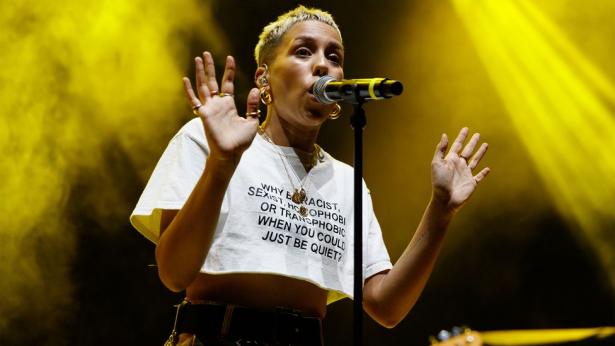 Poppy Ajudha (performing in 2019) relishes the transformative power of pop music. Credit,Burak Cingi/Redferns/Getty Images
Israel's Actions Endanger Jews Everywhere

By Rodger Moran and Max Chorney
Canadian Dimension
Netanyahu claims to have the best interests of Israel and the Jewish people in his heart, but the policies and actions of his government make life more dangerous for Jews in Israel and abroad.
The surge in anti-semitic incidents comes at a moment when such attacks were already elevated. In 2019, the Anti-Defamation League recorded more than 2,100 cases of assault, vandalism and harassment against Jews across the U.S., the most since tracking began in 1979.
The Consequences of 'Teaching Palestine'
By Doree Lewak, Georgett Roberts and Bruce Golding
New York Post
A Brooklyn middle school principal this week urged teachers and administrators to demand government sanctions against Israel — sparking outrage and a pending probe by the school system's independent investigator.
Roe v Wade Faces Hostile Court
By Mary Ziegler
The Atlantic
This week, the Supreme Court agreed to hear a case that could result in the overruling of Roe v. Wade. The case, Dobbs v. Jackson Women's Health Organization, involves a Mississippi law that bans abortion starting at the 15th week of pregnancy. Significantly, the statute draws the line before fetal viability—the point at which survival is possible outside the womb. 
By Esha Krishnaswamy
Historic.ly
During the cold war, when many countries became "communist", many US corporations could no longer engage in the cycle of colonial exploitation and this is where actual "war" part came into effect.
By Abe Streep
The New Yorker
Prosecutors have an incentive to maintain a good relationship with the police department. Jurors tend to trust and sympathize with law enforcement. Courts grant officers significant leeway in use-of-force cases: if officers who claim self-defense can demonstrate that they feared for their life or someone else's, they can almost always avoid conviction. 
By Arwa Haider
BBC
The meaning of pop has broader possibilities than ever for contemporary fans – whether they're learning new vocab and social perspectives while following their favourite K-pop, Afrobeats or Latin stars, or posting responses to Billie Eilish's "hidden message" in a multiplicity of scripts.
A Trevor Project survey found that LGBTQ youth who had at least one accepting adult were 40% less likely to report suicide attempts in the past year.
Miguel Savransky interviews John Gianvito
Jacobin
Helen Keller is well known to Americans as a writer, educator, and advocate for the disabled. But few know of her commitment to socialist politics as the route to a more just world.
By Marianne Williamson
Newsweek
American militarism today is no less dangerous, and no less a threat to our democracy and to our world, than it has ever been. In fact, it is more so. It is a budgetary behemoth that pollutes our planet, defines our economy, undermines our moral authority around the world and recklessly increases the risk of nuclear tensions all in the name of our "security."