Media Bits and Bytes - Going Global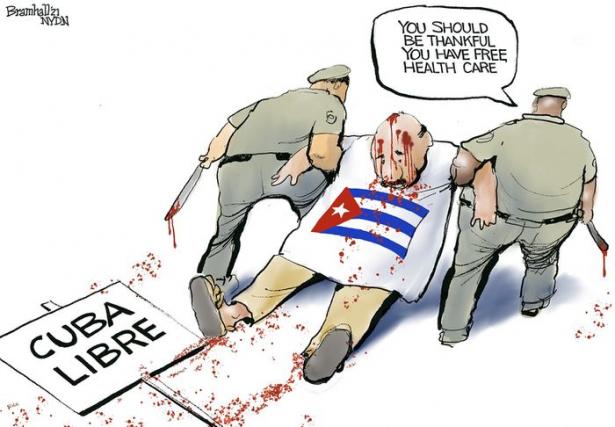 Mainstream media's view of democracy in Cuba and the US, summed up in one cartoon. Credit,Bramhall/New York Daily News
Canada: Big Tech v News Publishers
By David Skok
NiemanLab
In February, Australia passed a law requiring Facebook and Google to negotiate content deals with media outlets; if negotiations failed, the government would impose fees. Canada then signaled it would adopt a similar approach.
By Raul Lorenzo
newsinamerica.com
Since the beginning of protests in Cuba, the US corporate media have been peddling false narratives and outright lies about the country.
Political Economy of Media in Africa
By Chanda Mfula
Review of African Political Economy
From colonialism to postcolonialism and throughout the post-cold war era, and into the 21st Century, media in Africa has remained at the service of the propagandistic and capitalistic needs of local and global elites.
By Chiara Cruciati
il manifesto Global
Amnesty Tech, the collective of hackers and researchers from the human rights association, has developed Mvt, the Mobile Verification Toolkit, a free and downloadable online tool that lets you know if the Pegasus spyware has attacked your Android or iOS device.
By Raphael Tsavkko Garcia
Equal Times
In one of the most unequal countries in the world, where the far-right President Jair Bolsonaro has led a disastrous Covid pandemic response which has exacerbated racial inequalities, social media platforms are providing a crucial space for young, Black content creators.
India: Women Raise Internet Hell Over Caste
We have been fighting to build an inclusive world for a long time now. Last week too, many strong voices came forward and continued to spread the message of inclusivity aloud.
Will China Restrict Algorithms?
By Shawn Lim 
The Drum
China is cracking down on big tech with a six-month-long campaign that will address the 'tough problems' of the internet industry, including disturbing market order, infringing users' rights, threatening data security, and unauthorized internet connections.
Turkish Workers Make TikTok Work for Them
By Elif İnce
The Guardian
With posts from factories, fields and construction sites, workers in Turkey are going viral on TikTok. The app's staples such as challenges, dancing and comedy abound, but amid the joy it is hard not to miss the criticism of dire working conditions.
African Governments Take on Social Media
The African continent is the least tolerant of social media globally, a new tracker says. Thirty African countries have restricted social media access in this period, out of a total of 66 globally.
El Salvador Makes Bitcoin Legal Tender
By Lawrence Wintermeyer 
Forbes
When El Salvador decreed that bitcoin was to be made legal tender, the news reverberated around the world. It remains to be seen whether cryptocurrencies are a panacea for a reserve currency for developing nations.