labor
A New App Is Taking Labor Unions Out of Union Organizing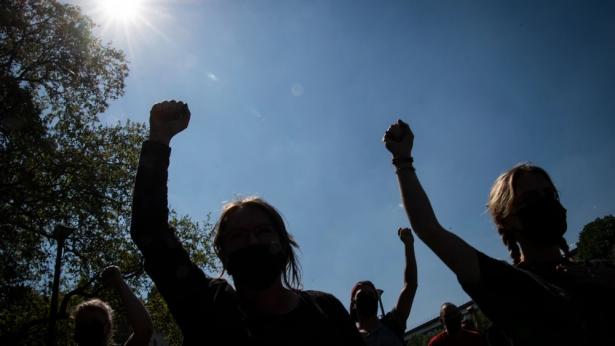 PHOTO BY LOIC VENANCE/AFP VIA GETTY IMAGES
In July, a group of cell tower technicians who work for an AT&T contractor in the Philadelphia area approached the International Brotherhood of Electrical Workers (IBEW) for help unionizing. The technicians' wages were stagnant, they didn't receive sick days, and had been urinating and defecating in trash bags and water bottles because their contractor wouldn't provide port-a-potties. 
The IBEW never responded to the technicians—so they took a chance on a new startup for union organizing called Unit, which launched in December 2020 with $1.4 million in funding from various venture capital firms. Unit is "a platform that helps you and your coworkers form a labor union" by offering a set of tools, including a web app and a team of advisors that help clients facilitate and expedite the unionization process. It is designed to help with everything from inviting coworkers to join and sign union authorization cards, certifying the union, and negotiating a union contract with the aid of lawyers, accountants, and union organizers. Notably, it allows workers to do this as an independent union, without the aid of an established or nationally recognized union. 

The AT&T technicians aren't far along in the unionization process, but one of the lead worker organizers says Unit has been a big help so far. "It's been great," the technician told Motherboard. "They helped me set up meetings with workers to explain the unionization process, provided legal advice, and gave us access to digital union authorization cards. You can send a text and the person follows the link, and they sign the digital card. It's so easy."
The technician told Motherboard that the main benefit of joining Unit is that the dues are less than many national unions charge. "Unit only takes 0.8 percent of your income. Most unions take a lot more," he said. 
Workers begin paying fees to Unit after they ratify their first contract, which often includes pay increases that are larger than union dues. 
Unit is one of several new ventures that aims to make it easier for workers to organize for better conditions at work in a moment of resurgent interest in the labor movement but historically low union membership. Only 12.1 percent of workers in the US are union members, but nearly half of all non-unionized workers say they would join a union if they could, according to a 2017 poll. Most national labor unions are non-profits, but Unit is a for-profit company.
During the pandemic, union organizers across the country say workers have been increasingly seeking help with unionizing their workplaces. But many unions don't have the money or staff necessary to organize everyone, especially smaller companies in the non-profit and tech sectors. Often, they have to turn workers away. 
Four union organizers Motherboard spoke to say new efforts to help workers organize are generally a welcome development. But, at the same time, some say the rise of these platforms raises questions about whether digital tools can actually address the root cause of declining union membership in the United States. 
One of the core questions is whether a for-profit Silicon Valley-backed startup can make the hard work of winning union drives—signing union authorization cards, building worker power through solidarity actions, and fighting union-busting campaigns—any easier. Also at stake is whether Unit can provide the ongoing support that established unions offer during the contract bargaining process and when members have grievances.
"I obviously welcome every attempt to facilitate organizing," a union organizer who has significant experience with the non-profit sector and has seen a major increase in organizing demand over the last year, told Motherboard. "But to build power for workers takes the investment of time and energy and finances to create and sustain and enforce change, and I have concerns and questions about long-term viability." (Motherboard granted the organizer anonymity because they feared retaliation for speaking to the press.)
Organizers and experts widely agree that weak and eroded labor laws in the country make it difficult to unionize and embolden anti-union employers to union bust. Though tools such as digital card check and private or anonymous organizing channels (such as Slack, Signal, or Discord) can help workers organize, the problem doesn't boil down to a lack of access to these technologies, organizers say.
Besides Unit, there's Frank, a Chicago-based company that provides a manager-free digital space for workplace organizing with tools for polls, petitions, vetting coworkers, and workplace mapping that isn't limited to union organizing. Both Unit and Frank are for-profit companies that have raised $1.4 million and $2 million in venture capital, respectively, but are registered public benefit corporations, meaning they have met certain environmental and social standards. A third platform, called UniteOnline, run and funded by Silicon Valley entrepreneur Brian Fisher, also aims to help rapidly unionize large companies with multiple worksites, but has kept its tools and methods under wraps. 
"There are hundreds of new HR tools developed every single week, and billions of dollars being invested, but there aren't enough resources specifically for building worker power," Logan LaHive, the founder of Get Frank, said. "We genuinely believe workers deserve a lot more." 
James Earl White, Unit's founder, and an MIT graduate, founded Unit after volunteering with several labor organizing campaigns in college, and studying how unions can reduce income inequality. He told Motherboard that Unit has been in talks with national unions about sending workers to them once they unionize—although workers who unionize with Unit can choose to remain independent and Unit promises to provide organizing and legal advice for bargaining. The company has not yet publicly announced any metrics. 
"We never aim for Unit to replace the organizing process and this isn't about creating a communication venue. That has nothing to do with our app," White told Motherboard.  "The fact that we can catalyze our workers and speed up the process—that's how we can really make a difference. The less time organizers can say the same thing over and over, and the more time they can spend strategizing, the better."
---
Earlier this year, a group of disgruntled private high school teachers in an affluent Chicago suburb approached a handful of unions for help organizing. The Illinois Federation of Teachers politely declined to take them on, citing a lack of resources—and no other unions got back to them.
Out of options, the teachers approached Unit, and held a series of training sessions with the help of the app to gauge interest and explain the nuts and bolts of unionization. With the help of Unit, they filed a petition to hold a union election and received a green light from the National Labor Relations Board. 
Immediately, according to one of the teachers, Penina Beede, the high school responded with a classic union-busting campaign, holding a series of anti-union attacks of mandatory anti-union meetings, and sending threatening emails to staff—arguing that a union could bargain away their benefits and drain their paychecks by deducting dues. These standard anti-union arguments that cast the union as an outsider didn't apply since workers had formed an independent union; they were the union. 
But the scare tactics worked; when it came time to vote, the majority of teachers had been swayed to vote against the union. The union lost by one vote. (Motherboard agreed to keep the name of the school private—because the drive has not gone public and some workers are still trying to unionize.)
"If we had foreseen that kind of misinformation that they'd spread during our campaign, we'd have nipped it in the bud as soon as possible," said Beede. 
Since then Unit has hired two full-time organizers–one of them a former Writers Guild of America East organizer, and Beede, who quit her job at the high school to work full-time at Unit, coaching clients through the unionization process. The app is still working through kinks, specifically how to fight anti-union campaigns, which can be ruthless and demoralizing for workers. 
Grace Reckers, the lead northeast organizer at the Office and Professional Employees International Union (OPEIU), who has helped organize a successful union drive at Kickstarter, has been in talks with Unit about how the app can help with the backlog of workers that have approached her for help unionizing. 
"We've seen a lot of interest in organizing," Reckers said. "But we're feeling pinched when it comes to bargaining contracts. One of the problems Unit and Get Frank solve for us is with smaller units that want to unionize. It makes sense to have a less resource intensive process." 
The most resource and time-intensive part of the unionizing process is bargaining contracts. A first contract requires a dedicated negotiator and organizer, and can take years, especially with companies who hire expensive law firms to fight off unions. A contract for a company with 10 workers can require as many hours and resources as a contract for 200 workers, but the returns for unions aren't as big if the bargaining unit is small—so many of them strategically decline to take on smaller units. 
Unit's model currently provides negotiators and lawyers for negotiating each contract, but  it's unclear if it will remain that way as the app grows. The app has yet to get to the contract negotiation stage with any unions.
Reckers said that she has questions about whether apps can provide the resources and expertise needed to fight union-busting campaigns. "The challenge that these apps don't solve is what to do with a boss campaign, what to do if there's retaliation, if there's a lot of pushback, and what to do when they need outreach and trusting relationships," she said. 
"My hesitation [with these apps] is that they are solving a problem that doesn't exist," another union organizer, who works for a major national union and asked to remain anonymous, told Motherboard. "Employers with impunity can destroy campaigns without facing retaliation or consequences from the government. That's the problem. It's not a lack of access to communication channels or legal mechanisms."
For other organizers, there's distrust of Silicon Valley venture capital-funded platforms, which have underpaid workers to keep investors happy and gone back on promises not to share user data. One of Unit's top investors, Bloomberg Beta, is owned by Michael Bloomberg's media company. As New York City mayor, Bloomberg extracted concessions from the city's unions. 
Michelle Miller, founder of the non-profit Coworker.org, a platform that allows workers to organize petition-based campaigns and a former SEIU organizer, says that while she's excited about the resurgence of interest in the labor movement and technologies that can allow workers to experiment and test out new forms of organizing for the future—Unit and Get Frank's financial model raises some red flags. "I think it's a testament to this moment of resurgence in passion and interest in the labor movement," she said.
"But these apps are funded by private capital. What happens when private capital comes in and does our organizing work is that we don't reap the benefits from our work," she continued. "It's not going back into the labor movement and teaching us how to do our work better. My primary concern is if we are trying to learn all the lessons for building a stronger labor movement, then those lessons can't be the intellectual property of private entities. It's extractive and frankly sucks." (Miller's non-profit CoWorker.org is funded through grants.)
White, Unit's CEO, said he didn't think the app would be sustainable without venture capital. "It's a choice that we thought a lot about," White said. "We looked at becoming a non-profit, taking charitable donations as funding, but the rapid expansion of something that depends on software— the only feasible way to do it was through venture capital. We had to think about how to do this ethically, and separate the control and ability for venture capital to change the mission of the company."
Other organizers worry that the Unit model won't be successful without the strength, experience, power, and resources of a large established union, and that it won't be financially sustainable in the long term. 
"It takes a lot of work and pressure to win bargaining units that are appropriate and create the fullest group of non-supervisory employees," the union organizer who organizes in the nonprofit sector told Motherboard. "It's not an easy process. I know that from experience. We've picked up on management's strategies, who they're using as legal counsel. It can't be replicated out of the blue."