The South Grows More Racially Diverse Ahead of Redistricting Battles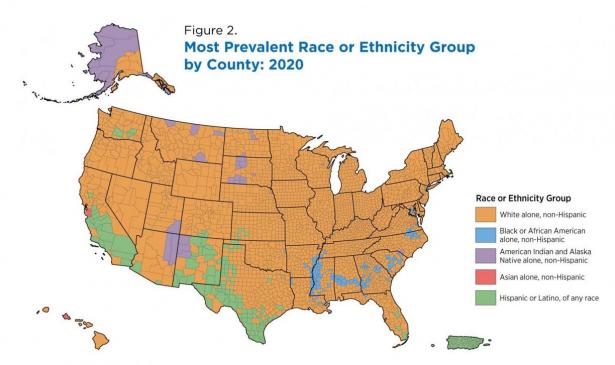 Source: U.S. Census Bureau, 2020 Census Redistricting Data,
Initial data released in May had already shown population growth led by people in the South and West, resulting in Texas gaining two congressional seats and North Carolina and Florida each gaining one.
The data will now be used by state legislatures to draw new congressional and legislative districts in a process shortened by delays due to the coronavirus pandemic. Republicans control the legislatures in every Southern state except for Virginia, where last year voters approved the creation of a bipartisan redistricting commission to avoid gerrymandering, a practice whereby districts are drawn to benefit or disadvantage a party, in the case of partisan gerrymandering, or race, in racial gerrymandering. It's set to begin work on Aug. 26.
Experts say the data show that the U.S. and the South are moving toward less binary racial politics.

"Where the growth is taking place, it is not just Black versus white — it is this more complex arrangement," says Charles Bullock, who chairs University of Georgia's political science department and specializes in Southern legislative politics and electoral systems. "Because of those areas being the growth areas, that's where new seats are going to go — particularly, we're talking about state legislatures."
"Then it's much harder for them to be drawn so that they extend pie-shaped or bacon-shaped out of an urban area to pick up more Republicans," he said, referring to gerrymandering.
Nationwide, the number of non-Hispanic white people shrank from 223.6 million in 2010 to 204.3 million today, while their share of the U.S. population fell from 72.4% in 2010 to 61.6% in 2020 — the lowest on record. The Hispanic or Latino population increased by 23% to 62.1 million, the Black or African American population increased 5.6% to 41.1 million, the Asian population by 35.5% to 19.9 million, and the American Indian and Alaska Native population increased by 27.1% to 3.7 million. Multiracial people, who identify as two or more races, saw their numbers jump dramatically from 9 million in 2010 to 33.8 million people today, a 276% increase.
The demographic trends in Southern states, particularly key national political battlegrounds, mimic the nationwide trends. Texas, which was already home to three of the largest U.S. cities over the past decade, gained the most residents of any state since 2010. Its Hispanic or Latino population of 11.4 million — up from almost 9.5 million in 2010 — is now nearly as large as its white population of about 11.5 million, which represents a slight increase over the 2010's 11.4 million, as the Texas Tribune reported. Georgia also diversified significantly in the past decade, with its Asian, Latino, and Black populations respectively growing by 53%, 32%, and 13%, according to the Atlanta Journal-Constitution.
Whether the South's greater diversity will lead to more political power for communities of color through the redistricting process remains to be seen. Elections experts have noted that Southern states are at a particularly high risk for partisan gerrymandering this redistricting cycle, the first since the Supreme Court in 2013 struck down the section of the Voting Rights Act of 1965 that required federal preclearance of election maps in states and counties with a history of racial discrimination in elections. It's also the first round of redistricting since the Supreme Court ruled that questions of partisan gerrymandering should be left to the states.
In some states, Republican legislative leaders are already saying they will refuse to look at census racial data when they draw new election maps. In North Carolina, for example, where federal courts rebuked the legislature for engaging in racial gerrymandering after the last census, the GOP recently announced its criteria for redistricting, which include a ban on the use of census data related to race.
Allison Riggs, a voting rights lawyer with the Durham-based Southern Coalition for Social Justice, says lawmakers can't comply with the Voting Rights Act's ban on racial discrimination in elections without knowing the race of voters. "'Race-blind' redistricting is neither legal nor moral (and no one who draws maps is unaware of the racial implications)," Riggs tweeted recently. She warned that "anyone who says they can/will comply with Section 2 of the VRA without looking at current racial data … will be looking at a hefty court bill."
At the same time, experts have noted that the decline in the country's white population could stoke the kind of white nationalist politics embraced by former President Donald Trump. "This has been going on for 20 years — the sense that whites will become a minority," Heidi Beirich, co-founder of the Global Project Against Hate and Extremism, told The Hill. "It's the major fuel to the far-right, to white supremacists, and to people who don't like immigrants."
'Growth South' vs. 'stagnant South'
Besides showing an increase in racial diversity, the new census data also reveal that people continue to move out of rural communities to urban and suburban areas. In North Carolina, the Charlotte metro area and the booming Triangle region are now home to nearly 39% of the state's residents. The fastest growing U.S. metro area was in The Villages, Florida, a retirement community where the population increased 39% since 2010, from 93,000 to 100,000.
The census also reveals that not all places in the South saw population growth over the past decade. In fact, two out of the three U.S. states that lost the most residents in that time are in the region: Mississippi and West Virginia, which will lose a congressional seat. Experts say that loss can be explained by a lack of economic opportunity.
"You look at a place like Texas, and you look at a place like Georgia, their population is growing. It has a lot to do with economics and the ability to find jobs," said Jamiko Deleveaux, a demographer at the University of Mississippi's Center for Population Studies. "A lot of businesses are relocating to those states, and that is going to attract workers."
Bullock of the University of Georgia says the South is evolving into two distinct subregions. "What I refer to as the 'growth South,' which is essentially the eastern seaboard plus Texas, is undergoing dramatic growth, and with the growth comes change, while the rest of the South — the 'stagnant South' — is not growing and therefore we don't see the same kind of change in its demographics or in its partisan leanings that we see in the growth South," he said.
(Billy Corriher contributed to this report.)
[Elisha Brown is a Julian Bond Fellow at Facing South. She previously worked as a news assistant at The New York Times, and her reporting has appeared in The Daily Beast, The Atlantic, and Vox.]