Global Left Midweek - October 6, 2021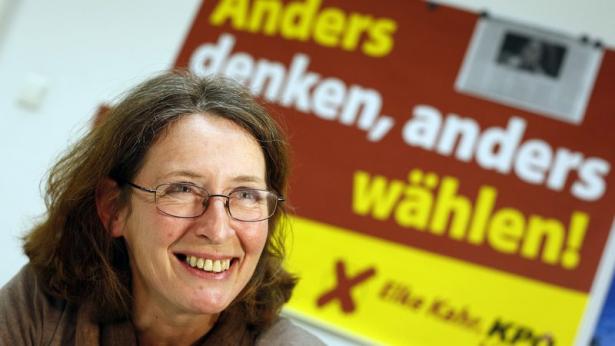 "This result is indeed more than surprising," said Elke Kahr, Communist lead candidate in the city of Graz, Austria. Credit,EPA-EFE/ Georg Hochmutz
__________
A Big Win For Communists in Austria's Second City
Walter Müller and Elisa Tomaselli / Der Standard (Vienna)
The second largest city in Austria could soon have a communist mayor. But Elke Kahr's electoral success was preceded by years of hard work.
__________
Iran: Oil Workers Organizing
Mohammad Ali Kadivar, Peyman Jafari, Mehdi Hoseini, and Saber Khani / MERIP (Chicago)
Groups that have announced their support for the demands of the striking workers include steel workers in Ahvaz, the Syndicate of Workers of Tehran and Suburbs Bus Company, the Council of Retirees, the Syndicate of Haft-Tappeh Sugarcane Workers, the association of teachers from Eslam-Shahr and Tehran, and different political opposition groups. 
__________
The Long Haitian Revolution
Pierre Labossiere, Margaret Prescod and Camila Valle / Monthly Review (New York)
France, Britain, Spain, later the emerging nation of the United States, put in power people and governments that would become enemies of the mass Haitian population, establishing the old colonial system of exploitation of the majority. The people of Haiti have continuously struggled against this colonial view and system of exploitation. We are seeing a continuation of this today.
__________
Afghan Leftist Speaks
Marcel Cartier and Selay Ghaffar / Green Left (Sydney)
As spokesperson for the leftist Solidarity Party of Afghanistan, Selay Ghaffar was well placed to help provide some clarity on the rapid advance of the Taliban through the country, as well as how the Afghan left was orienting itself against both reaction and imperialism.
__________
The Demand in Africa: Democracy
No More Strongmen  Nic Cheeseman and Sishuwa Sishuwa / The Conversation (Waltham MA)
Sudan  Noha Elhennawy and Ashraf Idris / AP (New York)
Tunisia  Tarek Amara / Reuters (London)
Kenya  Muna Ahmed / The Elephant (Nairobi)
Swaziland  Pariesa Young / France 24 (Paris)
__________
Murder of a Rohingya Leader
Al Jazeera (Doha)
Mohibullah, who was in his late 40s and had eight children, was killed by unknown gunmen. He led one of the largest community groups to emerge since more than 730,000 Rohingya fled Myanmar after a military crackdown against the Muslim-majority minority in August 2017.
__________
Quebec: Thousands Demand Climate Action
Marc Bonhomme / Socialist Project (Toronto)
More than 110,000 students in Quebec went on strike September 24, according to the Coalition étudiante pour un virage environnemental et social (CEVES – Student coalition for environmental and social transition), the Quebec organizer of the demonstrations together with the Innu collective Mashk Assi, Solidarité sans frontières and Pour le futur Montréal.
__________
Writing and Fighting: Monique Ilboudo of Burkina Faso
Mar Pozuelo Castillo / Equal Times (Brussels)
African women are different from one part of the continent to another, from one environment to another. They are fighting for more freedom and equality like so many other women around the world. This fight for full civil rights and against violence is central to their dignity. 
__________
Let Us Now Praise Famous Revolutionaries
Rosa Luxemburg For Today  Lea Ypi / Jacobin (New York)
Global Lenin  Adam Mayer / Review of African Political Economy (London)
Amílcar Cabral and Paulo Freire  Curry Malott / New Frame (Johannesburg)
Do You Remember Claudia Jones?  Lola Olufemi / Roar (Amsterdam)
Eric Hobsbawm, History Maker  Anjan Basu / The Wire (New Delhi)
__________
Comments on the UN Food Summit
Corporate Capture of Food Governance  Focus on the Global South / Rosa Luxemburg Stiftung (Berlin)
New Agri Model for the Global South  Jayati Ghosh / Social Europe (Berlin)
Challenge from Social Movements and Scientists  / Food Tank (Baltimore)