Songs of Justice, Songs of Power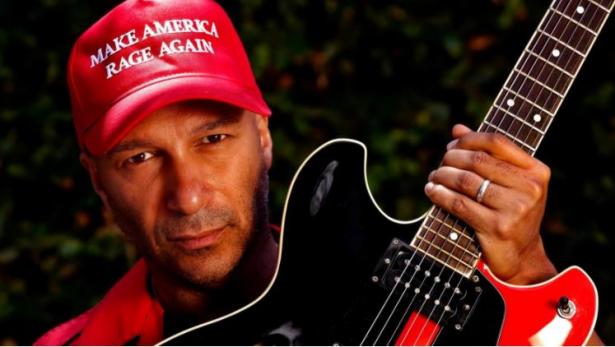 Tom Morello of Rage Against the Machine fame speaks on why music and politics go together.,Mel Melcon / Los Angeles Times
Harmonizing and hell-raising, rhythm and rebellion, poetry and politics, singing and striking. The Industrial Workers of the World — the shock troops of the early-20th-century labor movement — virtually invented the protest song for the modern age.
The I.W.W. was formed in 1905, advocating a militant revolutionary unionism, a cocktail of socialist, syndicalist and anarchist labor theory put into practice. It was always known as a singing union, and its songs were written by hobos and the homeless, itinerant workers and immigrants. I.W.W. songs — like "The Preacher and the Slave" and "Solidarity Forever" — looked an unjust world square in the eye, sliced it apart with satire, dismantled it with rage and then, with mighty sing-along choruses, raised the roofs of union halls and holding cells, "from San Diego up to Maine, in every mine and mill."
The goal of the Industrial Workers of the World — or Wobblies, as members were widely known — was revolution, not just winning strikes. Unlike other unions of the time, it accepted all workers as members: Black people, women, unskilled laborers, sex workers, immigrants of every race and creed. It sought to forge "one big union" of the entire global working class and used direct action, sabotage and the power of song in class war against the ruling class. Its reputation as a kick-ass union fueled by kick-ass songs remains the stuff of legend.

"Solidarity Forever" by Tom Morello: the Nightwatchman
Its songs, some more than 100 years old, addressed the same issues facing us today: poverty, police brutality, immigrant rights, economic and racial inequality, militarism, threats to civil liberties, union busting. "Casey Jones (The Union Scab)," "We Have Fed You All a Thousand Years," "Bread and Roses," "Ain't Done Nothin' if You Ain't Been Called a Red" — often set to familiar tunes and popular hymns of the day, these songs united workers from diverse backgrounds under the banner of solidarity. What's the antidote for divide and conquer? Work together, fight together, sing together.
Defiant and hopeful, these songs have an unapologetic mission: to fan the flames of discontent by lifting the spirits of those fighting for a more just and humane planet. The I.W.W. aimed to "create a new society within the shell of the old," and I hope you can hear that new world echoing here, where song meets struggle.
The Wobbly songwriters also laid the sonic and ideological groundwork for those who followed: Woody Guthrie, Lead Belly, Pete Seeger, Paul Robeson, Utah Phillips, Bob Dylan, Phil Ochs, Nina Simone, Bruce Springsteen, the Clash, Public Enemy, Billy Bragg, Ani DiFranco, System of a Down and Rage Against the Machine. Without them, there'd be no "This Land Is Your Land," no "We Shall Overcome," no "Masters of War," no "London Calling," no "Killing in the Name."
Much of my career has been one long audition to become a part of that legacy. I'm a union man and an unapologetic musical rabble-rouser. I've been a member of the Local 47 musicians' union in Los Angeles for 32 years, and I'm a proud card-carrying member of the Industrial Workers of the World — it lives on! My mom was a union high school teacher, and the Morellos were hardworking coal miners in central Illinois. The cause of workers' rights is in my blood.
[Read more about this project from Jane Coaston and Kathleen Kingsbury here.]
I've been greatly influenced by many of the songs and songwriters who carried that red union card. Playing acoustic protest music under my folk singer Nightwatchman moniker, I've written and sung dozens of tunes that owe a significant debt to this union's remarkable musical history. My song "Hold the Line," from my new album, is an example of how I've tried to carry forward that legacy.
"Hold the Line" by Tom Morello (feat. grandson)
My guide has been Joe Hill, who epitomized the I.W.W.'s anarcho poet warrior. He is my favorite musician of all time, even though there are no known recordings of him playing or singing. He was a tireless crusader for justice through his music, and his jams are a fine starting point for aspiring rebels. Hill was an I.W.W. organizer and a true musical and political revolutionary. He walked it like he sang it. That's why the mine owners and the other bosses out West, and the politicians who did their dirty work, were afraid of him. And in the end, that's why in 1915 he was executed in Utah on a trumped-up murder charge.
"A pamphlet, no matter how good, is never read more than once, but a song is learned by heart and repeated over and over," Hill famously said. His songs ("There Is Power in a Union," "We Will Sing One Song," "Joe Hill's Last Will") are sung today and will be tomorrow.
I've traveled far to pay my respects to the heroes of the I.W.W. I've placed flowers on Mother Jones's grave in Mount Olive, Ill. I've hummed "The Internationale" at the resting place of Big Bill Haywood's ashes in the Kremlin wall. And while on tour in Sweden, I made the hundred-mile trek from Stockholm to Gavle, Hill's birthplace.
I sat by a little tree in the backyard that blooms where his ashes were spread, and I sang "I Dreamed I Saw Joe Hill Last Night," written in the 1930s by Earl Robinson from a poem written by Alfred Hayes in the years after Hill's death. The tiny room in the building where he and his family lived now serves as a union headquarters and museum. Fascists bombed the place 20 years ago. After all these years, they're still afraid of Hill; they're still afraid of his songs.
"'The copper bosses killed you, Joe. They shot you, Joe,' says I. 'Takes more than guns to kill a man,' says Joe. 'I didn't die.'"
"I Dreamed I Saw Joe Hill Last Night" by Tom Morello: the Nightwatchman
The songs live on wherever working people stand up for their rights, dreaming and scheming and struggling for something better than what was handed to them. These tunes are still sung on picket lines, at the barricades and through the tear gas haze of Group of 8 protests. They're even more relevant now as workers throughout the country — like those at Kellogg's, Nabisco and John Deere — are striking and taking to the picket line.
The I.W.W.'s mighty music of equality, justice and freedom is a reminder of struggles won and lost, as well as the battle hymns of struggles to come.
So get out there and start creating that new world. Maybe learn some of these world-changing jams. Then write some of your own.
[Tom Morello has spent over three decades melding music and political activism as a power guitarist with Rage Against the Machine, Audioslave and Bruce Springsteen and the E Street Band, with the acoustic chords of the Nightwatchman and in protests around the country.]