Global Left Midweek - October 27, 2021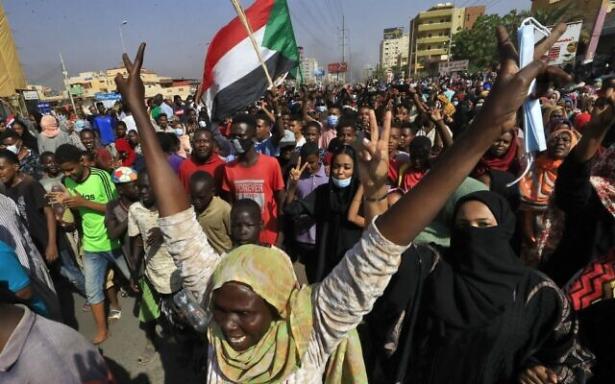 Protesters rally in Khartoum on October 25, 2021. Credit, AFP
__________
Masses vs Military in Sudan
Mohammed Amin / Middle East Eye (London)
Defiant protesters rallied across Sudan on Tuesday, a day after the country's armed forces launched a military coup and arrested the prime minister and several members of the country's transitional government. See also Workers call for unity [Susan Price / Green Left (Sydney)].
__________
The Struggle for Repro Rights is Global
Women of the International Assembly of Peoples / Brasil de Fato (São Paulo)
In honor of September 28th, Global Day of Action for Free, Safe and Legal Abortion, women from different regions of the world shared reflections on this crucial issue.
__________
Philippines Election
The Specter of Martial Law  Michael Beltran / The Diplomat (Arlington VA)
Duterte: Clock's Ticking  Joel Rocamora and Verna Dinah Q. Vaijar / Rosa Luxemburg Stiftung (Berlin)
Fork in the Road  Artchil B. Fernandez / Daily Guardian (Iloilo City, RP)
1Sambayan  Gabriel Pabico Lalu / Daily Inquirer (Manila)
Lakas ng Masa  Jairo Bolledo / Rappler (Manila)
__________
A Democratic Socialist to Lead Honduras
Brendan O'Boyle / Americas Quarterly (New York)
Xiomara Castro de Zelaya could make history in an already historic year: Her victory would make her the first woman to lead the nation since it declared independence from Spain 200 years ago. She has emerged as the opposition LIBRE party's best shot at ending the ruling National Party's 12-year hold on the presidency.
__________
The Storm in Swaziland 
Opposition to King: No Dialogue  Peter Fabricius / Daily Maverick (Johannesburg)
SADC's Mediations  Editorial / New Frame (Johannesburg)
__________
Prison Abolitionism in the Prairies
Jake Pesaruk / Canadian Dimension (Winnipeg)
A vast enclave of organizations have found solidarity under the banner of the Saskatchewan, Manitoba, Alberta Abolition Coalition (SMAAC), which aims to address and correct the abuses and systemic racism that are widespread in these provinces' justice systems.
__________
Korean Strikers Take a Cue from Squid Game
Jen Kwon / CBS News (New York)
Thousands of people staged demonstrations in Seoul and elsewhere on Thursday, many in costumes inspired by the gruesome show that was itself inspired by the dire economic conditions facing many South Koreans.
__________
Disaster for the Czech Left
Duncan Eaton / New Left Review (London)
Two mainstay left-wing parties were evicted from the Chamber of Deputies entirely: the Czech Social Democratic Party (ČSSD) and the Communist Party of Bohemia and Moravia (KSČM). For the first time in the history of the Czech Republic, both parties fell short of the 5% vote threshold nationally needed to attain any seats.
__________
Deng's Legacy
Rebecca E. Karl / London Review of Books
China's uneven progress created new domestic dilemmas. Huge overall economic growth and new global sway has led to vast environmental degradation, resource extraction and exploitative relations of production that mimic, if not yet in scope then in essence, Euro-American imperialism at its height. 
___________
How the Left Got Factions All Wrong
Brian O'Cathail / Rupture (Dublin)
The peculiar structures of the democratic centralist sect were developed and established, all in the service of a monolithic conception of a party under strict and unchallengeable control from above. But factional rights provide an invaluable democratic safeguard, and encourage the clarification and development of political ideas and strategies.