With Weak Response, US Will Pay Price for Israel's Terror Designations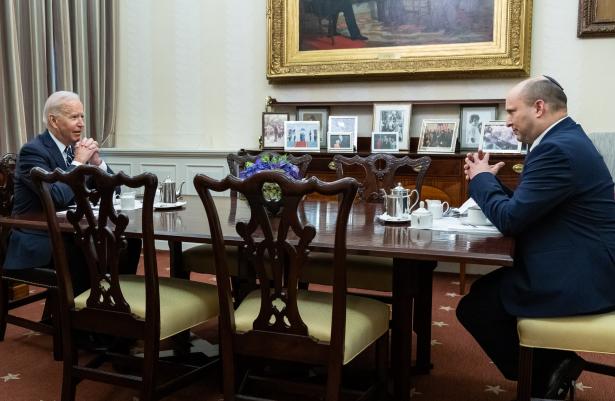 It was an honor to welcome Israeli Prime Minister Naftali Bennett to the White House today. We strengthened the enduring partnership between our two nations and underscored the United States' unwavering commitment to Israel's security.,White House photo
There has been no word from the Biden Administration after its reported face-to-face meeting on Thursday with Israeli officials to hear their "secret evidence" behind Tel Aviv's decision to designate six Palestinian organizations, among them prominent and well-placed human rights groups, as "terrorist organizations."
While such moves by other countries often trigger indignant U.S. condemnation, or even sanctions, in the case of Israel, the administration's response appears limited to a request for "clarification" and complaints that the Israeli government didn't provide "advance notice" of the designation.
If the Biden administration's chooses ultimately to look the other way, it will not only be hypocritical, but it will serve as a textbook example of how America's close partnership with unaccountable Middle Eastern governments undermine U.S. interests by shifting the cost of their abusive policies to us.

Last week's use of a 2016 Israeli counterrorism law is not the first time that Israeli authorities have attacked these six veteran Palestinian NGOs, including three prominent Palestinian human rights groups: al-Haq; Addameer; Defense for Children International – Palestine; the Union of Agricultural Work Committees (UAWC); Bisan Center for Research and Development; and the Union of Palestinian Women Committees. In the last decade, Israeli authorities, which hold the West Bank and Gaza under belligerent military occupation, have raided the offices of these and other civil society groups, prevented their staff members from traveling, arrested staff members, and advocated for their donors, including European governments, to stop supporting them. The Israeli government has also targeted international human rights groups, deporting Human Rights Watch's Israel-Palestine country director and preventing Amnesty International's campaigner from traveling. 
But designating these six groups as terrorist organizations goes far beyond prior measures. The designations outlaw their activities and criminalize working for or supporting them. The Israeli government can now shut them down; it can seize their assets and jail their staff; it can even jail for three years any person who expresses support, praise or sympathy for these organizations under Section 24(a)(1) of Israel's antiterrorism law. While the terrorist designation is an Israeli one only, it is likely to deter these groups' European and U.S. supporters from funding them and banks from processing their financial transactions, for fear that doing so would arouse suspicion of foreign law enforcement agencies, as well.
The Israeli government is smearing the organizations through a tactic of guilt-by-association. All six groups have a secular and progressive profile, as does the Popular Front for the Liberation of Palestine (PFLP), a political party with an armed military wing that the Israeli government, as well as some foreign governments such as the United States, designate as a terrorist organization. The Israeli government claims, based on what it says is secret evidence, that the groups are acting as a front for the PFLP. International human rights bodies and organizations, many of which have worked closely with these groups for years, have condemned these allegations as a thinly-veiled effort to kneecap what remains of activist Palestinian civil society. Under pressure from the Israeli government and NGOs associated with it, European governmental and private funders have audited these six organizations but found no misuse of funds. A U.K. court ordered a British NGO associated with the Israeli government to retract allegations that one of the groups was closely linked to the PFLP.
Israeli authorities also have charged two staff members of UAWC with taking part in the 2019 murder of an Israeli civilian. While the charges in that case have yet to be proven, what's well-documented is the torture of one of the detained staff members while in Israeli custody, requiring his hospitalization in the intensive care unit of an Israeli hospital. 
The record of these groups speaks for itself. One of the groups, Al-Haq, has reported on Israeli and Palestinian rights abuses since 1979. The group's executive director, Shawan Jabarin, is a recipient of numerous international human right awards, including the French Republic's Human Rights Award and the 2008 Reebok Human Rights Award, and serves as the Vice President of the International Federation of Human Rights, a Commissioner for the International Commission of Jurists, and a member of Human Rights Watch's MENA Advisory Committee. In the past year alone, Al-Haq has issued reports on Palestinian workers in Israeli settlements, torture in Palestinian Authority (PA) jails, PA abuses of free expression, and Israel's de facto annexation of the West Bank. Al-Haq has also submitted evidence to the International Criminal Court's prosecution in its pending investigation of Israeli and Palestinian war crimes and crimes against humanity.
The designations have implications not just for these groups and the constituencies they serve — children, farmers, fisherpeople, workers, women-at-risk  — but also for Palestinian society as a whole, struggling under the weight of a 54-year old occupation and travel restrictions that have fragmented local and national institutions. The Israeli government's tactics are aimed at any resistance to oppressive Israeli military policies and practices — whether peaceful or otherwise and they come in the wake of a decades-long campaign to decapitate Palestinian groups that serve as a vital link to the international community and fora for accountability. They are part and parcel of an effort, first perfected in Gaza, to isolate the Palestinian people, keeping them physically and institutionally cut off from the rest of the world. They deliberately leave little recourse for Palestinians who want to peacefully advocate to end Israeli crimes against humanity, apartheid and persecution. Further violence and instability are the likely outcomes.
The costs of Israel's tactics will be felt not only by Palestinian civil society. As Israel sinks and slides deeper into authoritarianism, intolerance, and stifling of dissent, those at risk of persecution by the Israeli government have included, and will continue to include, Israeli, Jewish human rights activists, journalists, and academics. The primary targets may appear to be Palestinians, but they will increasingly include critical Jews inside and outside of Israel.
And because the U.S. government remains so unquestionably supportive of these Israeli government policies, with an association that is far more a liability than a benefit to its national security and to the broader need to disengage militarily from the region, the United States, too, will pay a cost. It will end up holding the bag for Israel's provocations, while Israel demands for more military aid, more diplomatic cover for its abuses, and more political support that will serve to keep the United States entangled in the Middle East indefinitely. 
---
Sarah Leah Whitson is the Executive Director of DAWN. Previously, she served as executive director of Human Rights Watch's Middle East and North Africa Division from 2004 – 2020, overseeing the work of the division in 19 countries, with staff located in 10 countries.
She has led dozens of advocacy and investigative missions throughout the region, focusing on issues of armed conflict, accountability, legal reform, migrant workers, and human rights. She has published widely on human rights and foreign policy in the Middle East in international and regional media, including The New York Times, Foreign Policy, The Los Angeles Times, and CNN.
She appears regularly on Al-Jazeera, BBC, NPR, and CNN. Previously, Whitson worked in New York for Goldman, Sachs & Co. and Cleary, Gottlieb, Steen & Hamilton. She graduated from the University of California, Berkeley and Harvard Law School. Whitson is a member of the Council on Foreign Relations and is on the boards of the Artistic Freedom Initiative, Freedom Forward, and ALQST for Human Rights. She speaks Armenian and Arabic.
The Quincy Institute promotes ideas that move U.S. foreign policy away from endless war and toward vigorous diplomacy in the pursuit of international peace.
Our Vision: A world where peace is the norm and war the exception.
Support the Quincy Institute with a 100% tax-deductible donation.