Global Left Midweek - November 10, 2021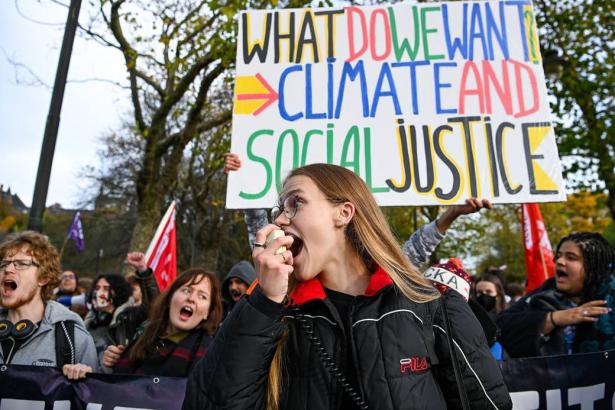 Demonstrators join the Fridays for Future march in Glasgow, Nov. 5. Credit,Jeff J Mitchell / Getty Images
__________
COP26 Protests
Five Takeaways  Euronews (Lyon)
Cities Besieged  BBC News (London)
Indigenous, Colonialism, and Climate  Deniss Martinez and Ans Irfan / Environmental Health News (Bozeman MT)
__________
Nigeria: What #EndSARS Accomplished (and Didn't)
Women Wait for Justice  Makua Adimora / Al Jazeera (Doha)
Activists Reflect  Akindare Okunola / Global Citizen (New York)
From the Streets to the Polls  Titilope Anifowoshe / The Cable (Lagos)
__________
Ireland: Sinn Féin Calls for the End of Partition
Fiona Audley / Irish Post (London)
Mary Lou McDonald called on governments on both sides of the Irish Sea to "plan and prepare" for a united Ireland. Speaking at Sinn Féin's Ard Fheis congress, the party leader underscored her challenge: "Every big step change in Irish life has been made by ordinary people seizing the day".
__________
A Rock, Nicaragua, and a Hard Place
Ortega's Win  William I. Robinson / NACLA Report (New York)
Imprisoned Opposition Includes Revolutionaries  Dánae Vílchez / openDemocracy (London)
Fresh Sanctions Imposed by DC  Matt Spetalnick and Trevor Hunnicutt / Reuters (London)
FSLN Has Popular Support  John Perry, Patricia Ruiz, Winnie Narvaez, and Yorlis Luna / NACLA Report
__________
Thai Resisters
Prachatai (Bangkok)
Protesters express growing frustration with a law that leaves them unable to talk about the impact of monarchy-related issues on their lives. In the recent past, people have been charged for questioning the Kingdom's vaccination rollout, mocking the royal dog, and even reciting part of a poem.
__________
Socialists Win in Greenland
Christian Juhl / Rosa Luxemburg Stiftung (Brussels)
Greenland's socialist party, Inuit Ataqatigiit (Community of the People) won a landslide victory, taking no less than 37 percent of the vote and 12 of the 31 seats in the Greenlandic parliament. The party's 34-year-old chairperson Múte B. Egede is now the youngest-ever head of Greenland's government.
__________
Sudan Resistance Solidifies
Civil Disobedience Continues  Mossaad Mohamed Ali / African Centre for Justice and Peace Studies (New York)
Resistance Committees  Raga Makawi / MENA Solidarity Network (London)
__________
Venezuela's Upcoming Election
Cira Pascual Marquina and Clodovaldo Hernández / Venezuelanalysis (Caracas)
Analyst Clodovaldo Hernández discusses the fate of political gridlock in Venezuela, and talks about self-proclaimed "Interim President" Juan Guaidó's demise as a political actor.
__________
Sheila Rowbotham's Contributions
Rachel Collett / Tribune (London)
In her new memoir, Sheila Rowbotham writes about the radical aspirations of feminism and socialism in the 1970s – and how many of the decade's struggles remain to be won today.
__________
Roundtable: From Neoliberalism to Neo-Statism?
Verso (New York)
Paolo Gerbaudo's new book, The Great Recoil: Politics after Populism and Pandemic, argues that we are entering a new era of neo-statist intervention and offers a blueprint for how the Left should respond to this moment. Here are some responses.