Archbishop Desmond Tutu's Top 10 Prescriptions for a Just World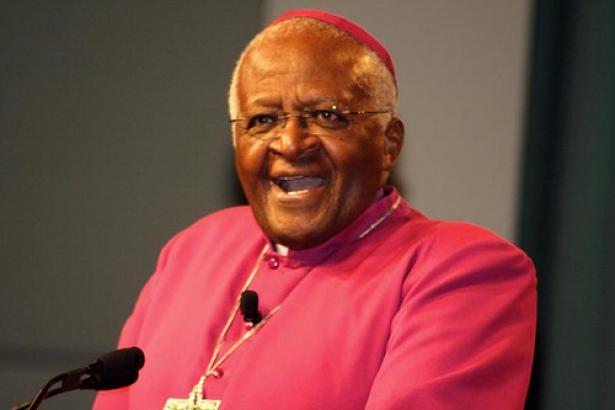 South African Archbishop Desmond Tutu,Wa-J, CC BY-NC-SA 2.0 license
[Archbishop Desmond Tutu of South Africa, who died December 26, was a leading figure in the stuggle against apartheid and for a democratic South Africa. Here are 10 of his most revealing statements -- biting, visionary, combative -- and all about the human and inhuman conditions on Earth. -- moderator.]
No 10: When the missionaries came to Africa they had the Bible and we had the land. They said 'Let us pray.' We closed our eyes. When we opened them we had the Bible and they had the land.
No 9: If you are neutral in situations of injustice, you have chosen the side of the oppressor. If an elephant has its foot on the tail of a mouse, and you say that you are neutral, the mouse will not appreciate your neutrality.

No 8: Forgiving is not forgetting; it's actually remembering--remembering and not using your right to hit back. It's a second chance for a new beginning. And the remembering part is particularly important. Especially if you don't want to repeat what happened.
No 7: Forgiving and being reconciled to our enemies or our loved ones are not about pretending that things are other than they are. It is not about patting one another on the back and turning a blind eye to the wrong. True reconciliation exposes the awfulness, the abuse, the hurt, the truth. It could even sometimes make things worse. It is a risky undertaking but in the end it is worthwhile, because in the end only an honest confrontation with reality can bring real healing. Superficial reconciliation can bring only superficial healing.
No 6: A person is a person through other persons.
None of us comes into the world fully formed. We would not know how to think, or walk, or speak, or behave as human beings unless we learned it from other human beings. We need other human beings in order to be human. I am because other people are. A person is entitled to a stable community life, and the first of these communities is the family.
No 5: We were made to enjoy music, to enjoy beautiful sunsets, to enjoy looking at the billows of the sea and to be thrilled with a rose that is bedecked with dew… Human beings are actually created for the transcendent, for the sublime, for the beautiful, for the truthful... and all of us are given the task of trying to make this world a little more hospitable to these beautiful things.
No 4: Religion is like a knife: you can either use it to cut bread, or stick in someone's back.
No 3: I would not worship a God who is homophobic ... I would refuse to go to a homophobic heaven. No, I would say, Sorry, I would much rather go to the other place.
No 2: We must be ready to learn from one another, not claiming that we alone possess all truth and that somehow we have a corner on God.
No 1: I am not interested in picking up crumbs of compassion thrown from the table of someone who considers himself my master. I want the full menu of rights.