Media Bits and Bytes - International Tech News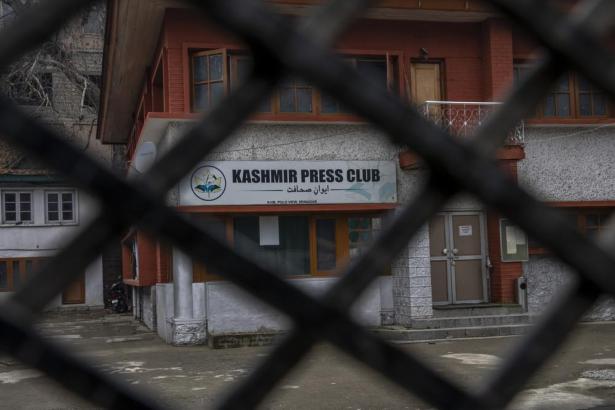 Kashmir Press Club building is pictured through a closed gate after it was sealed by authorities in Srinagar, Indian controlled Kashmir, Tuesday, Jan. 18, 2022. Credit,AP Photo/Dar Yasin
Euro Parliament's New Internet Rules
By Luca Bertuzzi
EURACTIV.com
A large majority of MEPs (members of the European Parliament) voted in favour of the Digital Services Act on Thursday (20 January). "We have an opportunity to create a new global golden standard for tech-regulation that will inspire other countries and regions," said Christel Schaldemose, the leading MEP on the file.
Who Owns Latin American Media?
By Gustavo Fuchs
NACLA Report
Audiences have increasingly shifted attention away from traditional outlets and towards digital consumption and social media platforms. This has led conglomerates to adapt through convergence, seeking to incorporate carrier services and increasingly diversifying through multimedia production.
Australia: Cryptocurrency and Online Hate
While bitcoin may have created eye watering profits for "early-adopter" rightwing extremists, privacy coins like monero – which attempt to obscure the origin and destination of transactions – also appear to be increasingly embraced by far-right groups.
Internet Access: A New Human Right?
By Laura Villadiego
Equal Times
Although the pandemic has accelerated digitalisation around the world, 2.9 billion people, or 37 per cent of the global population, have never used the internet. The data processing industry is already creating inequalities in sensitive sectors such as agriculture and imposing digital colonialism on the Global South.
What happens to public broadcasters when there's no more broadcasting? Good question, nobody really knows.
Netflix is keen to find its next non-English original that will have mass-global appeal like "Squid Game." Non-English-language titles are critical for the streamer to be able to grow outside the U.S./Canada region.
By Aijaz Hussain and Sheikh Saaliq
Associated Press
Journalists have long contended with various threats in Indian-controlled Kashmir and found themselves caught between warring sides. But their situation has gotten dramatically worse since India revoked the region's semi-autonomy in 2019, throwing Kashmir under a severe security and communication lockdown and the media in a black hole.
A new survey shows that people trust the tech industry more than any other—even more than healthcare, the sector the world has relied on most heavily during the pandemic.
How African Autocrats Use Social Media
By Silja Fröhlich
Deutsche Welle
Uganda's President Yoweri Museveni is suspected of using fake social media accounts to consolidate his power. He wouldn't be the only one in Africa. Is social media becoming a threat to democracy on the continent?
By Zia Muhammad
Digital Information World
The level of social media censorship that the world is seeing is on the rise and there is a strong likelihood that it would get a lot worse before it gets any better.