Dispatches From the Culture Wars - February 15, 2022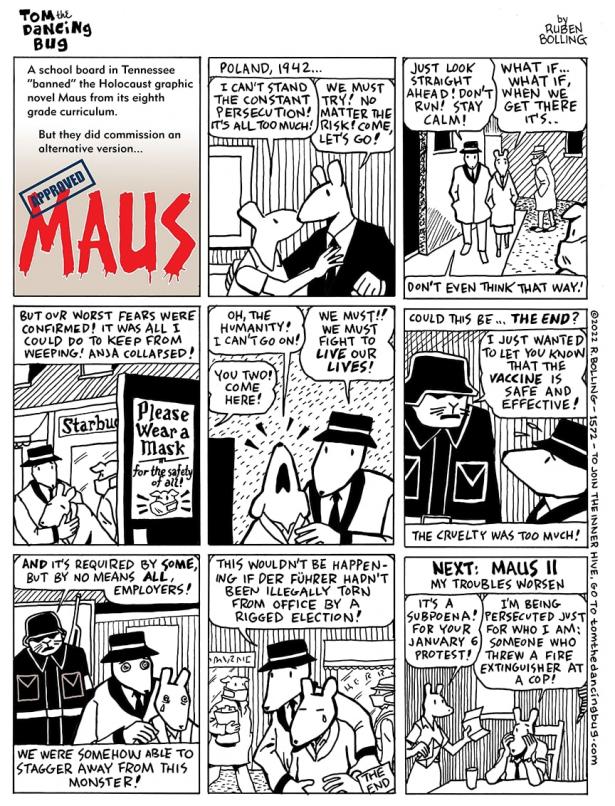 Credit,R. Bolling
'Don't Say Gay' is a Public Menace
As Vicious As It Sounds By Michael Daly, The Daily Beast
What You Should Know By Ginny Beagan, Palm Beach Post
The Unpleasantness of Teaching Slavery
By Mary Niall Mitchell and Kate Shuster
Slate
Critics rallying under the banner of "anti-CRT" describe teaching about racism and the world it has made, as divisive and disturbing. But we can't teach the history of the United States without teaching about slavery. 
Flu Trux Klan
By Abby Zimet
Common Dreams
Once-staid Ottawa remains occupied by raucus hordes of angry, maskless, clueless, entitled louts in big trucks waving swastikas and imagined grievances, pissing on war memorials, harassing residents, and claiming the World Economic Forum created COVID to forge a "Marxian-inspired totalitarian system" with mandates that steal our "freedom." 
Patriot Front: Inside a NeoFash Gang
The Inner Workings  By Christopher Mathias and Ali Winston, Huffpost
Leaked Hate Crime Confessions   By Dell Cameron and Tom McKay, Gizmodo
Cancel Me
By David Rovics
CounterPunch
The reason why "I'm A Better Anarchist Than You" is my most popular song on Spotify is because the anarcho-puritans are such a toxic and self-destructive tendency within my audience, the leftwing youth of the US, and Germany, to name two countries, and people facing these kinds of attacks themselves on a regular basis find the song cathartic.
Porn vs Sex
By Annie Lord
The Guardian
By the end of university, between this, Fifty Shades of Grey and my own insecurities, I had internalised the idea that if you weren't into hardcore stuff, you were boring in bed. 
Book Review: After the Factory Closes
By Kim Phillips-Fein
The Baffler
Farah Stockman's American Made is an unsparing description of the complex ideas and challenging lives of three Rexnord workers offers a stark challenge to anyone who would write off the heartland as deplorable.
Vaccine? I'd Rather Die
By John Keilman
Chicago Tribune
The threat of getting fired still hasn't persuaded some to get COVID-19 vaccine. How are resisters affecting the pandemic?
COVID and AIDS
By Michael Musto
Village Voice
In October 1982, press secretary Larry Speakes responded to a reporter's query about the virus by making jokes and indulging in gay-panic-style banter. Asked if Reagan was aware of AIDS, Speakes replied, "I don't have it. Do you?" as the room erupted into laughter. Over 36 million global HIV deaths later, that encounter is more chilling than ever.
After a Half Century, Gloria Williams Walks Free at 76
By Frances Madeson
The Real News
Williams had been preparing for her release for 918 days, ever since July 22, 2019, when she'd received the Louisiana Board of Pardons & Parole's 5-0 vote of confidence. During that two-and-a-half-year limbo she caught COVID twice and almost didn't make it back from the ICU.