labor
Massachusetts Is Not For Sale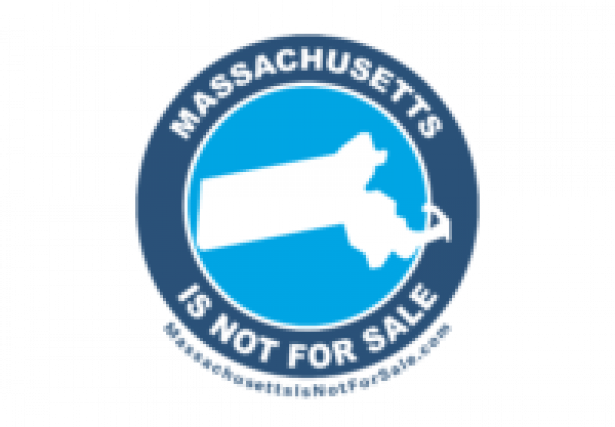 Massachusetts Is Not For Sale
MASSACHUSETTS – As the organized opposition to the "Big Tech loophole law" ballot initiative grows in Massachusetts, a number of key consumer, community, and civil rights groups have joined with workers' rights advocates to announce their commitment of activating and growing the coalition opposing that initiative under a new name: Massachusetts is not for Sale.
Those groups will be building a statewide campaign against the Big Tech loophole law initiative as the Massachusetts is not for Sale campaign, a name chosen by the community, consumer and labor coalition to reflect the growing range and types of organizations joining its ranks. 
The new Massachusetts is not for Sale name also reflects the concerns shared by coalition members regarding the record-shattering infusions of cash that Big Tech employers are pumping into the coffers of the corporate-funded committee advocating for the passage of the Big Tech loophole law both at the State House and as a November 2022 ballot question.

Advocates say the Big Tech loophole law represents a threat to consumers, workers, and taxpayers because it would exempt Big Tech employers from adhering to not only key Massachusetts labor standards, but also consumer protections laws. 
The loophole law being pushed in Massachusetts by the Big Tech companies attempts to shield those companies from consumer liabilities faced by other businesses with regard to accidents, injuries, and assaults. It would also exempt those companies from making unemployment insurance payments, carrying workers' compensation insurance, preventing and eliminating discrimination, and would further enshrine their ability to pay subminimum wages to drivers.
"These platforms want to undermine rights for more than drivers like me who are their employees. They are also trying to divide workers by forcing us to make false choices between flexibility and safety; between flexibility and health; between flexibility and the ability to earn a living wage," said Fatih Dinler, a Boston resident and rideshare driver. "We cannot let Big Tech firms continue to break the law and line their pockets while workers and consumers go without basic protections."
Faith's employer, San Francisco based Lyft, Inc (LYFT), recently injected $14.4 million into the coffers of the corporate-funded ballot initiative committee assembled by Lyft and other Big Tech companies to push the loophole law in Massachusetts.
"The Big Tech companies should be using those funds to pay their employees like me a living wage, not to break our democracy and to buy loopholes that set us back," said Dinler.
In California, the Big Tech companies spent more than $204 million to buy a similar loophole law at the ballot, a law which has since been deemed unconstitutional by California state court on August 20, 2021.
"These corporations are willing to spend hundreds of millions of dollars to buy unconstitutaional loopholes that would allow them to pay their employees a subminimum wage while also destroying the enforcement standards for our state's anti-discrimination protections. What makes these efforts by Big Tech even more cynical are the facts that the rideshare driver and delivery workforce includes a high percentage of Black workers and a high percentage of workers who identify as people of color. Those employees would face a disproportionately negative impact if Big Tech is able to buy these loopholes," said Fred Taylor, a business representative of the North Atlantic States Regional Council of Carpenters, a Worcester resident, and a community leader. The North Atlantic States Regional Council of Carpenters is one of the more than sixty-four mission-based and non-profit organizations who have formally joined the Massachusetts is not for Sale coalition.
The consumer, community, labor and civil rights groups leading that opposition to the Big Tech loophole law have also announced two recent additions to their campaign. The Massachusetts is not for Sale campaign has brought on Wilnelia Rivera as a general consultant and Wes McEnany as campaign director.
Wilnelia Rivera is a seasoned transformational consultant with a track record of success at the intersection of cross-sector collaboration, sustainability, and social change. She works with social change activists, planners, researchers, BIPOC, and TGNC communities across the country and in Massachusetts who are focused on organizational development, research, strategic planning, coaching, and playbook making. 
Over the last two decades, Rivera has successfully led people-centered and community informed movement building campaigns such as the efforts to reform the state's Criminal Offender Record Information system. Rivera has also led many successful campaigns to elect candidates to municipal, state, and Congressional offices. Rivera leverages her research and organizational development background to fuel transformative justice for movement organizations, municipal planning agencies, and philanthropy. 
"We will demonstrate the power of community and labor uniting to make it clear that Massachusetts will not be sold to the highest bidder," said Rivera. "We will not allow misinformation being pushed by Big Tech executives to become the foundation of our state's civil, consumer, and labor protection laws."
Wes McEnany, named as the Massachusetts is not for Sale campaign director, has an established track record of organizing and winning for workers who have been exploited and mistreated by well-funded Big Tech companies like those pushing the loophole law proposals in Massachusetts. 
McEnany was a key strategist in the founding of the Alphabet Workers Union at Google and also an organizer for CODE-CWA, an initiative that has made key gains in organizing workers in the technology and online gaming sectors. He has also played key organizing and strategy roles on a number of winning ballot campaigns in Massachusetts and beyond. McEnany was one of the original campaign leaders within the Fight for $15 movement and has also helped thousands of workers in the healthcare sector mobilize for and win key protections on the job including through the formation of labor unions.
"The recent infusions of corporate funding make it even clearer that Big Tech executives are trying to buy a law in Massachusetts, including by misleading drivers and consumers and by undermining our democracy," said McEnany. "Big Tech employers are pushing misinformation about benefits and flexibility, when in reality, drivers lost both pay and flexibility after a similar unconstitutional measure passed in California. After that passage, drivers and delivery workers experienced more instances of deactivation. In many cases, those deactivations cost workers their entire livelihoods."
# # #
Massachusetts is not for Sale is a growing alliance of drivers, delivery workers, consumer advocates, civil rights organizations, immigrant, faith, labor, community organizing, and racial and environmental justice groups. We oppose efforts by Big Tech companies to undermine the law, as they recently did in California through Proposition 22, in order to avoid paying taxes, to shield themselves from liability to the public, and to gain special exemptions from key labor and civil rights regulations.