Thousands of Russian Artists Denounce Invasion in Open Letter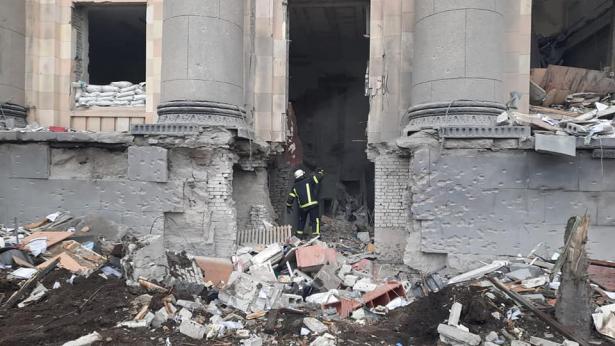 Kharkiv regional state administration partially ruined by Russian shelling March 1, 2022 during Russian invasion of Ukraine.,State Emergency Service of Ukraine
As the Russian invasion into Ukraine continues to escalate and claim lives, more than 17,000 Russian artists and art professionals have signed an open letter sounding the message: "No to war!"   
"The war in Ukraine is a terrible tragedy for both Ukrainians and Russians," reads the letter, which was published in Russian. "It brings great loss of human life, threatens our economy and security, and will lead our country to complete international isolation. At the same time, it is completely pointless — any enforcement of peace through violence is absurd."
Published on February 25 in the online art criticism magazine Spectate and reposted across other Russian news outlets, the letter anticipated the war's negative impact on Russian culture and the arts.

"On behalf of our professional community, it is important to say that further escalation of the war will result in irreversible consequences for workers in culture and the arts," the petitioners wrote. "Engagement with culture and the arts will be almost impossible in these conditions" 
The letter's predictions are already proving true. Artists Kirill Savchenkov and Alexandra Sukhareva and curator Raimundas Malašauskas pulled out of the Venice Biennale, and Russia's pavilion will remain closed. Moscow's Garage Museum of Contemporary Art stopped work on future exhibitions; Icelandic artist Ragnar Kjartansson closed his show at Moscow's GES-2 museum; and Dutch artist Constant Dullaart removed his work from an exhibition at the New Tretyakov Gallery, a state-run museum in Moscow.
The war is affecting other cultural fields in similar ways. Elena Kovalskaya, the director of Moscow's Meyerhold Center Theater and Laurent Hilaire, the artistic director of the Stanislavsky Ballet, have both resigned their posts. Conductor Semyon Bychkov canceled his upcoming concerts with the Russian National Youth Symphony Orchestra, and Oxxymiron, one of Russia's most famous rappers and celebrities, canceled six sold-out shows. 
As predicted in the letter, international pressure is taking its toll on Russia's cultural vitality: New York's Metropolitan Opera announced that it will cut ties with artists who support Russian President Vladimir Putin; London's Royal Opera House canceled the Bolshoi Ballet's summer tour; Eurovision barred Russia from its 2022 contest; and Disney, Sony, and Warner Brothers are halting the release of their films in Russia. 
Furthermore, Putin-allied artists are being removed from their positions abroad: Chief conductor Valery Gergiev was removed from the Munich Philharmonic, and the Bavarian State Opera and Zurich Opera House canceled opera singer Anna Netrebko's performances.
Other professional groups have also penned open letters. Almost 5,000 scientists signed another anti-war letter expressing similar concerns: "We scientists will no longer be able to do our job normally — after all, conducting scientific research is unthinkable without cooperation with colleagues from other countries." Almost 200 journalists, some of whom work for Russian state-run media, also signed an open letter condemning the war. Even government officials in Moscow, St. Petersburg, and other cities used an open letter to denounce the invasion.
But in Russia, criticizing the government means risking retribution. So far, over 5,000 people have been arrested during protests across Russia since the invasion began last week. 
Meanwhile, the Russian attacks continue as negotiations between the two sides have failed to achieve a breakthrough. This morning, March 1, a Russian rocket strike in Ukraine's second-largest city of Kharkiv killed at least seven people after dozens were killed there in an attack yesterday.
"At this time we are primarily worried about the fate of Ukrainians — their lives and their safety," the artists' letter says. They demanded an "immediate stop to all military activity," the withdrawal of Russian troops from Ukrainian territory, and the holding of peace talks.
[Elaine Velie is a writer from New Hampshire living in Brooklyn. She studied Art History and Russian at Middlebury College and is interested in art's role in history, culture, and politics.]