Media Bits and Bytes – March 22, 2022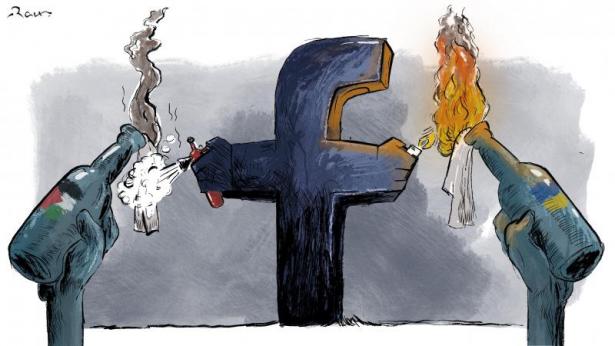 Facebook's double standard. Credit,Rafat Alkhatib
Biden's Crypto Executive Order
By Rebecca Heilweil
Vox
While the order is the first major attempt to bring the government together around regulating crypto, it's not quite the crackdown some expected from an administration that has spent months warning about impending oversight. 
Substack, Apps and Strategy
By Mathew Ingram
Columbia Journalism Review
Substack, a hosting and publishing platform for email newsletters, took what seemed like an innocuous step last week: it launched a standalone smartphone app. But Substack's app is a little different, since the company isn't offering a service directly to users, but instead is a middleman that stands in between writers and their audiences. 
NFTs and Decolonization
By Alexandria Williams
Deutsche Welle
After their request to borrow a sculpture created by their ancestors was denied, a Congo-based artist collective found a different way to repatriate it.
Chat platforms like WhatsApp and Telegram have avoided being blocked by Russia—unlike some of the world's biggest social networks—in a tenuous tolerance that experts warn could end suddenly.
Moscow's Government-Approved Web Browser
By Alexis Hancock
Electronic Frontier Foundation
Last week, Russian citizens began receiving instructions to either download a government-approved web browser, or change their basic browser settings. It is a worrying development: the Russian state's stopgap measure to keep its services running also enables spying on Russians, now and in the future.
Valley: Hate Speech Against Russians OK
By Jonathan Cook
Middle East Eye
Silicon Valley's rank hypocrisy in allowing hate speech against Russia and Russians is particularly evident when compared with the special protections put in place by tech firms to block criticism of Israel and Israelis. 
The Puppet Makers and the Puppet Masters
By Seth Abramovitch
The Hollywood Reporter
As they push for unionization, craftspeople at the The Jim Henson Company say they are treated as an underclass, subject to abuse and unsafe conditions: "The job of the wrangler is eating sh** and taking blame."
Rise of Latin Podcasts
By Julianne Chandler
NACLA Report
Latin America has a long and enduring radio tradition.Younger people, however, are turning more towards the increasing accessibility of podcasts, both as listeners and creators.
8 Games for the Labor Revolution
By Linda Codega
Gizmodo
Here's a selection of games that feature strikes, organized workforces, and labor disputes. They run the mechanical gamut from LARPs to cards to dice, and some of them are even free. These games often dive into history and take inspiration from real-world events—even though labor disputes are not, as we all know, just stories from the past.
Remembering Michelle Materre
By Gillani Peets and Emma Donelly-Higgins
The New School Free Press
Michelle Materre, a New School professor whose accomplishments span over thirty years in media and film, died of cancer at White Plains Hospital on March 11. Materre directly managed the release of 23 independent films including Julie Dash's "Daughters of the Dust," which was entered into the Library of Congress National Library of Film in 2004.