Global Left Midweek – March 23, 2022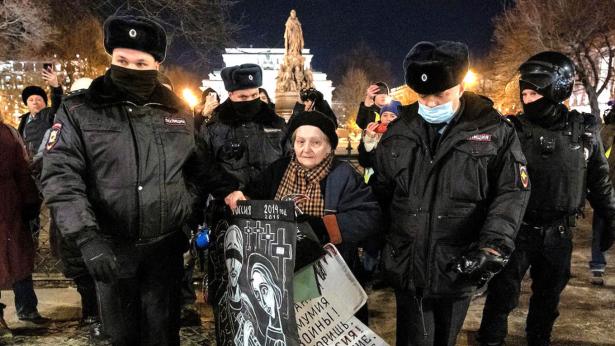 Yelena Osipova at a protest against the war in Ukraine on Nevsky Prospekt in St. Petersburg. Credit,Alexei Smagin / Kommersant
__________
ALBA Movements Prepare Continental Assembly
Zoe Alexandra / Peoples Dispatch (New Delhi)
Amid shifts in the regional political scenario as well as the global situation, the organizations and movements that are part of the platform ALBA Movimientos continue preparations for their third continental assembly. Delegates from people's movements, trade unions, and left political formations from across Latin America and the Caribbean will come together at the end of April.
__________
Thinking About the Peace Movement
We Still Need Anti-Imperialism   Christine Buchholz / Rosa Luxemburg Stiftung (Berlin)
Come Together in Collective Self-Criticism   Luciana Castellina / transform! Europe (Vienna)
The Global Left Needs To Organize A Peace Conference!   Left Against the War
The Conscience of St. Petersburg   / The Moscow Times
__________
Too Much To Read, But Go For It
Sofia Andrukhovych, et al. / London Review of Books
Twenty-eight grim responses to Putin's invasion.
__________
Sudan Resistance Sets Out Democracy Charter
Marc Espanol / Al-Monitor (Washington DC)
The coordination of the Khartoum State Resistance Committees, the decentralized groups of revolutionaries at the forefront of the fight against the coup authorities in Sudan, announced the publication of their long-awaited political charter, laying the foundations on which to build a new Sudan.
__________
New Developments in Venezuela
Crisis and Critique   Ociel López / Venezuelanalysis (Caracas)
Chavismo and Student Movements   Fabrice Andreani and Damian Alifa / NACLA Report (New York)
US Overtures   Alonso Moleiro / El País (Madrid) 
__________
Canada: Unions' Responses to Anti-Vaxx Protests
David Doorey and Rawan Abdelbaki / OnLabor (Cambridge MA)
The Canadian labor movement took exception to protesters' claim that this was a working-class movement. While unions sometimes disagreed on the introduction of mandatory vaccination policies by employers, they were united in opposition to the tactics of the convoy and the racist and undemocratic goals of the movement and its leaders.
__________
Economist: Neoliberalism is Done
Cédric Durand and Daniel Finn / Jacobin (New York)
The neoliberal economic model has foundered and can no longer generate growth. Governments will be forced to change their approach to economic management, giving rise to more promising conditions for struggle by workers after a generation of retreat.
__________
The Issue of Debt
Nazaret Castro / Equal Times (Brussels)
Argentinian feminists are attempting to expose the connection between debt, global finance, labour exploitation and male violence. Being in debt obliges people to work more and more, no matter how precarious the conditions. Debt, in other words, produces obedience, and it affects women differently to men.
__________
South African Civic Groups Demand Right to March Against Xenophobia
Tamsin Metelerkamp / Daily Maverick (Johannesburg)
Kopanang Africa Against Xenophobia (KAAX), a coalition of civil society organisations rallying against xenophobia in South Africa, intends to approach the high court with an application to have the prohibition of its planned anti-xenophobia march overturned.
__________
Alexandra Kollontai: Ahead of Her Time, and Ours
Liza Featherstone / Lux (New York)
In every job she held, Kollontai's political enemies deplored, misunderstood and mocked her ideas about sexual liberation and love. But those ideas are becoming more relevant than ever. "In striving to change fundamentally the conditions of life," she wrote of communist women, "they know that they are also helping to reform relationships between the sexes."