Staten Island Amazon Workers Win Big—Now the Fight Gets Harder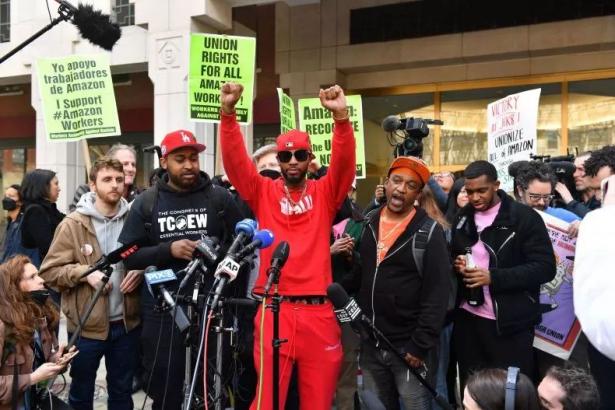 Union organizer Christian Smalls (C) celebrates as he speaks following the April 1, 2022, vote for the unionization of the Amazon Staten Island warehouse in New York. - Amazon workers in New York voted Friday to establish the first US union at Amazon,ANDREA RENAULT / AFP/GETTY IMAGES
In a spectacular and surprising win, workers at Amazon's JFK8 warehouse on Staten Island voted for a union, 2,654 to 2,131. The union, the Amazon Labor Union (ALU) started by a fired Amazon worker and his friends a year ago, is not affiliated with any other union. Everyone who cares about the labor movement—including, it seems, President Joe Biden and other politicians—appear joyful about this victory. But we need to pay attention to what comes next.
We don't know exactly what Amazon will do. Based on its past actions and statements, the company will likely double down on its anti-union message. A labor battle I worked on for more than five years involving Cablevision in Brooklyn, New York, shows how far an employer with unlimited resources will go to oust a union. Key to its anti-union strategy will be delay.
Workers vote for unions because they want to improve their lives at work. When there is delay and improvements are not made, the union can look weak, and the workers may lose heart. Employers know that—in fact, that is often their plan.

Under federal labor law, the National Labor Relations Board (NLRB) certifies the winning union as the bargaining representative of the workers after considering any objections to the election. The objections process provides Amazon with an initial post-election opportunity to stall.
Delay is already happening. Amazon filed 25 objections to the conduct of the vote, including a claim that ALU members intimidated workers into voting for the union. The company also claims that the labor board somehow tipped the vote in the union's favor. To get the vote tossed, Amazon must prove the likelihood of winning the vote apart from the actions of the ALU (or the NLRB). With a more than 500-vote difference, that is hard to do. But reviewing the company's evidence takes time and a hearing may be necessary. Tick tock.
Dragging things out to convince workers that unionization is futile is the goal. Assuming that Amazon's objections are ultimately dismissed, the ALU will be certified as the bargaining representative for workers at JFK8. Once a union is certified, another vote for or against it cannot take place for a year. Although employers are legally required to bargain in "good faith" during that time, bad faith bargaining is notoriously hard to prove. Most employers try to avoid reaching an agreement while staying just shy of the line between the two, hoping to foment another vote at the end of the first year.
If the ALU is certified, Amazon will most likely avoid reaching an agreement with the union. The company may refuse to bargain altogether, claiming election improprieties. Doing so would initiate a lengthy and costly legal battle at the NLRB and in the courts, burning up money and time. Tick tock. Another option would be for Amazon to slow-walk bargaining for a year, hoping employees vote the union out. Tick tock.
Amazon's tactics are nothing new. In 2012, workers at Cablevision in Brooklyn voted overwhelmingly for a union. Although the group of workers at Brooklyn Cablevision is much smaller than the workforce at Amazon's JFK8 warehouse—280 to 8,200—in many other ways, the battles are similar. The mostly Black workers at Cablevision began their struggle to gain a union by organizing themselves before coming to the Communications Workers of America (CWA). The campaign was democratic and led by the workers along with CWA organizers. Cablevision—like the rest of the cable television industry, and like Amazon—fought unionization for decades. Both companies are owned by billionaires willing to spend huge sums to win. And like Amazon, Cablevision did not expect to lose.
After the vote, Cablevision spent millions trying to shed the union. Early on, its lawyers rejected bargaining dates offered by the union, providing one lame excuse after another. They failed to provide the union with needed information or gave the wrong information. While refusing to bargain with CWA over money issues for the Brooklyn workers, Cablevision gave all other workers in the company raises averaging 14 percent. CWA filed multiple unfair labor practice charges with the labor board.
Shortly before the first year was up, Cablevision illegally fired 22 workers. Its goal was to terrify the workforce into getting rid of the union. It failed. Cablevision fired even more workers. When the labor board refused to conduct another election because of Cablevision's many violations of labor law, the company held its own illegal election to vote the union out.
Eventually the Cablevision workers and CWA won. It took more than five years. During those five years, the Brooklyn Cablevision workers organized, marched, demonstrated, testified, petitioned and held strong. Many charges were filed at the labor board and multiple trials were held, two lasting longer than 20 days each. The NLRB considered seeking an injunction in federal court against the company; Cablevision finally put a serious offer on the bargaining table.
Amazon would have to fire some 650 workers at JFK8 to proportionally match Cablevision. It will probably opt for something more subtle. It might fire smaller groups of workers it believes to be union supporters or harass others into quitting. Amazon's business model relies on warehouse worker turnover of 150 percent to keep wages low. Maybe it will simply rely on turnover to end unionization while it causes endless delay. While things drag out, Amazon will conduct a ruthless anti-union propaganda campaign with few restraints.
The Amazon workers should not have to face a lengthy battle to keep their union and get a contract. They have come together and voted for a union to better their conditions at work, a right guaranteed by law. Labor law must support their choice, not provide endless opportunities for employers to undo their decision.
It will not be an easy fight. Jeff Bezos, Amazon's owner, is estimated to be worth the unimaginable sum of $180 billion. There will be no limit on what Amazon can spend to get rid of the union going forward.
In the short term, the labor movement needs to support the Amazon workers with money and resources for the fight ahead. Many unions have already helped. That help must continue. In the long term, politicians who have delighted in the moxie of the Staten Island Amazon workers need to help them and others by fixing the broken labor laws in this country that allow employers to make getting and keeping a union so difficult.
---
Gabrielle Semel is a retired union-side labor lawyer. She was district counsel to District 1 of the Communications Workers in New York for more than thirty years. She was the union attorney during the battle at Cablevision. She also worked as a field attorney at Region 2 of the NLRB in Manhattan for two years. She is currently working on a book about the labor battle at Cablevision. Thanks to the author for sharing the article with Portside.