Juneteenth: Reckoning, Backlash, and the Fight Ahead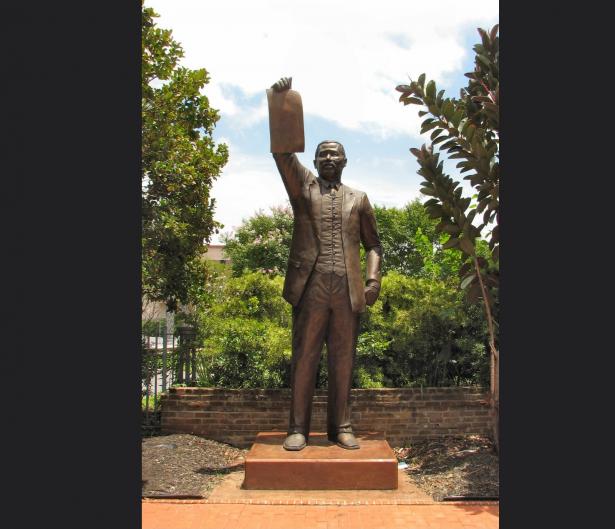 "Juneteenth Statue / Former State Rep. Al Edwards" ,by ניקולס is licensed under CC BY-SA 2.0.
This Sunday marks the second year that Juneteenth will be celebrated as an official federal holiday. 
Long observed by many Black Americans, well before it was officially recognized by the federal government, Juneteenth commemorates the end of chattel slavery in the US after the Civil War in 1865—more than two years after President Lincoln issued the Emancipation Proclamation in 1863. For generations, Black communities have come together every summer for parades, cookouts, and festivals, to celebrate Black freedom and liberation.

As Americans across the country commemorate Juneteenth this year, may this time also serve as an opportunity to reignite the national reckoning that began in the summer of 2020. This requires an honest accounting of the nation's legacy of racial subjugation and its connection to the present moment in America—a moment that is fueled both by centuries of racialized oppression, and by the ongoing terror of white supremacist violence, weaponized racist backlash by certain political leaders, and a rise in hate crimes.
---
In June 2020, in the wake of the murder of George Floyd, the demands of Black activists, organizers, and community leaders fueled the largest demonstrations for justice, liberation, and transformative policy change in American history. Public support for the Black Lives Matter movement skyrocketed. Monuments and statues of racist American figures were removed. Demands to divest from carceral systems and invest in Black communities informed budgetary decisions in cities across the country. Corporations and businesses collectively pledged more than $1 billion in support of the Movement for Black Lives. Books, movies, and art centered the nation's history of anti-Black racism and uplifted activist demands to repair and redress America's legacy of white supremacy.
We are now living through a period of backlash to that moment. A renewed front in the GOP culture war: Republican-led state legislatures passing laws banning the teaching of systemic racism in schools. These attacks on critical race theory and the broader racial justice movement are not simply about ignoring history. Rather, the backlash and reactionary forces propelling these culture wars have been much darker. Indeed, some politicians have attempted to recast history altogether, including those who celebrate Confederate generals as heroes while condemning present-day Black Lives Matter protesters as terrorists.
GOP politicians and right-wing media and pundits have also pushed increasingly overt racist views into the mainstream. Nearly one-third of American adults now believe in some version of the great replacement theory, a racist conspiracy holding that racial minorities and immigrants are strategically infiltrating the United States in a plot to replace white Americans and impose their own culture and political will on the country. This has dangerous consequences and has led to despicable acts of violence perpetrated by white supremacists, including the horrific racist massacre last month in Buffalo, NY.
This reactionary movement against racial justice is intimately connected to other conservative projects seeking to undermine the prospects of an inclusive, multiracial democracy, including the explosion of voter suppression laws; attacks on women's rights to bodily autonomy; laws attempting to dehumanize LGBTQIA+ youth; and a far-right, reactionary Supreme Court that continues to roll back our most cherished American rights.
We cannot allow this to become the new normal in modern-day American life. It is imperative that the US directly address the ongoing threats of anti-Black racism and white supremacist ideologies that have become increasingly mainstream. 
Recognizing Juneteenth as a federal holiday is certainly an important cultural milestone in US history. But at the federal level, policymakers must move beyond symbolic gestures and take action. They must guarantee robust voting rights. They must pass transformative legislation and structural policy change focused on building economic power for Black and brown communities. And they must combat white supremacist violence by holding perpetrators accountable.
Grassroots communities, movement leaders, and those most impacted by centuries of systemic racism have led, and will continue to lead, the fight for racial justice. Their demands for a deeper reckoning with anti-Black racism and their actions to create change help connect the past to the present. 
Juneteenth reminds us of the monumental progress we have made over generations, and calls all of us to the work that remains on the journey toward freedom and liberation.
AUTHORS
As the Deputy Director of Race and Democracy, Kyle Strickland leads research focused on the latest policy ideas and political movement-building on race, the economy, and democracy.
As Program Manager for the Roosevelt Institute's Race and Democracy team, Shahrzad Shams works to advance Roosevelt's focus on racial justice and equity.