Federal Judge Blocks DeSantis' 'Stop-WOKE' Law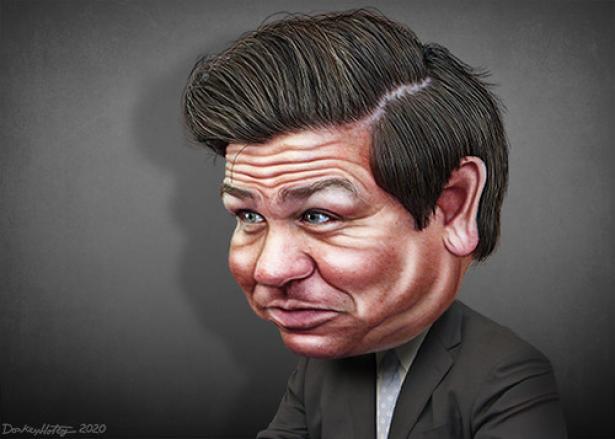 Ron DeSantis - Caricature,by DonkeyHotey (CC BY-SA 2.0)
Below, see key excerpts from the ruling -- moderator]
TALLAHASSEE, Fla. — A federal judge on Thursday blocked Florida from enforcing a key aspect of the state's new law restricting what Gov. Ron DeSantis calls "woke" workplace trainings about race.
In a 44-page decision, Chief U.S. District Judge Mark Walker slammed Florida's "Stop-WOKE" Act, criticizing its policies as "bordering on unintelligible" as he granted a temporary injunction on the grounds the law violates the First Amendment.

The ruling was heralded as a "major victory for free speech" by the group of businesses who sued the state, but that win could be short lived with the DeSantis administration sure to appeal.
"In the popular television series Stranger Things, the 'upside down' describes a parallel dimension containing a distorted version of our world," Walker, who was appointed by former President Barack Obama, wrote. "Recently, Florida has seemed like a First Amendment upside down."
The "anti-woke" legislation, FL HB 7 (22R), or the Individual Freedom Act, was passed earlier this year by Florida's Republican-led Legislature and backed by DeSantis. It expands Florida's anti-discrimination laws to prohibit schools and companies from leveling guilt or blame to students and employees based on race or sex, taking aim at lessons over issues like "white privilege" by creating new protections for students and workers, including that a person should not be instructed to "feel guilt, anguish, or any other form of psychological distress" due to their race, color, sex or national origin.
A group of businesses — honeymoon registry technology company Honeyfund.com and Florida-based Ben & Jerry's franchisee Primo Tampa, along with workplace diversity consultancy Collective Concepts and its co-founder Chevara Orrin — combined to challenge the "anti-woke" policies in federal court. They argued that the new law violates their freedom of speech, among other claims.
Attorneys for the companies, which are being represented by Protect Democracy and law firm Ropes & Gray, contend that the new policies force them to censor themselves "on important societal matters" and "from engaging employees in robust discussion of ideas essential for improving their workplaces."
Walker on Thursday agreed with the companies, ordering the temporary injunction to suspend a piece of the Stop-WOKE act as the legal battle plays out. In the first challenge to HB 7, which is focusing on the education side of the new law and is also being heard by Walker, he denied the injunction but allowed the case to move forward with a jury trial set for April.
Walker in his ruling Thursday denied applying the injunction to DeSantis. Attorney General Ashley Moody and the commissioners of the Florida Commission on Human Relations, however, were ordered not to enforce the legislation.
"If Florida truly believes we live in a post-racial society, then let it make its case," Walker wrote.
"But it cannot win the argument by muzzling its opponents. Because, without justification, the (bill) attacks ideas, not conduct, (the businesses) are substantially likely to succeed on the merits of this lawsuit."
In a previous unrelated case, Walker had struck down key provisions of Florida's 2021 election law pushed by DeSantis and ruled the state must get court approval for a decade before it enacted further changes. The 11th Circuit Court of Appeals, however, blocked his ruling from going forward.
Attorneys representing the companies said they expect to win the trial and see the law "permanently overturned."
"It is a direct attack on American free speech values as well as on free enterprise in Florida." Shalini Goel Agarwal, counsel at Protect Democracy, said in a statement.
Spokespeople with the DeSantis administration and Moody's office did not immediately respond to request for comment about Walker's ruling. The state is likely to appeal the ruling, which could lead to the injunction being blocked by an appeals court.
Attorneys for the state and DeSantis in court pushed for Walker to throw out the case and dismiss the Republican governor as a defendant in the lawsuit, arguing that the "anti-woke" law restricts no speech and only regulates that employers can't force employees to listen to "certain speech against their will" at the risk of losing their jobs.
The ACLU, ACLU of Florida and Legal Defense Fund on Thursday filed another lawsuit in federal challenging the "anti-woke" legislation on behalf of students and educators.
Excerpts from the ruling by Chief United States District Judge Mark E. Walker
[Excerpted by Portside -- moderator]
In the popular television series Stranger Things, the "upside down" describes a parallel dimension containing a distorted version of our world. Recently, Florida has seemed like a First Amendment upside down. Normally, the First Amendment bars the state from burdening speech, while private actors may burden speech freely. But in Florida, the First Amendment apparently bars private actors from burdening speech, while the state may burden speech freely.
Now, like the heroine in Stranger Things, this Court is once again asked to pull Florida back from the upside down. Before this Court is a motion for a preliminary injunction, asking this Court to enjoin a host of Government officials from enforcing portions of the Individual Freedom Act—a law that prohibits employers from endorsing any of eight concepts during any mandatory employment activity. Because the challenged provision of the Act is a naked viewpoint-based regulation on speech that does not pass strict scrutiny, Plaintiffs' motion for a preliminary injunction, ECF No. 18, is GRANTED in part.
***
Florida's Legislators may well find Plaintiffs' speech "repugnant." But under our constitutional scheme, the "remedy" for repugnant speech "is more speech, not enforced silence." Indeed, "it is the purpose of the First Amendment to preserve an uninhibited marketplace of ideas in which truth will ultimately prevail." 
***
[I]magine an employer, during a mandatory seminar on dispute resolution, cites the civil disobedience exemplified by Martin Luther King Jr. and Mahatma Gandhi as a peaceful, preferred approach. Has that employer "inculcated" employees with the belief that Black and Asian people are morally superior to White people? If an employer, during sexual harassment training, cites statistics that women are the most common victims of workplace sexual harassment and only provides examples of men sexually harassing women, have they "advanced" the belief that women are morally superior to men? Or, by training its employees on Holocaust awareness, does the beloved softshell jacket company Summit Ice "espouse" the view that Jewish people are morally superior to Gentiles? The IFA offers no guidance on these questions and many others, and the lack of explicit standards circumscribing concept 1 invites "arbitrary and discriminatory enforcement."
***
In the end, Defendants suggest that there is nothing to see here. They say the IFA does nothing more than ban race discrimination in employment. But to compare the diversity trainings Plaintiffs wish to hold to true hostile work environments rings hollow. Worse still, "it trivializes the freedom protected" by Title VII and the FCRA "to suggest that" the two are the same.
Just imagine two scenarios. In the first scenario, a Black employee complains about a mandatory safety training scheduled on Juneteenth. Then, at a mandatory training the day before Juneteenth, "to the surprise of the employees in attendance, a white woman in a black gorilla suit enter[s] the meeting." As one of the managers blocks the only exit, the woman does "Tarzan yells and repeatedly refer[s] in a suggestive manner to "big black lips,' 'big black butt,' and bananas." As the woman dances suggestively on one of the Black employees who had complained, another manager leans in and says: "Here's your Juneteenth." In the second scenario, a company directs a White employee to attend a mandatory training in which employees watch "a video about violence committed against Black people in the United States over the centuries." After the video, the presenter defines "Black rage" —"resistance towards oppressive people, practices, structures, and systems"— and "White Humility"—"a reflective practice that helps white people develop [the] capacity to interrupt white supremacy'—and asks Black and White participants to discuss them.
These two scenarios, under Defendants' theory, are indistinguishable. Indeed, Defendants say, to hold that the state may not ban the latter scenario is to hold that it may not ban the former. "If the law supposes that, the law is an ass, an idiot." Charles Dickens, Oliver Twist 463 (3d ed. The New American Library 1961). But the law is neither an ass nor an idiot. It can tell the difference.
Telling your employees that concepts such as "normal" or "professional" are imbued with historically based racial biases is not—and it pains this Court to have to say this—the same as trapping Black employees in a room while a woman in a gorilla suit puts on a retaliatory, racially inflammatory performance the day before a holiday celebrating the end of slavery. Rather, it is speech protected by the First Amendment. 
Mark E. Walker
Chief United States District Judge