Media Bits and Bytes – October 18, 2022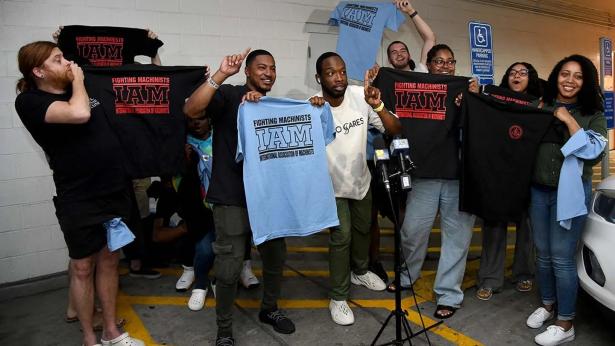 Workers at the Towson Town Center Apple hold their new union T-shirts after their store employees decided to join the International Association of Machinists Union. Credit, Barbara Haddock Taylor/The Baltimore Sun/Tribune News Service via Getty Images / Getty Images
Jelani Cobb Takes Over as Dean of Columbia Journalism School
By Alyssa Shinier
Editor and Publisher
If Dr. Jelani Cobb could gather all of you into his Columbia University lecture hall, he would speak on journalism's role in democracy during political turbulence and how journalism came to function in tandem with democracy.
AI and Rural Communities
By Benjamin Plackett
Nature
Rural communities are missing out on AI for infrastructural reasons that aren't within their control. That needs to change. Those living in remote areas are potentially more exposed to the technology's dangers than their urban counterparts, but are being neglected by research. 
Disinfo and the Brazil Election
By Mac Margolis and Robert Muggah
openDemocracy
Fake news spread by social media likely helped incumbent right-wing president Jair Bolsonaro narrow the race in the first round on 2 October, when he performed much better than pollsters predicted. As he and frontrunner Lula da Silva prepare for the runof on 30 October, the far right's misinformation machine is shifting into overdrive.
Black Women Are Disappearing From Social Media
By Amanda Miller Littlejohn
Huffpost
Maybe it was the racial reckoning that began in 2020. Maybe it was all the calls from Instagram's @thenapministry to reclaim rest or the calls to "frolic," as my girl Cici would say. But I can't count how many Black women have quietly faded away from the online spotlight with or without explanation.
Tech Companies and Election Lies
By Amy Kroin
Free Press
This summer, Free Press and several Change the Terms partners met with top executives at Meta, TikTok, Twitter and YouTube to urge them to safeguard election integrity. Across the board the companies are failing to take election disinformation seriously.
Musk Moves Forward on Twitter Deal
By Tyler Adkisson
Newsy
Musk's acquisition of Twitter could open the platform to hosting increased unsavory content. Musk has suggested that he'd be more lenient with content moderation, saying "Given that Twitter serves as the de facto public town square, failing to adhere to free speech principles fundamentally undermines democracy."
Freeing the Internet With Snowflake
By Cooper Quintin
Electronic Frontier Foundation
In the past, running a pluggable transport was difficult to set up, requiring a server and a good deal of time and technical knowledge. Now, thanks to a new pluggable transport called "Snowflake," anyone can run a pluggable transport in their browser with just a couple of clicks and help people all over the world access the unrestricted internet. 
Apple Workers Organize
By Jessica Corbett
Common Dreams
The labor movement sweeping the United States notched another win when workers in Oklahoma City voted to become the second unionized Apple Store in the nation, after the victory in Maryland earlier this year. Bernie Sanders tweeted, "Last year, Apple made a record $95 billion profit. Its billionaire CEO made $99 million in 2021. It's time for Apple to treat its workers with respect."
Los Espookys
By Sabina Graves
Gizmodo
Perhaps the most accurate portrayal of horror-loving friends ever captured on screen, Los Espookys—HBO's underrated comedy series—is back for season two with its earnest eccentric vibes. The show presents Mexican horror lore in a new light.
Working in the Comic Strip Biz
By Joe Grunenwald
Comics Beat
Barbara Brandon-Croft said she didn't grow up knowing she wanted to make comics. She credited Luther cartoonist Brumsic Brandon Jr., her father, for 'training' her her whole life, from having her zip-a-tone his comics to filling in on lettering when he was injured.