Media Bits and Bytes – November 1, 2022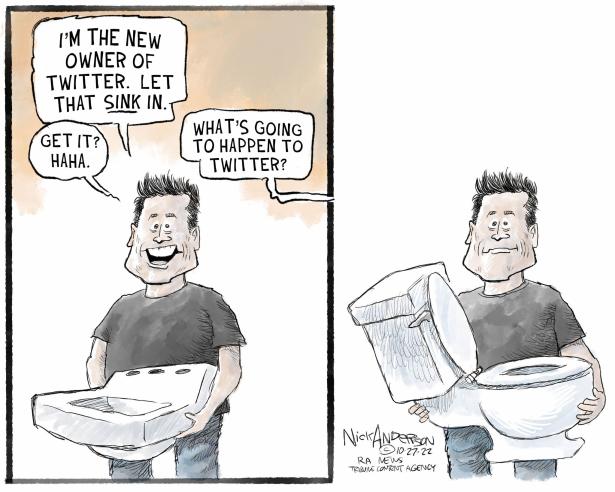 Credit, Nick Anderson
The Future of Twitter
By Hamilton Nolan
The Guardian
Musk probably bought Twitter for the same reason billionaires throughout history have become press barons: to try to control the conversation.
Big Tech Falters
By Jordan Novet
CNBC
Alphabet, Amazon, Meta and Microsoft combined lost over $350 billion in market cap this week. Forecasts were particularly gloomy for Meta and Amazon, as the economic slowdown punishes the former high flyers.
Right-Wing Media Empire
100 Years of the Beeb
By Mark Perryman
Labour Hub
For some, the BBC is a century old voice of the establishment. For others a cabal of the woke. But as Raymond Williams sought to teach us, "culture is ordinary." Thus, for most, rather than simply via the news, it is in the nooks and crannies of children's TV, soaps and celebrity-led reality TV and comedy that ideas are formed, dismantled, remade.
Europe Rewriting Internet Rules
By Khari Johnson
Wired
The Digital Markets Act will force Big Tech platforms to break open their walled gardens in 2023, says the EU's new ambassador to Silicon Valley.
The Shift in Climate Coverage
By Mark Hertsgaard and Kyle Pope
Columbia Journalism Review
The relentless severity of the unfolding climate crisis has become impossible to ignore. Audiences have started paying closer attention, spurring the best newsrooms to supply more reporting that meets the urgency of the moment. 
Meta, TikTok and the Brazil Election
By Brett Wilkins
Common Dreams
As Brazilians prepare to vote in Sunday's decisive presidential runoff, a report published Saturday revealed that social media giants Meta—Facebook's parent company—and TikTok are driving traffic to content promoting a military coup to overthrow Brazil's democracy.
Podcasts on Palestine
By Diana Safieh
Washington Report on Middle East Affairs
The rise of social media helped us learn about facts on the ground, and now podcasts can be used in much the same way. So welcome to the wonderful world of English-language podcasts on Palestine. 
Major Platforms and the Midterms
Free Press
A report reveals the ongoing failures of Meta, TikTok, Twitter and YouTube to curb the spread of election disinformation and extremism across their networks. 
How-To Videos: Stealing Cars Made Easy
By Jennifer Hassan
Washington Post
Police departments from New York to Los Angeles are growing increasingly concerned about car thefts — which are spiking because of a vulnerability in earlier Kia models that has been shared widely in social media videos, outlining exactly how to steal the vehicles in seconds.