labor
Strike by U.C. Academic Workers Continues Into a Second Week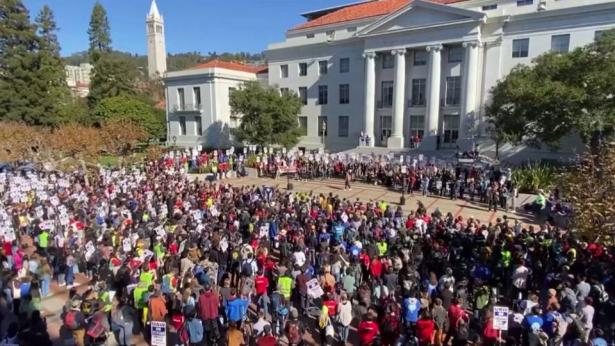 Striking University of California academic workers represented by the UAW rally on Nov. 14, the first day of a strike now in its second week.,Twitter: @only_tanz via Democracy Now!
Hundreds of academic workers chanting "Shut it down" and "We've got the power" marched through U.C. San Diego's seaside campus on Monday as one of the nation's largest strikes in years entered its second week.
The walkout, which began on Nov. 14, involves bargaining units representing nearly 48,000 teaching assistants, researchers and other employees across the University of California's 10 campuses who are asking for wage increases and better benefits. No end date for the strike has been set, though officials from the United Automobile Workers, which represents the academic workers, and the university say they have come closer to reaching agreements over the past several days.
The labor action, which comes amid a wave of union activity across the country, could become a turning point nationwide for graduate student workers, whom America's universities have long relied on, for relatively low pay.

In California in particular, the exceptionally high cost of living has brought these widespread issues to a head. As my colleague Shawn Hubler reported, the U.C. campuses are in some of the nation's most expensive housing markets, not just in the Bay Area and Los Angeles, but coastal enclaves such as Santa Barbara, Santa Cruz and Irvine.
At U.C. San Diego, in the pricey La Jolla neighborhood, strikers on Monday afternoon wove en masse among the campus's eucalyptus trees. One protester carried his toddler on his shoulders. Some of the signs demonstrators hoisted into the air read: "The rent is too damn high." "Education begins when exploitation ends." "You can't eat prestige."
Anoop Praturu, a third-year doctoral student in biophysics, marched with the crowd and played his guitar in time with the chants. He told me that when his apartment flooded in the spring, he couldn't easily find another because he didn't make enough money to qualify for most rentals near campus.
For two months, Praturu, 25, alternated between crashing on friends' couches and sleeping in his car. He eventually found a place to live, and now pays $1,200 per month to rent a bedroom in an apartment 15 miles from campus. After rent, food and gasoline, there isn't much left of his $2,300 monthly paycheck.
"Often times, I have less than nothing left, and I'm accruing debt just to be here," he said, adding: "I can't in good conscience tell someone to come here for their Ph.D. The cost of living is untenable."
The U.C. said in a statement that its primary goal is to "recognize these employees' important and highly valued contributions" with fair pay and benefits, as well as a supportive and respectful work environment. University officials are also calling for private mediation to help secure a contract.
The proposals offered by the university "would place our graduate students and academic employees at the top of the pay scale across major public universities and on par with top private universities," the statement reads. "Though we have reached many tentative agreements with the union, we remain apart on key issues related to tying wages and pay increases to housing costs and tuition remission for nonresident international students."
Over the past eight days, the strike has led to canceled lectures and office hours and has slowed research operations. The impacts have been especially disruptive as finals are approaching for many.
Olivia Gunther, a postdoctoral scholar at Lawrence Berkeley National Laboratory, said that in the past few days, university officials had seemed increasingly willing to "meet us somewhere in the middle," though there are still several issues to be resolved. Gunther is on the bargaining committee for her unit.
"We don't know when the strike is going to be over. It's still open-ended," she told me Monday evening. At the very least, it appeared likely to continue on Tuesday.