Media Bits and Bytes – January 24, 2023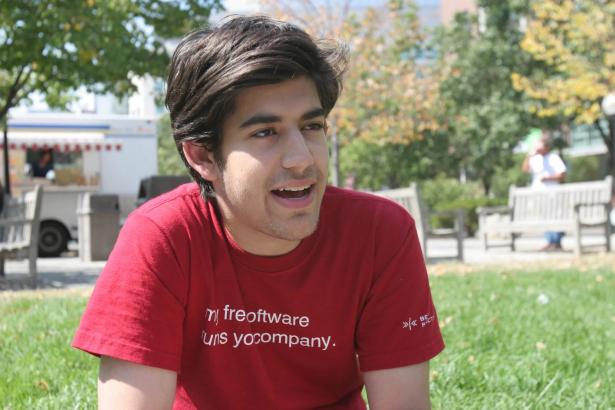 Programmer and activist Aaron Swartz. Credit, Wendy Maeda/The Boston Globe via Getty Images
Big Tech Firings by the Thousands
By Kiara Alfonseca
ABC News
Companies across the tech industry have announced layoffs, affecting thousands of workers in the first few weeks of 2023. Company officials have often cited economic uncertainty and fears of a recession in their job-cutting, cost-cutting decisions. It follows a volatile 2022, which was also marred with layoffs by the thousands across major tech brands.
By Jessica Corbett
Common Dreams
Anti-monopoly advocates praised the Biden administration and eight states for launching a federal antitrust lawsuit that could break up Google, which is accused of illegally dominating the digital advertising market.
ChatGBT is a Mirror of Our Times
By Philip Ball
Nautilus
It is hard to see how a language model could ever truly innovate, for that is antithetical to what it is designed to do, which is simply to ape, mimic, and, as a statistician would put it, regress to the mean, which tends toward the mind-numbingly drab. Language use is the opposite of that.
By Chris Lehmann
The Nation
The House select committee on January 6 final report was strikingly silent on the role of the news itself in fomenting the insurrection at the US Capitol—especially as that news was filtered, customized, and willfully distorted by social media platforms catering to the militant wing of the Trumpian right.
By Dorothee Benz
FAIR
Times op-ed makes the case for corporate and government surveillance, by demonizing freedom from such surveillance as a dangerous plot by unnamed "technologists" who are "developing and deploying applications of their technologies for explicitly ideological reasons." Their ideological agenda? Privacy. The horror!
By Timo Daum
Rosa Luxemburg Stiftung
The Chinese digital economy, originally created as a copy of the Californian model, has since developed into an independent pillar of modern Chinese society. When it comes to user numbers, market dominance, or the amount of data generated, it can now more than hold its own against the originals from Silicon Valley.
In Search of a Media Model for Movements
By Todd Wolfson and Malav Kanuga
Logic
A visionary, graspable, commonsense alternative to neoliberalism seems out of reach. Why was the antiwar movement of 2003 more unified in its opposition, more coordinated and connected, and more coherent in its analysis than today? One part of the answer is that movements are no longer reported on, and sustained by, a vibrant grassroots media network like Indymedia.
Independent TV Service Leader Sally Jo Fifer Steps Down
By Katie Reul
Variety
The nonprofit organization is an incubator for indie filmmakers that both co-produces documentary films and raises funding for production. During her tenure, Fifer tripled the ITVS operating budget and executive produced over 1,000 films and docuseries, including director Raoul Peck's "I Am Not Your Negro" and Bing Liu's feature directorial debut, "Minding the Gap."
Shadowbanning and the Twitter Files
By Nitish Pahwa
Slate
By all accounts, the revelations from Bari Weiss and co. still do not demonstrate any shadowbanning, either by its Reddit-era context or its Twitter definition. Perhaps the continued use of the word, then, reveals less about any real-life shadowbanning and more about some defining aspects of the modern social media experience. 
By Slava Greenberg
Film Quarterly
In the documentary Code of the Freaks (2020), thirteen disabled activists, artists, and scholars respond to hundreds of movie clips stereotypically portraying disability. The film marks a shift from educating the general audience to addressing their own community members as desired, even privileged, spectators.
By Maximillian Alvarez
The Real News
Throughout his life, Swartz remained a fierce opponent to the enclosure of knowledge for the sake of profit and control. He was a generation-defining advocate for the democratization of information and access to that information, and for the not yet fulfilled promise of the digital age to bring humanity closer than we've ever been to realizing that goal.