The Book That Exposed Anti-Black Racism in the Classroom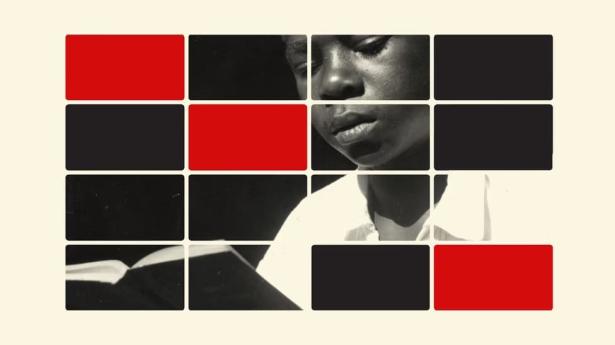 Getty; The Atlantic
In 1925, teachers at the Negro Manual and Training High School of Muskogee, Oklahoma, made what they thought was an appropriate choice of textbook: The Negro in Our History, by the Harvard-trained Black historian Carter G. Woodson. Woodson had written this "history of the United States as it has been influenced by the presence of the Negro" to supply the "need of schools long since desiring such a work," as he wrote in the book's preface. Upon learning of this textbook choice, White segregationists on the school board sprang immediately into action. They decreed that no book could be "instilled in the schools that is either klan or antiklan," insinuating that Woodson's Black history textbook was "antiklan."
The school board banned the book. It confiscated all copies. It punished the teachers. It forced the resignation of the school's principal. "It's striking how similar that feels and sounds to the contemporary moment," the Harvard education historian Jarvis R. Givens told me.

A century ago, white segregationists were banning anti-racist books and "Negro studies" as well as punishing and threatening anti-racist educators all over Jim Crow America.
In response to these incidents, Woodson embarked on a new initiative to support educators and promote Negro history. In 1926, he founded Negro History Week, which officially became Black History Month 50 years later. And Woodson's most important scholarly contribution, his 1933 book, The Mis-education of the Negro, highlighted the importance of teaching Black history. The book argued that Black children learn to despise themselves—just as non-Black people learn to hate Black people—when Black history is not taught. As Woodson wrote, "There would be no lynching if it did not start in the schoolroom." Combining pedagogical theory, history, and memoir, this was a book about the dangerously racist state of education, a book for 2023 as much as it was for 1933.
+++++++++++++

The Mis-Education Of The Negro By Carter Godwin Woodson   Buy Book Via: [ Tertulia | Amazon | Bookshop ]
+++++++++++++
The Mis-education of the Negro was recently reissued with an introduction from Givens, who studies the history of American education and has written extensively on Black educators, including Carter G. Woodson. Givens helped develop the AP African American Studies course that was piloted in about 60 schools across the United States and recently rejected in Florida. We discussed the enduring relevance and power of this classic book 90 years after its birth.
This interview has been condensed and edited for clarity.
Ibram X. Kendi: For the past two years, many politicians and political operatives have made the case that teaching white students about African American history, about slavery, about racism, makes them feel bad or is even a form of miseducation. But these operatives do not seem to care about the educational experience of Black children. I'm curious what Carter G. Woodson would say about the impact on Black children of not teaching that material. What is Woodson saying in Mis-education?
Jarvis R. Givens: He argues that the physical violence Black people experience in the world is inextricably linked to curricular violence. He would say Black students must be equipped with resources to resist this violation of their dignity and humanity; they must be given an opportunity to know themselves and the world on new terms. To deny Black students the opportunity to critically study Black life and culture is to deny them the opportunity to think outside of the racial myths that are deeply embedded in the American curriculum.
Kendi: It seems like this book could have just as easily been titled The Mis-education of the American.
Givens: The overrepresentation of European and Euro American history and culture offers white people this kind of inflated sense of importance. Woodson would say that this has historically been part and parcel of the identity development of white students, or any other group who is taught to look down on and despise Black people as a means of propping themselves up. There are several parts in the book when Woodson points to this miseducation of non-Black people—especially when he writes, "There would be no lynching if it did not start in the schoolroom."
Kendi: Many people would oppose educators and books that state that Black people are "demons," as former Ferguson officer Darren Wilson described Michael Brown. But there seems to be less concern about the harm that comes from what educators and books do not state. Can you share how Woodson talked about the harm that comes from absences?
Givens: This is a really important question. We absolutely learn through omissions. We learn through things that are not included in curricula. It teaches us what's deemed unworthy of inclusion, what's deemed as lacking in "educational value" according to the state of Florida.
And this is something that I think is very, very important, even when we think about the way Black history and culture have been included. You know, for so long, you could read the entire history of slavery and never know that Black people resisted, that they led rebellions, that they formed Maroon communities. Students could walk away thinking that slavery was just this benevolent institution, that Black people had to work hard but they benefited from being immersed in the West and the Christian world. They made all these beautiful songs and sang all these Negro spirituals. This is evidence that they were happy. The absence of narratives about Black people fighting back presents them as these apolitical subjects. It strips them of their agency.
Kendi: So, those who are attacking what they call "critical race theory" characterize these omissions—that end up pacifying people—as "education." And they classify anti-racist books (like, frankly, my own) and African American studies as "indoctrination." What do you make of that?
Givens: If anything, there is a very clear system of indoctrination that has always been embedded in the American curriculum. It's called white supremacy. By engaging in African American studies, we are inviting students to help undo that.
It's also important to emphasize that there are diverse perspectives in African American studies. There is no one African American–studies perspective. We can have different kinds of intellectual projects and schools of thought. And the AP African American Studies course, from what I know of it, as someone who was part of the team of scholars and K–12 educators that developed it, is that we were all bringing the diversity of Black thought and debates to the table. The course represents a good model of the kind of plurality of thought that we might consider when we're talking about reframing the larger structure of knowledge in American schools.  
Kendi: You wrote beautifully about the fight of Woodson and the Black teachers of his generation during Jim Crow in your book Fugitive Pedagogy. At that time, too, white segregationists were banning not only Woodson's books but all sorts of anti-racist books and lessons. But Black teachers found ways to still teach Black students the truth. What are some of the lessons, particularly for teachers in this moment who want students to learn about racism and U.S. history and racial equality?
Givens: The teachers I wrote about in Fugitive Pedagogy were deeply aware that the efforts to restrict what could and could not be taught in the classroom infringed on the dignity of Black students, and it also infringed on their dignity as Black educators. And there is a larger lesson here: that the dignity of students is always bound up with the dignity of teachers. How we treat and handle teachers says something about who we are as a society.
The de-professionalization of teachers in America is something that's been happening for a very long time. The teaching profession has become so debased not on the part of teachers themselves, but in terms of the social pressures that they're having to operate under. It really exposes a deeply ingrained crisis in the culture of the society that we live in. Teachers are not viewed as intellectuals. They're seen as people who are just supposed to come in and follow a script and not be thinking beings at all.
+++++++++++++

Fugitive Pedagogy - Carter G. Woodson And The Art Of Black Teaching By Jarvis R. Givens   Buy Book Via: [ Tertulia | Amazon | Bookshop ]
+++++++++++++
Kendi: Certainly. When they follow the unthinking script and demand that students do too, GOP operatives claim that is "education."
And that brings me to a few of the striking quotes from The Mis-education of the Negro that I wanted to get your thoughts on. The first is relevant to what we were just discussing: "The mere imparting of information is not education."
Givens: Woodson is saying that the purpose of education cannot just be simply to dump information into the minds of students. It has to be about guiding students on a journey to understand themselves in relationship to the world around them and to understand what they can do to push for social transformation so that they can live and aspire to a good life—a more meaningful life.
Kendi: Another quote from Woodson's book: "The oppressor has always indoctrinated the weak with this interpretation of the crimes of the strong."
Givens: Woodson is raising questions about the ideological underpinnings of the official curriculum. This is connected to where he points out that "the philosophy and ethics resulting from our educational system have justified slavery, peonage, segregation, and lynching." He's asking us to consider: What does it mean to base the education of Black students on an interpretation of human experience and a set of philosophies and ethics that justified the plunder of Africa and the enslavement of Black people? It erases and negates Black perspectives and the human striving of Black people. Therefore, Woodson says, "the education of any people should begin with the people themselves."
Kendi: And finally, the most memorable quote from Mis-education: "If you can control a man's thinking you do not have to worry about his action. When you determine what a man shall think you do not have to concern yourself about what he will do. If you make a man feel that he is inferior, you do not have to compel him to accept an inferior status, for he will seek it himself. If you make a man think that he is justly an outcast, you do not have to order him to the back door. He will go without being told; and if there is no back door, his very nature will demand one."
Givens: He's naming how an education not based on liberatory principles can lead to oppressed people being complicit in their own domination. He's naming how Black people can become so thoroughly miseducated that they become enlisted into the anti-Black protocols that have structured the world that we live in. This quote, for me, is very important for our reflections on Memphis and the violent death of Tyre Nichols.
When you buy a book using a link on this page, The Atlantic will receive a commission. Thank you for supporting The Atlantic.
---
Ibram X. Kendi is a contributing writer at The Atlantic. He is the Andrew W. Mellon Professor in the Humanities at Boston University and the founding director of the university's Center for Antiracist Research.
The Atlantic. Be surprised. Be challenged. Be a subscriber. Select your plan. Cancel anytime.