film
Film Review: 'Ithaka' Makes a Personal Appeal to Free Assange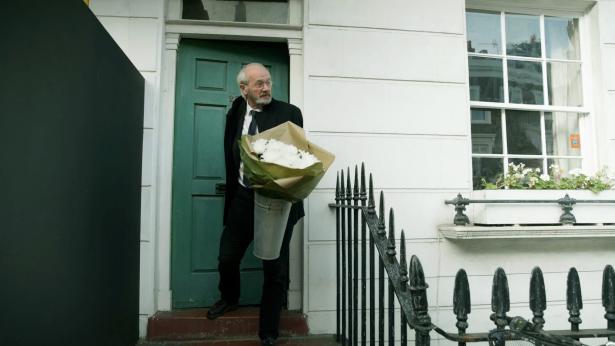 Julian Assange's father John Shipton.,
Director Ben Lawrence's award-winning Ithaka, released in theaters March 1, takes viewers behind the curtain into the ongoing struggle to prevent Julian Assange, arguably one of the planet's most famous political prisoners, from being extradited from the United Kingdom. Assange faces espionage charges in America for exposing U.S. atrocities and classified information. 
Assange mostly appears on screen in archival footage, news clips, home movies, and phone calls, since shooting for the documentary began after the WikiLeaks founder was forcibly removed from his refuge inside the Ecuadorian embassy in London and held in Britain's maximum security Belmarsh Prison. 
Those calls are generally with Stella Moris, Assange's attorney and wife, with whom the WikiLeaks publisher has two children. Ithaka focuses on Stella, along with Assange's seventy-seven-year-old father, Australian John Shipton, who has flown to England (and later to New York) to play an active part in the quixotic crusade to prevent his son from being extradited. They are joined onscreen by Julian's younger half-brother, Australian filmmaker Gabriel Shipton, who worked on films such as 2015's Mad Max: Fury Road and is a producer of Ithaka.

The film, which is named after John Shipton's favorite poem, takes us inside the movement to free Assange. We get up close and personal with John, who was largely estranged from Assange until the latter was in his twenties. John often comes across as a cranky contrarian with personal issues, who somehow manages to rally and rise to the occasion while suffering from deteriorating physical and mental health. Stella is equally admirable, a strong woman loyally standing by the man she loves, whom she regards as a hero to the cause of freedom of the press.
Ithaka stresses that if Assange is extradited to America, supporters fear he'd face extremely harsh conditions. He would also become the first journalist ever convicted under the draconian Espionage Act, a blow against journalism, transparency, and democracy. From London to New York, Stella, John, and Gabriel lobby influential people, make media appearances (which John detests, but does anyway), and speak at many rallies, where they are joined by numerous others carrying signs demanding "Free Julian Assange!"
Notable dissidents such as Chinese artist Ai Weiwei, Pentagon Papers leaker Daniel Ellsberg, plus United Nations Special Rapporteur on Torture Nils Melzer, support the cause. As does NSA whistleblower Edward Snowden, seen in exile in Russia, declaring that Assange could be "imprisoned for the rest of his life for the best thing Julian ever did." In a charming moment at the film's end, many rank-and-file protesters are thanked by name as the credits roll.
---
Gabriel's role in the film demonstrates the strengths and weaknesses of a production created by relatives or friends. On the one hand, this proximity to a protagonist can provide behind-the-scenes access and firsthand knowledge of background information. This is an asset, especially when dealing with someone like Assange, who has had to operate in the shadows while he worked to ensure the public's right to know by disclosing clandestine documents, state secrets, and the like. And Ithaka often does have a fly-on-the-wall, you-are-there, vibe that's possible mainly because the producer, as well as Stella and John, are so close to the imprisoned Assange, who is no longer able to speak freely for himself.
On the other hand, relations and pals are hardly impartial, independent observers and may also be so familiar with the subject matter of their story that they take it for granted that audiences, too, will be in the know about the details of what is, particularly in this case, quite complicated. For example, many viewers may know about Assange in connection to WikiLeaks' embarrassing disclosure during the 2016 U.S. presidential race of a trove of emails pertaining to the Democratic Party's then-candidate Hillary Clinton, which prompted her GOP rival, Donald Trump, to exalt: "I love WikiLeaks!"
Of all people, the only person seen in Ithaka (briefly) discussing the Clinton emails is raucous podcaster Joe Rogan. Rogan is highly amused, as he frames it, that Assange was the darling of the Left when he was exposing U.S. government war crimes, but that they demanded his head after WikiLeaks released the private Clinton emails. 
But no matter what one thinks about WikiLeaks' role in the release of the confidential Clinton messages, whether the Kremlin was implicated and the curious timing of it (just as Trump's sexist, crude Access Hollywood comments were being made public), Assange is not cooling his heels at Belmarsh Prison and facing extradition to America due to this eyebrow raising act. Nor is he currently in danger of being extradited to Sweden to face allegations of sexual misconduct (the investigation of which has been dropped, another episode not explained in much detail on screen).
Instead, Washington is trying to incarcerate Assange in America because, as Amy Goodman explained on Democracy Now!: "In 2019, Julian Assange was indicted in the United States on seventeen counts of violating the Espionage Act related to the publication of classified documents exposing U.S. war crimes in Iraq, Afghanistan, and elsewhere." 
According to Ithaka, Assange faces a 175-year prison sentence if he is convicted under the World War I-era Espionage Act, which was enacted during the country's first Red Scare and was aimed at silencing and persecuting the antiwar, pro-labor Left, from Socialist Eugene V. Debs (who ran for president from a prison cell) to anarchist Emma Goldman, one of hundreds of immigrants who were deported under the act. Britain's outspoken former ambassador to Uzbekistan, Craig Murray, gets to the heart of the matter in Ithaka when he eloquently points out: "Not one of those people who committed war crimes is on trial anywhere. Instead, the one who [exposed] it is on trial. And that's not right." 
The most damning, dramatic portion of the almost 750,000 classified or sensitive military and diplomatic documents that U.S. soldier Chelsea Manning was eventually convicted for providing to Assange, who exposed them via WikiLeaks in April 2010, was "a classified U.S. military video depicting three airstrikes from a U.S. Apache helicopter on July 12, 2007 in New Baghdad, Iraq. At least eighteen people were killed in the airstrikes, including two journalists working for Reuters," according to WikiLeaks. Children were wounded and none of the civilian casualties, including Reuters' Saeed Chmagh and Namir Noor-Eldeen, proved to actually be militarily threatening U.S. forces.
Only a short portion of this harrowing video is screened in Ithaka, and the name by which it came to be called, "Collateral Murder," is oddly never mentioned in the documentary. Be that as it may, while some on the Left may question various disclosures WikiLeaks has made, and Assange's personal behavior, Ithaka makes a truly compelling case and argument for not only preventing Assange's extradition to America, but for freeing someone suffering from unjust persecution for years due to the heroic exposure of U.S. wrongdoing in Iraq and beyond.
There have been other films made about the WikiLeaker, including features such as 2012's Underground: The Julian Assange Story and Bill Condon's 2013 biopic The Fifth Estate starring Benedict Cumberbatch, and documentaries like Laura Poitras's 2016 Risk and 2017's Hacking Justice. But the 106-minute Ithaka is arguably the most deeply personal production made about a man who, the documentary reminds us, is also a father, husband, son, and brother. Assange, who is now fifty-one and reportedly in mental and physical distress, deserves to be reunited with his family. The war criminals should be behind bars, not those who reveal their crimes against humanity.
Ed Rampell
  -  L.A.-based film historian/reviewer Ed Rampell co-authored the third edition of "The Hawaii Movie and Television Book."