Why GOP Culture Warriors Lost Big in School Board Races This Month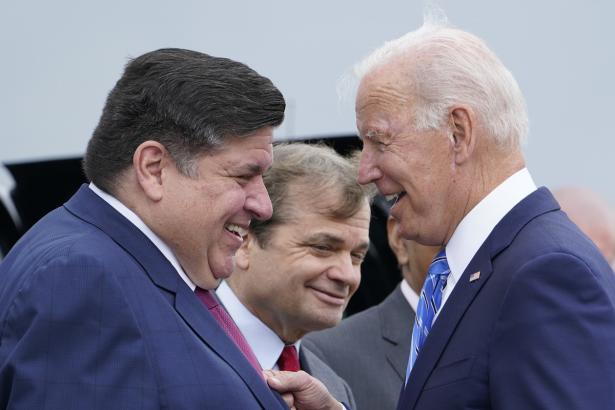 "Fortunately, the voters saw through the hidden extremists who were running for school board — across the [Chicago] suburbs especially," Gov. JB Pritzker told reporters after last week's election. ,Susan Walsh/AP Photo
Amid all the attention on this month's elections in Wisconsin and Illinois, one outcome with major implications for 2024 flew under the national radar: School board candidates who ran culture-war campaigns flamed out.
Democrats and teachers' unions boasted candidates they backed in Midwestern suburbs trounced their opponents in the once-sleepy races. The winning record, they said, was particularly noticeable in elections where conservative candidates emphasized agendas packed with race, gender identity and parental involvement in classrooms.
While there's no official overall tally of school board results in states that held an array of elections on April 4, two conservative national education groups did not dispute that their candidates posted a losing record. Liberals are now making the case that their winning bids for school board seats in Illinois and Wisconsin show they can beat back Republican attacks on divisive education issues.

The results could also serve as a renewed warning to Republican presidential hopefuls like Donald Trump and Ron DeSantis: General election voters are less interested in crusades against critical race theory and transgender students than they are in funding schools and ensuring they are safe.
"Where culture war issues were being waged by some school board candidates, those issues fell flat with voters," said Kim Anderson, executive director of the National Education Association labor union. "The takeaway for us is that parents and community members and voters want candidates who are focused on strengthening our public schools, not abandoning them."
The results from the Milwaukee and Chicago areas are hardly the last word on the matter. Thousands more local school elections are set for later this year in some two dozen states. They are often low turnout, low profile, and officially nonpartisan affairs, and conservatives say they are competing aggressively.
"We lost more than we won" earlier this month, said Ryan Girdusky, founder of the conservative 1776 Project political action committee, which has ties to GOP megadonor and billionaire Richard Uihlein and endorsed an array of school board candidates this spring and during the 2022 midterms.
"But we didn't lose everything. We didn't get obliterated," Girdusky told POLITICO of his group's performance. "We still pulled our weight through, and we just have to keep on pushing forward on this."
Labor groups and Democratic operatives are nevertheless flexing over the defeat of candidates they opposed during races that took place near Chicago, which received hundreds of thousands of dollars in support from state Democrats and the attention of Democratic Gov. JB Pritzker, and in Wisconsin. Conservative board hopefuls also saw mixed results in Missouri and Oklahoma.
Democrats hope the spring school election season validates their playbook: Coordinate with local party officials, educator unions and allied community members to identify and support candidates who wield an affirming pro-public education message — and depict competitors as hard-right extremists.
Yet despite victories in one reliably blue state and one notorious battleground, liberals are still confronting Republican momentum this year that could resemble November's stalemated midterm results for schools and keep the state of education divided along partisan lines.
Conservative states are already carrying out sharp restrictions on classroom lessons, LGBTQ students, and library books. And they are beginning to refine their message to appeal to moderates.
Trump, DeSantis, former Vice President Mike Pence, former South Carolina Gov. Nikki Haley and other Republican presidential hopefuls are leaning on school-based wedge issues to court primary voters in a crowded White House campaign.
That rhetoric, combined with Republican Virginia Gov. Glenn Youngkin's ability to harness voter frustration with education as part of his upset victory in 2021, has inspired a wave of conservative challengers to run for school board seats.
Once the domain for everyday academic concerns, mild-mannered bureaucracy, and the occasional controversy, school boards became a lightning rod for the right during pandemic lockdowns plus a national reckoning with gender identity and race.
Critical race theory was an obscure academic legal framework used to examine racism in American institutions. But it has been reframed by conservative activists to encompass broad complaints about issues related to diversity.
Conservatives have also seized on transgender students to rejuvenate a social agenda that includes a push to restrict transgender athletes in sports, gender-affirming medical care and access to LGBTQ-affirming library materials.
"What I was most surprised by was just the sheer prevalence of these Republican candidates," said Ben Hardin, executive director of the Democratic Party of Illinois, after his party made an unprecedented decision to endorse dozens of local school and library board candidates and funnel nearly $300,000 into those elections.
"Obviously this is not a new phenomenon," Hardin said in an interview. "But to see it so widespread here in Illinois, across the state in regions that are across the partisanship spectrum, was what was most interesting to me."
In Oswego, Ill., a small community in Chicago's far southwestern suburbs, the 1776 Project supported four candidates running as part of a "We The Parents" slate on a platform aligned with the conservative parental rights movement. Each of those candidates lost, including to one candidate endorsed by a local Illinois Federation of Teachers affiliate.
The race, like many others across the region, featured core concerns that are often splitting school communities today.
The Chicago Tribune reported Oswego's We The Parents slate received support from the local Stamp Act political action committee, which proclaims it will "fight to preserve our cultural and religious heritage" and "resist attempts by the Left to transform and reshape American society."
The conservative Awake Illinois group, which has opposed critical race theory and gender-affirming medical care for children, weighed in too.
A group of conservative candidates in the wealthy Chicago suburb of Barrington who were backed by the 1776 PAC, Moms For America Action and Awake Illinois also lost their school board bids.
"Fortunately, the voters saw through the hidden extremists who were running for school board — across the [Chicago] suburbs especially," Pritzker told reporters after last week's election. "I'm glad that those folks were shown up and, frankly, tossed out."
Overall, the 1776 Project PAC endorsed 14 candidates but won six races in Illinois. Other conservatives also notched wins in Illinois, including two candidates who claimed seats in a suburban high school district in Lockport Township, Ill. over two union-endorsed aspirants.
The Democratic Party of Illinois said 84 of 117 candidates the party recommended won their April 4 races. The Illinois Education Association, the state affiliate of the National Education Association, said it won nearly 90 percent of the races where it endorsed candidates.
"Part of the reason we did so well is because of how we are organized," said Kathi Griffin, president of the Illinois Education Association. "The state organization does not tell the local affiliates who to support. It is the local affiliates that do the interviewing of candidates, have relationships with the community and with the parents. They are the ones that make the decision, then they reach out to us" to ask for support.
Teacher unions are also celebrating a school board victory in a bellwether community in suburban Milwaukee.
Brian Schimming, chair of the Republican Party of Wisconsin, described the Wauwatosa School Board election last month as "an important race for the whole state."
Schimming promoted candidates known as the "Three Tosa Dads" who emphasized a platform centered on school safety and academic performance after the Republican National Committee last year encouraged candidates to broaden their message beyond culture wars and court independent voters with a more nuanced message focused on parental involvement and student educational development.
Wauwatosa's GOP-backed aspirants still lost by wide margins to teacher union-supported candidates. The 1776 Project won slightly less than half of the nearly 50 Wisconsin races it endorsed candidates in.
Other efforts led by Wisconsin Republicans were more successful.
In Waukesha County, where voters heavily favored Trump in the 2020 election, the local party successfully endorsed dozens of area school board candidates as part of a "WisRed Initiative" to dominate local government races.
But Moms For Liberty, a newly prominent conservative group that helps train and endorse school board candidates, said just eight of its candidates won races in Wisconsin last week. The group had endorsed candidates in another 20 elections, its founders said.
"We are hopeful that as more people learn about Moms For Liberty and contribute to our PAC, we will be able to win more races," organization co-founders Tiffany Justice and Tina Descovich said in a statement. "The majority of those [endorsements] were first time candidates who did not win, and that just gives us a great bench of folks to have trained and ready to run again to fight for parental rights in future elections."
The results offer lessons to both parties as they eye even more board elections this year.
Education was central to Youngkin's win, though his political advisers have stressed the campaign's success was based on building custom messaging models targeted at different groups of voters instead of relying on a single message.
Conservative school campaigns should heed similar advice, Girdusky argued.
"Don't assume that a blanket message on critical race theory or transgender issues is going to claim every district — it's very personalized," he said. "If it's happening in that district, speak to it in volumes. But don't tell parents something is happening if it's not happening, because then it doesn't look like you're running a serious operation."