Global Left Midweek – May Day 2023 Reports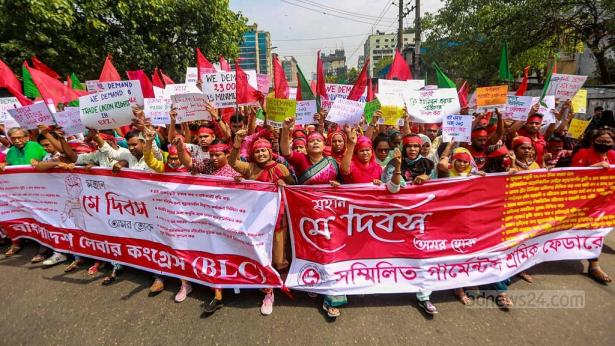 Members of the Sommilito Garments Sramik Federation in Dhaka, Bangladesh on Monday, May 1, 2023. Credit, bdnews24.com
__________
May Day!
__________
Chile's Boric is Nationalizing Lithium Reserves
Alexander C. Kaufman / Huffpost (New York)
Last week, Chile announced plans to bring the country's vast reserves of lithium under government ownership. The country is the world's second-largest producer of the key metal used in electric vehicle batteries and is seeking to keep a bigger cut of its mineral riches within its borders.
__________
The Left and the Ukraine War
__________
Israel Protests and Palestine Resistance
Donald Swartz and Avishai Ehrlich / Socialist Project (Toronto)
The demonstrations usually gather on late Saturday afternoon, and there is a central place where people speak. And the left has created a kind of focus area, where there are lots of posters distributed and carried which have to do with the conflict, with "there is no democracy with occupation," so the common theme is democracy. 
__________
Women Are Leading
__________
India's Original Communists Lose Status
The Federal (Chennai)
From being a political formation which once commanded tens of thousands of dedicated activists all the way from Peshawar to Chittagong in undivided India, the CPI has now been reduced to a two-men show in the 545-seat Lok Sabha, a great fall which its leaders lament. The Election Commission announced that it was withdrawing the "national status" accorded for decades to the CPI.
__________
Left Parties in Turkey's Election
__________
UK Labour Purge
Ruby Lott-Lavigna / openDemocracy (London)
In Stroud, Labour even blocked its own council leader, Doina Cornell, from the local parliamentary longlist. At the time, Cornell said she was given "spurious and partisan reasons", with some reports suggesting it had been down to social media posts. She and two other councillors then quit the party, costing Labour its control of the town hall.
__________
Jayati Ghosh's Call to Action
Sorcha Brennan / Frontiers (Lausanne)
Predominantly private, deregulated finance sloshing around the globe responds to monetary and fiscal policies in rich countries, while causing huge collateral damage to the developing world. We have to do something with the global financial architecture to reduce or prevent this. The International Monetary Fund, the World Bank, etc., are not fit for this purpose. 
__________
Nigeria: What's Become of EndSARS
Amos Oluwatoye / Waging Nonviolence (Brooklyn)
By channeling their energy into the Obidient movement, Nigeria's anti-police brutality activists have turned a fringe political party into a powerful force for change.