Nurredin Amro's Epic Battle To Save His Home From Demolition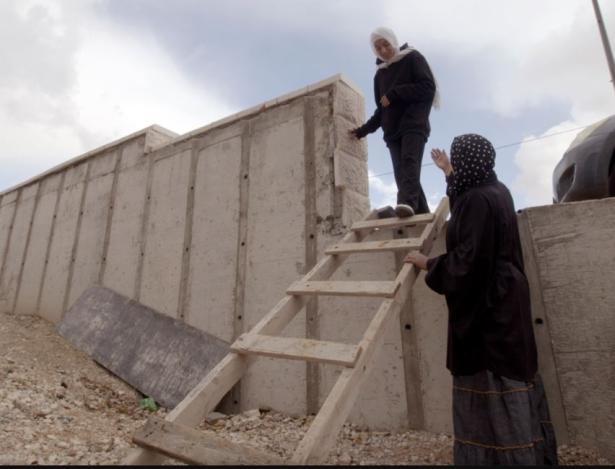 Nabiha Amro helps her daughter, Aseel, enter their home using a ladder after Israeli authorities surrounded the house with a wall.,
My friend, Nurredin Amro, his extended family and their entire neighborhood are on a list: their homes in East Jerusalem are targeted for demolition by the Israeli authorities.
Ethnic cleansing is not just the moment of violence when a family is uprooted, or a neighborhood emptied. As I've watched Nurredin experience it, demolition is a slow, confusing, and surreal process of breaking people — and resisting it is a tiring battle requiring heroic levels of energy, patience and hope plus support from justice-minded people around the world.

When I tell people Nurredin's story, they doubt my claim that one family could withstand such cruelty for so long and stand up against the entire Israeli government apparatus. But Nurredin has, and so have tens of thousands of Palestinians who with their steadfastness, their sumud, thwart Israel's ongoing colonial project. Their stories are important.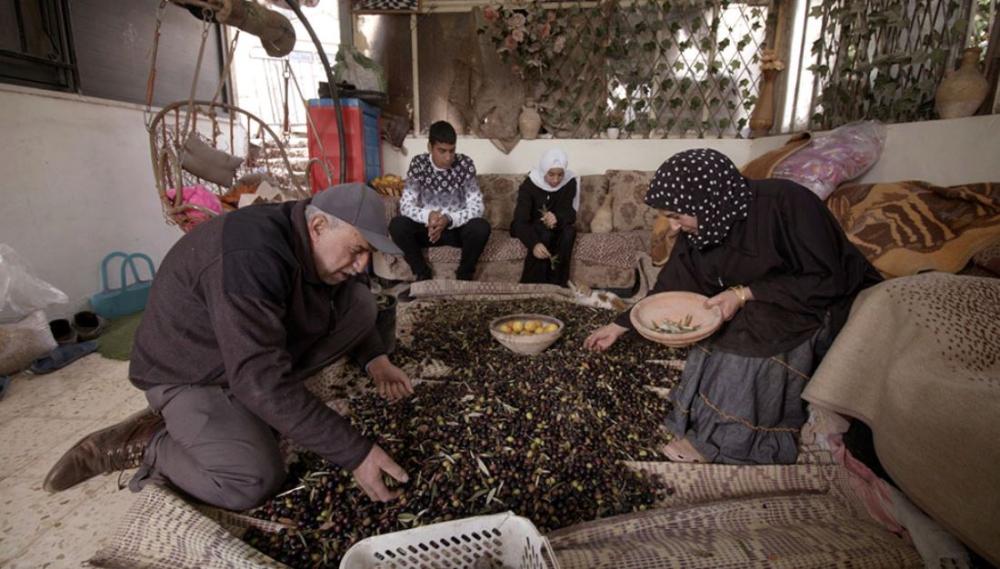 Nurredin, Nabiha, Abed and Aseel Amro cleaning freshly picked olives. November 2022.
I first met Nurredin in Jordan at a gathering of the Arab World Social Innovators, a program of the New York-based Synergos Institute. Nurredin has been recognized by Synergos, Ashoka, the British Council and others for his trailblazing work advocating for education for children with disabilities. Wherever Nurredin went, there was always a crowd gathered around him laughing at his jokes. That was in 2010, the same year that Nurredin, blind since birth, ran in the New York Marathon.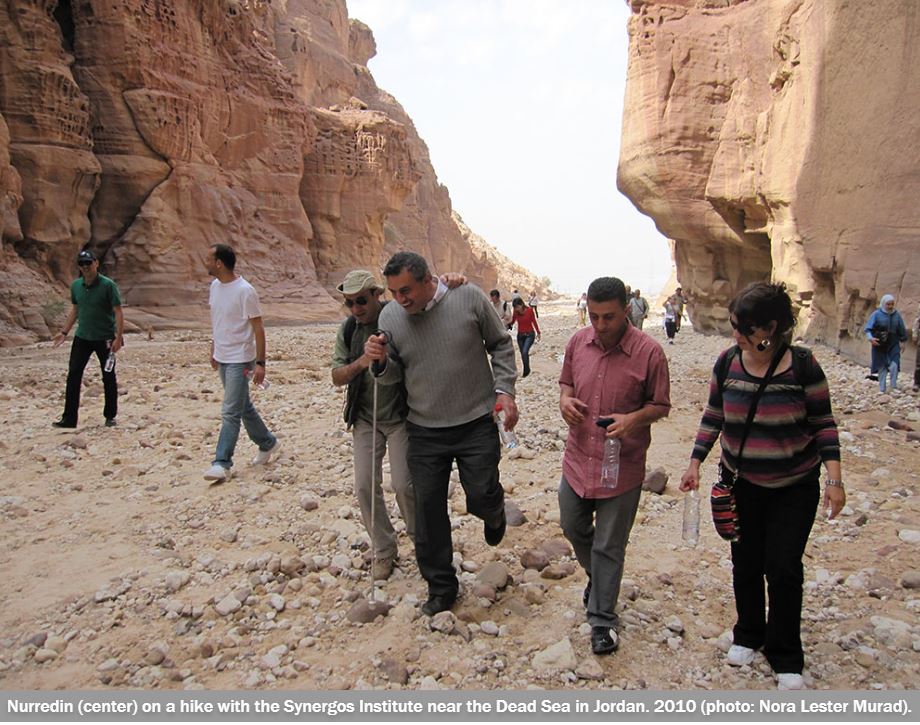 I was living in Jerusalem at the time, and I became a supporter of Siraj al-Quds School and Society for the Blind, a place for inclusive education that Nurredin founded in 2007, and where he is the director. It was clear to anyone who visited the school that Nurredin's leadership and love uplifted the lives of hundreds of Palestinian children and families, many who live in poverty, victimized by violence and suffering multiple disabilities.
Nurredin's heroic work on behalf of these children and families is an example of the critical grassroots community support that helps Palestinians in Jerusalem resist the relentless efforts of the Israeli government to make Jerusalem unlivable for Palestinians, so they can maintain a Jewish majority in accordance with their municipal plans.
Children at Sir al-Quds school. September 2013. (photo Nora Lester Murad)
As if it weren't enough running a Palestinian school in the very challenging context of Israeli control over East Jerusalem, in 2015 Nurredin's house in the as-Sawanna valley between the Old City of Jerusalem and the Mount of Olives was partially demolished. The police admitted to neighbors they had no permit for the demolition, and the home was built legally. (Palestinians in East Jerusalem are often forced to build their homes without Israeli permits because they are so infrequently granted.)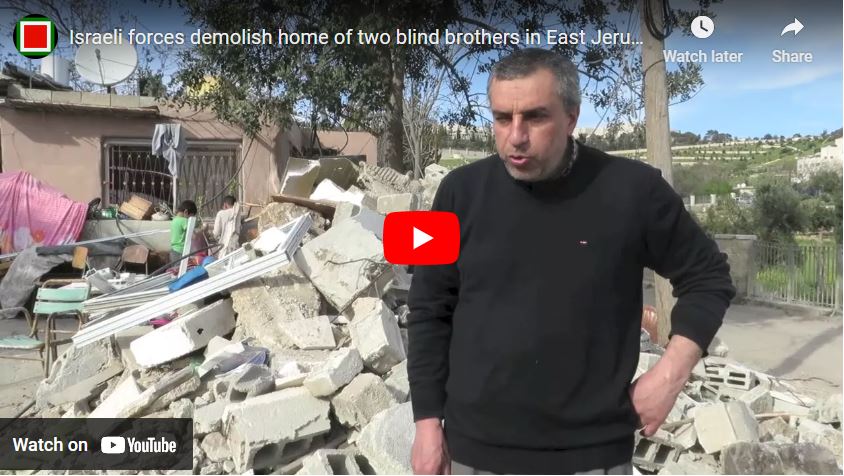 Terrifying to imagine, police with dogs and helicopters surrounded the neighborhood before dawn, preventing journalists and activists from coming to the scene. Nurredin and his wife, Nabiha, were home with their three children ages 5-12, and his brother Sharif (who is also blind) was in the adjoining house with his wife and four children, all under age 14. Their mother lived with them at the time. By the time the partial demolition was over, each family was left with a room, a kitchen, and a bathroom. Afterward, Nurredin put up a fence to protect the house from the adjacent road. That was also demolished some months later: Israeli officials claimed it was a cleanliness violation.
Nurredin wrote an op-ed about his experience in The Washington Post under the title "Israel Wrecked My House And Now It Wants My Land" in 2015. Sadly, he was right about the land.
In the years following the 2015 home demolition, many buildings on the hill behind Nurredin's house were demolished. When the home inhabited by 13 members of the Tutanji family was threatened, I helped bring international volunteers to the site to discourage the Israelis. But the volunteers were only able to stay a short while before moving on to show solidarity to another family — so many are at risk.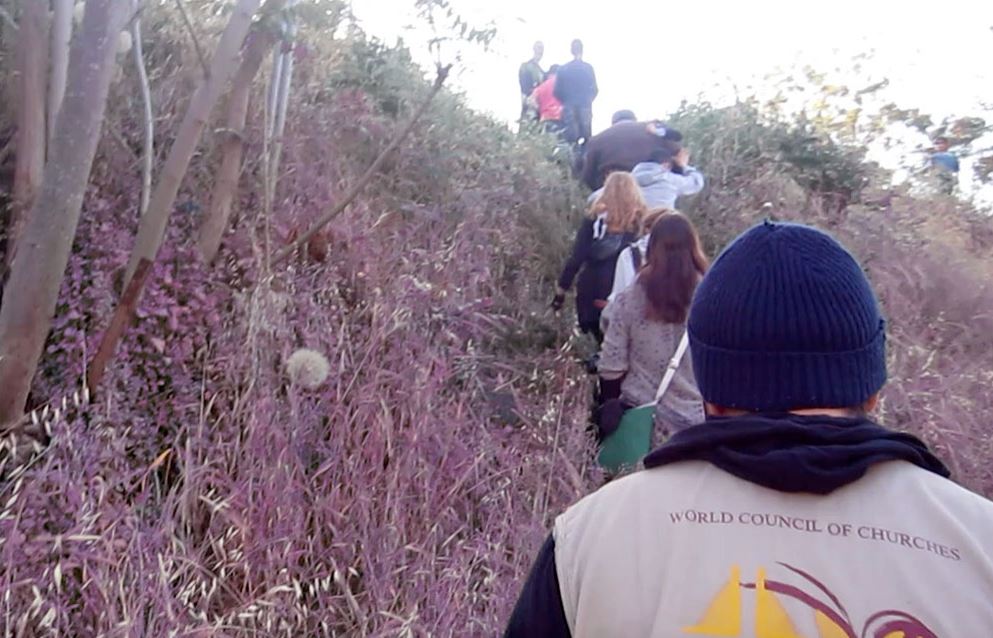 International solidarity activists.
I spoke to the Tutanji family as they awaited the dreaded demolition. Their fear and anxiety were palpable as they moved back and forth through the rooms in which their children had grown up.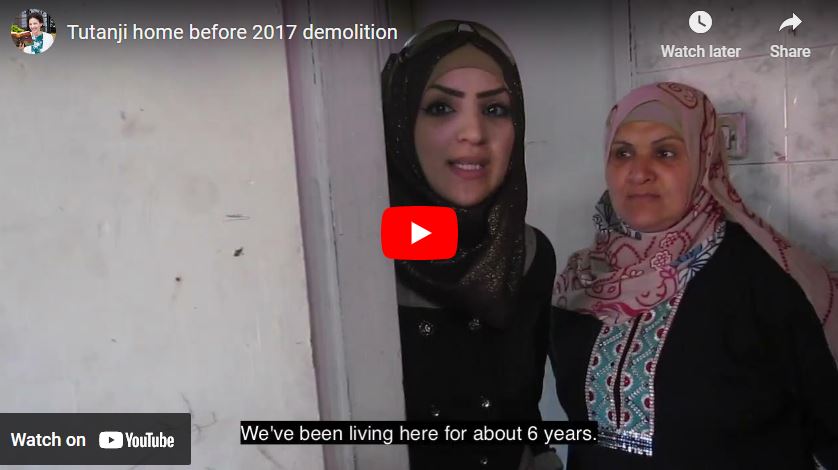 After the demolition, Hoda Tutanji, matriarch of the family, vowed never to leave the place where their home had stood, but the blaring heat of the summer interspersed with soaking rains made it impossible for them to stay outside, even after they stretched a flimsy tarp over the rubble-strewn area.
When I saw them later, they were staying temporarily in a nearby village, trying against the odds to find a place they could afford in Jerusalem. They knew that if they were forced deeper into the West Bank, they would forever lose the right to live in or even visit Jerusalem. I suspect that that is what eventually happened to them.
Each and every time one of Nurredin's neighbors' homes is demolished, he and his wife and children have to relive the trauma of their own demolition experience. Over the years, I've seen the mental health damage in the lines on their faces, the circles under their eyes, the stoop in their gait, and mostly, in the way their welcoming smiles feel strained. Yet they resist.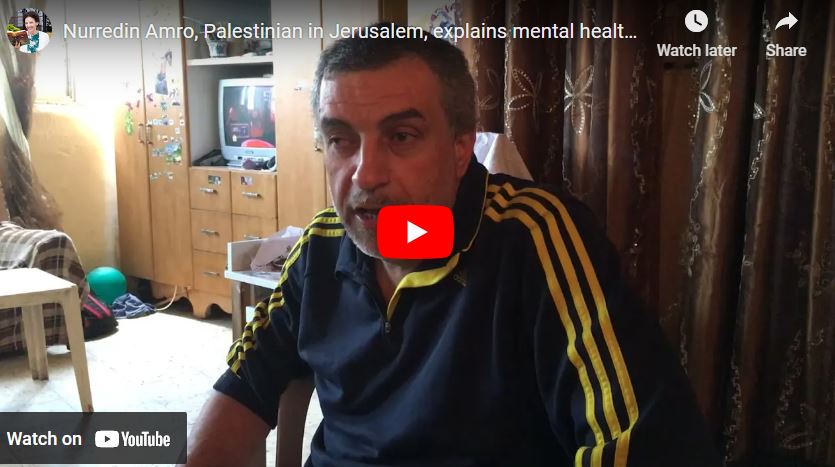 When in a nearby neighborhood Ashraf and Islam Fawaqa's home was demolished in 2017, leaving baby Aya and her sisters homeless, Nurredin and I, with other friends, held an "Iftar on the Rubble."
It brought together community members who had experienced demolition, those at risk of home demolition, international humanitarian actors and journalists on the site of the demolished building. Local grocery stores and restaurants donated food, and there was plenty. When the sun went down, we ate by the light of one spotlight that Ashraf had rigged from his neighbors' electricity. Nurredin's wife, Nabiha, was one of the speakers (Arabic). It was an uplifting event, an empowering community action in the face of overwhelming Israeli state power. All present agreed that it was a special night, one that replenished some of the hope that had been hacked away by the bulldozers.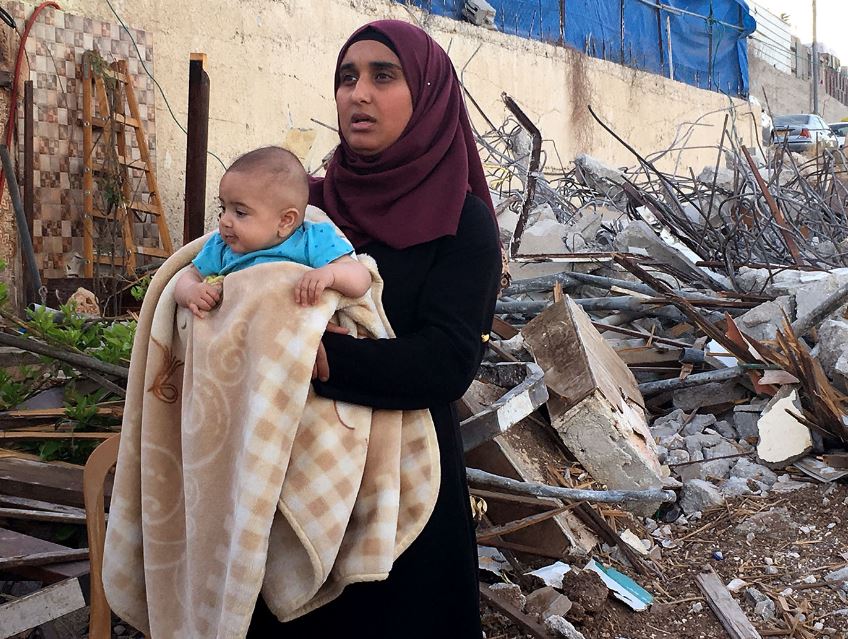 Islam Fawaqa holds baby Aya on the rubble of their demolished home in the Sur Baher neighborhood of Jerusalem.
Nurredin and I tried to support families in other ways, too. We wrote a brochure in Arabic advising families at risk of demolition about precautions they could take to protect themselves before, during and after a demolition. I was extremely proud of the document, which meant it was an especially painful betrayal when international humanitarian actors blocked its distribution. Sadly, this was only one of many times when designated "helpers," both international and Israeli, used their power to block grassroots self-reliance.
What I have learned from witnessing these atrocities over the years is that Israeli practices are designed to instil fear and undermine families' ability to stand up for themselves or one another. It's not just the sole act of demolition that causes harm. Israeli authorities target them with scattershot tactics to force them to leave. It seems like every week there is some new kind of harassment from the Jerusalem Municipality or the Israeli Nature and Parks Authority. At various times, they have destroyed Nurredin's phone and internet lines, followed his children to school, bulldozed the garden, filled his front yard with building materials, dug holes in his front yard to store the neighborhood's garbage, and much more. One time, Nurredin had loaned his ladder to a neighbor to pick olives. The authorities arrested the woman and confiscated Nurredin's ladder — and refused to return it.
After a reprieve during the pandemic, Nurredin was surprised when the efforts to kick him out of his house and take his land escalated almost beyond imagination.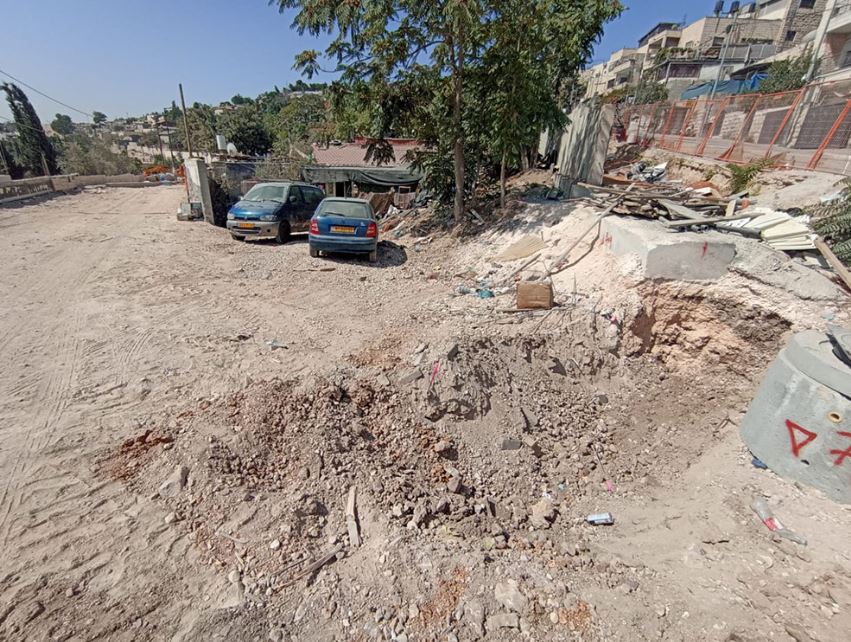 One of the many projects of the Jerusalem Municipality inflicted upon Nurredin's family under the guise of development.
In July 2022, the Jerusalem Municipality destroyed the stairs that Nurredin and his brother used to reach the main street and built a wall across the opening. In August they destroyed Nurredin's front yard as part of the "improvement" of the road alongside his house, which has now become one-way, greatly inconveniencing the neighborhood.
In September 2022, they built a trench across the entrance of Nurredin's house. Nurredin fell when he tried to cross it to get to work, causing an injury that inhibited his work as principal of the school and slowed his efforts to protect his house.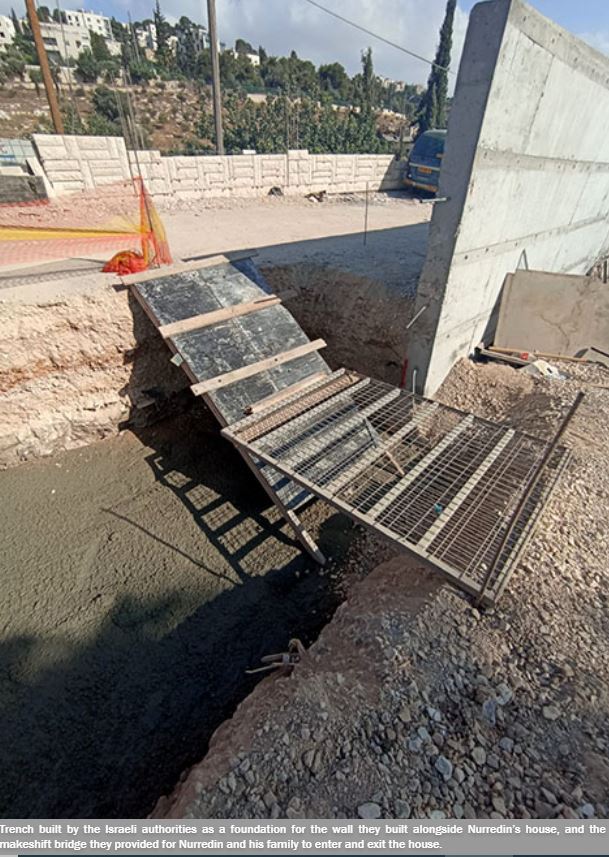 When I visited Nurredin and his family last summer on my first visit since the pandemic, I was sad to find the strong, proud, lovely family that I've known for over 10 years looking tired and without support. Over the years, the complexities of the situation have even exhausted Israeli and international solidarity activists, who in some cases are pulled away by more "famous" or "urgent" cases like Sheikh Jarrah and Massafer Yatta. It seems the Israelis have succeeded, to a great extent, to divide Palestinian solidarity by dividing their attacks against Palestinians into smaller projects, distracting people from the fact that each and every attack on a Palestinian family is a connected part of the continuing settler colonial effort. Each one of these families, including Nurredin's, are fighting at the frontline of the ongoing Nakba, the Palestinian term for the catastrophe they experience from Israel's Zionist colonial project.
Still, despite being pulled in a million directions, Nurredin took the time last summer to explain the whole picture to me again, in hopes of getting someone, somewhere to understand the priority of shining political light on what's happening to him and his neighborhood.
A few months ago, after I was back in my comfortable house in the United States, Nurredin sent me a video showing a shocking development. Their sunny yard had become a small, dark postage stamp, completely surrounded by solid walls, forcing the family to climb over just to enter and exit their home.
They keep fighting — meeting with city officials, project managers, human rights advocates, journalists, and defending themselves in court — but the forces pushing against them are ruthless. Nurredin's entire neighborhood, like others, is being chewed away. In fact, all the homes in this short video clip I took of Nurredin's neighborhood in April 2015 have been demolished, except the one that is slated for demolition this month, almost completely dismantling  the community. Each Israeli attack, whether legal or extralegal, leaves broken rooms, rubble, and trauma in its wake, by design making East Jerusalem unliveable for the Palestinians under Israeli control.
The demolition of Palestinian homes and lives is not a humanitarian tragedy, like an earthquake or tsunami, but a policy of apartheid in the service of ethnic cleansing. The campaign against Nurredin is part of a long-term, systematic, multipronged process of forced displacement and transfer — crimes against humanity.
Israeli officials don't hide this. They admit plainly they're planning a Jewish biblical theme park on the site of Nurredin's neighborhood. They put up signs just weeks ago on neighbors' newly demolished property saying, "This area is under the control of the Jerusalem Municipal Government. The Nature and Parks Authority is working to develop the garden for the benefit of the public. Danger – renovation in progress. Entrance is forbidden."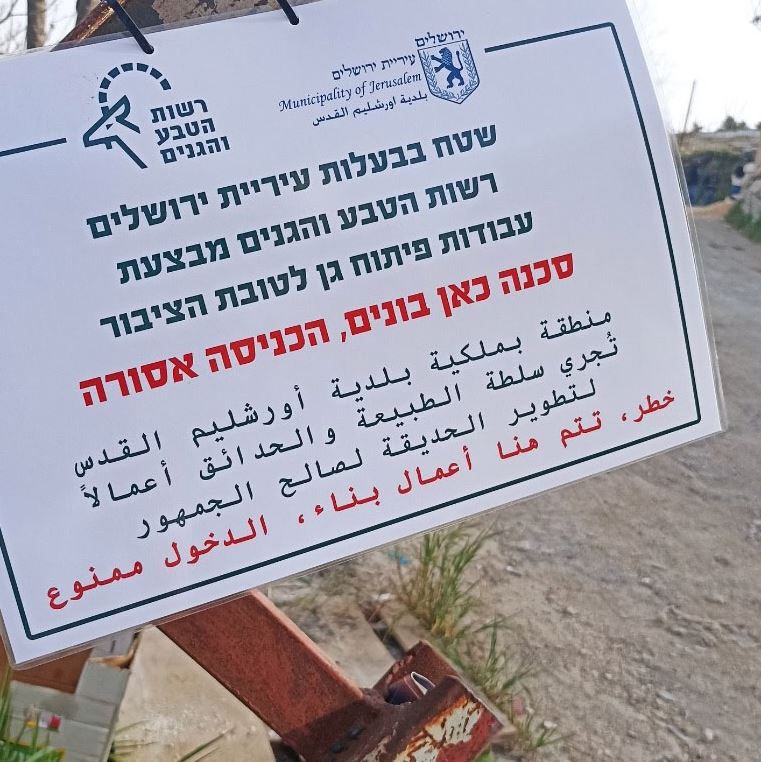 Soon afterwards, Israeli authorities put up a sign at the new parking lot next to Nurredin's house that was said to be an "improvement" to the neighborhood. But for whom are these "improvements" intended when they simultaneously expel Palestinians? Now suddenly, a sign goes up saying the parking lot is temporary. Might this mean that the area now designated for parking will become the foundation of yet another exclusively Jewish settlement? This would not be the first time Israel's Nature and Park's Authority confiscates Palestinian land ostensibly for public use, only to turn it over to right-wing Jewish settlers (see Green Colonialism).
The recent election of Israeli leadership that has abandoned any pretense of interest in international law or peace — and that endorses the violent expulsion or killing of Palestinians to seize their land — makes the prospect of asserting Palestinians' rights a difficult one. But Nurredin will continue to fight to stay, to protect the house for his family and protect the land for the Palestinian people. He, his wife, Nabiha, and their brave children Mohammed, Abed and Aseel, are, in my opinion, one of those Palestinian families whose leadership, commitment and personal sacrifice are what keep the whole society together as it strains against Israeli state violence. They do it through their heroic work supporting children with disabilities and their families, and they do it by holding onto Palestinian land, despite the hardships they face from the powerful Israeli authorities.
The author of this opinion has launched a crowdfunding campaign to help the Amros resist expulsion.  
[Nora Lester Murad is a writer, educator, and activist. She co-authored Rest in My Shade: A Poem About Roots, and edited I Found Myself in Palestine: Stories of Love and Renewal From Around the Globe (both from Interlink Books). Her young adult novel, Ida in the Middle, is about a Palestinian American girl's journey to belonging. It was released by Crocodile Books in 2022. She lives in Massachusetts where she organizes to expand the teaching of Palestine in schools, among other social justice issues. Previously she was a resident of Beit Hanina, East Jerusalem, and serves as a Policy Member at Al-Shabaka, the Palestinian Policy Network.]
Thanks to the author for sending this to Portside.
Opinions published in The Markaz Review reflect the perspective of their authors and do not necessarily represent TMR.