labor
The UAW Is Right To Withhold Its Endorsement of Joe Biden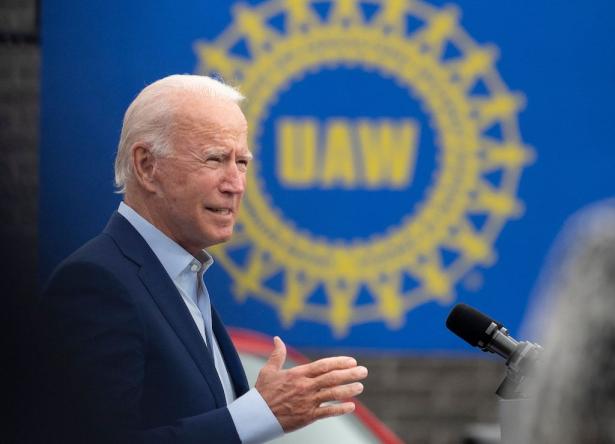 Democratic presidential candidate Joe Biden speaks at the United Auto Workers headquarters in Warren, Michigan, on September 9, 2020. ,(Jim Watson / AFP via Getty Images)
The Biden administration, through legislation like the Inflation Reduction Act (IRA) and new proposed Environmental Protection Agency (EPA) regulations, hopes to ensure that two-thirds of new passenger cars are completely electric by 2032.
But while electric vehicles (EV) are certainly an environmental improvement over gas-powered vehicles, the Biden administration's current approach to the EV transition could spell disaster for US autoworkers. Like many other components of the IRA, the administration has chosen a model that throws vast amounts of public money at electric vehicle manufacturers without attaching any kind of labor standards. Absent a serious change of direction, the future of EV production will be low-wage and nonunion.
The United Auto Workers' new reform leadership has put the Biden administration on notice that this won't be acceptable. Earlier this month, UAW president Shawn Fain released a memo to union members after visiting with lawmakers in Washington, DC. He made clear that the UAW will not simply rubber-stamp an endorsement of Joe Biden in the 2024 presidential election if the president doesn't change his stance on electric vehicles (while also making clear the union would not back Donald Trump).

"The federal government is pouring billions into the electric vehicle transition, with no strings attached and no commitment to workers," Fain wrote. "The EV transition is at serious risk of becoming a race to the bottom. We want to see national leadership have our back on this before we make any commitments."
Fain added that a prolabor transition "has to include standards for our members and future workers. These jobs should fall under our master agreements, and our members should have the rights to this work."
The UAW's concern is entirely justified given recent developments in the EV industry. A string of joint-venture electric vehicle battery plants partially owned by the Big Three automakers (Ford, General Motors, and Stellantis) have opened in the last few years. To date, the union has only been able to organize one of these plants, the GM/LG Energy Solution Ultium Cells LLC facility in Warren, Ohio.
Nonunion EV battery plants provide wages and benefits that are substantially below those enjoyed by UAW members. For example, before joining the union, workers at Ultium Cells started at $16.50 per hour and maxed out after a seven-year progression at just $20 per hour.  This is a far cry from the family-sustaining wages that auto manufacturing has been known for.
Meanwhile, as the federal government dumps billions of dollars in subsidies into EV factories, states are tripping over themselves to offer corporate welfare in a desperate plea for jobs. Some of the figures are eye-popping. Tennessee dangled $884 million in subsidies to draw Ford to the state. The Vietnamese EV startup VinFast received $1.2 billion in incentives from North Carolina. Not to be outdone, Georgia gifted a whopping $1.8 billion in tax breaks to Hyundai and $1.5 billion to Rivian.
Despite receiving such enormous packages, automakers are using the EV transition as an excuse to lay off workers and idle plants. As Fain argued in an op-ed for the Detroit News, "The big lie is that they need these cost savings to finance their EV investments. In fact, auto companies are more profitable now than they have been in decades. In the past decade, the Detroit Three (Ford, GM and Stellantis) alone have made $160 billion in profits."
Broader factors inherent to EV production also pose a challenge for the UAW. Assembling battery-powered electric vehicles is less complex and doesn't include the powertrain required in vehicles with an internal combustion engine. A recent study by the Economic Policy Institute found that the large-scale introduction of electric vehicles could trigger the loss of over 250,000 jobs in automobile assembly and parts production.
These job losses could be offset by a significant strengthening of industries in the EV supply chain. So far, however, the Biden administration has not indicated it will pony up the massive investment needed to develop the domestic electric vehicle supply chain. Where the investments have come, they've been in the form of enormous subsidies to corporations with no labor standards.
The future of EV production is critical to the fate of a significant section of the US working class. Seventy-five percent of autoworkers in the United States do not have a college degree and historically have relied on UAW contracts to secure a decent standard of living. Black workers have long been overrepresented in auto employment and today make up 16.6 percent of autoworkers (as compared to 12.5 percent of workers in the economy as a whole).
By fighting the Biden administration on this issue, the UAW's new insurgent leadership is demonstrating that it won't continue business as usual in either the electoral arena or the shop floor. With the Big Three auto contracts expiring in September, the tone has been set for a showdown over EV production.
Autoworkers are leading the way toward a green industrial policy that is a win for workers. It's time to follow them.
SHARE THIS ARTICLE
CONTRIBUTORS
Paul Prescod is a Jacobin contributing editor.
Our new issue on conspiracy is out now. Subscribe today to get it in print at a special discounted rate!