Dispatches From the Culture Wars – Pride Special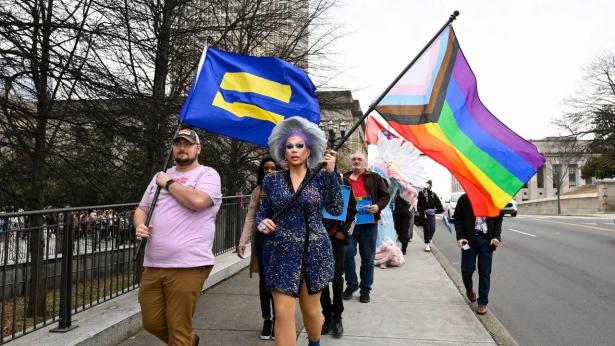 LGBTQ activists march past the Tennessee State Capitol in Nashville on February 14, 2023. Credit, John Amis/AP Images for Human Rights Campaign
By Denise Lavoie and Andrew Selsky
AP
Nearly 500 anti-LGBTQ+ bills have been introduced in state legislatures around the country this year. At least 18 states have enacted laws restricting or banning gender-affirming care for transgender minors. LGBTQ+ activists are calling for new strategies to promote equality.
By Maggie Baska
Pink News
The long road to the next presidential election appeared to begin as soon as November's midterm elections ended, as Republicans grappled for control in state legislatures across the US. It's a race that will focus on LGBTQ+ rights, as hateful rhetoric and damaging talking points are already being used, so here's your guide to the 2024 Republican candidates.
By Roxy Bourdillon
Cosmopolitan
Fewer people are identifying as lesbians. More prefer labels like bi, pansexual, queer or gay. It's brilliant that language is evolving to reflect our individual identities, but is it also possible that some folks want to distance themselves from the word because of its negative connotations? Are lesbians becoming taboo?
Video: It Happened in Ft Wayne
By Hannah Natanson
Washington Post
High school students in Fort Wayne, IN, weren't going to give up after their school canceled an LGBTQ play. But could they figure out how to put on the show themselves? They could and did. And the community supported them!
By Michael Day
The i
Across much of the world, sexual minorities are still demonised. In Russia and Uganda and any number of other countries, accusations regarding a person's sexuality, which may or may not be true, are used to lock them up. We need LGBTQ rights for gay people and everyone.
Trans Rights and Indigenous Rights
By Rosalyn R. LaPier
The Conversation
12 federally recognized tribes in Montana have historically recognized multiple gender identities, including transgender identities. In 2023 alone, more than 450 anti-LGBTQ+ bills have been introduced in state legislatures, including Montana. Indigenous peoples are being left out of this decision-making process as a result of racism, discrimination and partisanship in the Montana Legislature.
By Amrita Das
SK POP
A Houston woman recently garnered severe online backlash for having a lesbian couple arrested for kissing in public. The woman's social media was later discovered, and the couple got to know that the officers were friends with the woman. She had them arrest the couple without any valid reason and on the basis of false and unjust charges.
Tennessee Anti-Drag Law Ruled Unconstitutional
By Sierra Rains
WKRN
Late on Friday, June 2, a federal judge in Shelby County ruled in favor of Friends of George's Inc. in a lawsuit arguing that the Adult Entertainment Act was an unconstitutional restriction on free speech under the First Amendment. The law prohibited "adult cabaret entertainment" from being performed in public or where they could be seen by children. 
Legal Battle Over Conversion Therapy
By Kyle Kaminski
The 'Gander
Four Democratic-led bills aim to ban mental health providers in Michigan from offering any therapy that attempts to change the sexual orientation or gender identity and expression of children. Up to 15% of Michigan's LGBTQ youth between the ages of 13-24 (or about 10,000 Michiganders) were threatened with or subjected to the therapy last year.
By Daniel Villarreal
LGBTQ Nation
Two LGBTQ+-affirming Seattle-area churches that were targeted by hateful, transphobic fliers threatening armed violence. More than 300 people took part in a vigil in support of the Churches.