labor
Despite the Losses, the Singing Continues
Luis Rodriguez,
You know what work is—if you're
old enough to read this you know what
work is, although you may not do it.
– Philip Levine, What Work Is
In recent years, the media has turned its attention to the stories of ordinary working people. Farmworkers and grocery clerks who risked their lives to care for us and keep us fed during the height of the pandemic were briefly celebrated and deemed "essential." Tales of their bravery were followed by headlines about the great resignation, as many quit their jobs or retired early. Of course, work has always been with us. It's older than poetry, even, and central to who we are as a people and a country.

When I was 9, my mother declared it was time for me to work. At that age she had picked cotton in south Texas as an undocumented child. Child labor was common among Mexican migrants during most of the 20th century — and sadly persists today in factories and slaughterhouses. I ended up dragging a rusty lawn mower around the neighborhood to cut lawns for 25 cents. We lived in a poor Mexican community in the San Gabriel Valley with dirt roads, no sidewalks, chickens and goats in backyards. There weren't "lawns" — there were dirt yards with patches of grass and weeds.
My parents were highly educated in Mexico — my father was a school principal and my mother his secretary. But they were never recognized for their credentials in the United States. Instead, my dad worked in factories, construction, selling Bibles and pots and pans, eventually retiring as a janitor. My mother served the super-exploitative garment industry, including doing piecework at home. I resented the industrial sewing machine that devoured so much of her time. In a poem I would write years later, in the eyes of a child narrator, the sewing machine became "The Monster.":
As a teenager I worked in a car wash, a discount store, a warehouse; as a busboy in a Mexican restaurant or driving a school bus and a bobtail truck for a lamp factory. I married at age 20 when my girlfriend was two months out of high school. That same year, I got a job at the Bethlehem Steel Mill in southeast Los Angeles — rotating shifts, stretches of "graveyard," and even 16-hour days called "double shifts." I started there as an "oiler-greaser" on massive machines, forges and furnaces. The doors had finally opened for Blacks, Mexicans, Native Americans and women to enter the skilled trades, jobs previously held mostly by white men. I became a millwright doing heavy mechanical repairs and rigging. 
I thought I had it made, sweating the big drops for the best pay and a union job.
However, due to the rise of new technologies and outsourcing, deindustrialization transformed the country in the 1970s and 1980s. Big companies sought cheaper labor markets due to increased union drives and regulation. The Midwest became the "Rust Belt" with the shuttering of auto and steel plants and stockyards. But industries in other regions suffered also: textiles in the Northeast; lumber in the Northwest; and mines in Appalachia and the Southwest.  Los Angeles, by 1992, had witnessed the loss of whole sectors of its economy, including auto and tire manufacturing and steel plants. Tens of thousands of union jobs disappeared.
After the passage of the North American Free Trade Agreement in 1994, sweatshops  amassed along the U.S./Mexico border and in other parts of Mexico, as well as in Central America and Southeast Asia.  Manufacturing employment in the U.S. began a steep decline in the late 1990s while the number of service jobs soared. The "Wal-Marting" of America had begun, leading to the proliferation of low paid and mostly part-time jobs filled by workers who lacked the protection of unions.
In the turmoil, despite two babies, my wife and I broke up. Soon I left industry and construction to become a writer and poet, something I wanted to do since I found refuge in public libraries as a troubled youth. The time had come, to paraphrase Henry David Thoreau, to live the life I had imagined.  
I read poets like Walt Whitman and Philip Levine who "sang" about the dreams of working people. What a marvel to find writers expressing what I lived! Whitman wrote about the carpenter, the mason and the deckhand, part of a social class that had been neglected by poetry. He celebrated the "delicious singing" of the mother, or of the young wife at work, or of the girl sewing or washing. He wrote, "I hear America singing, the varied carols I hear,/Those of mechanics, each one singing his as it should be blithe and strong."
I read the poet Martίn Espada, whose poems chronicle the struggles of working class immigrants. His Alabanza: In Praise of Local 100 pays tribute to the Windows on the World restaurant workers who died during the 9/11 terrorist attacks on the World Trade Center:
*   *   *
My breakout moment as a poet occurred in 1984, when the Los Angeles Times published an article that featured my encounter with rock legend Bruce Springsteen, who was visiting the union hall that served laid off Bethlehem Steel workers in Southeast L.A. His "Born in the U.S.A." concert tour focused on Rust Belt communities, souped-up cars, high school sweethearts and the end of work and relationships. Springsteen toured the hall's food bank, then the largest in the country, and attended a theater workshop for the unemployed in which I was a participant. I told that reporter at the time, "Maybe I got something to say. Maybe even in the dark corners of a dirty steel mill can come sweet poems and sweet music." The Times published my poem, "Bethlehem No More," about the plant's closing: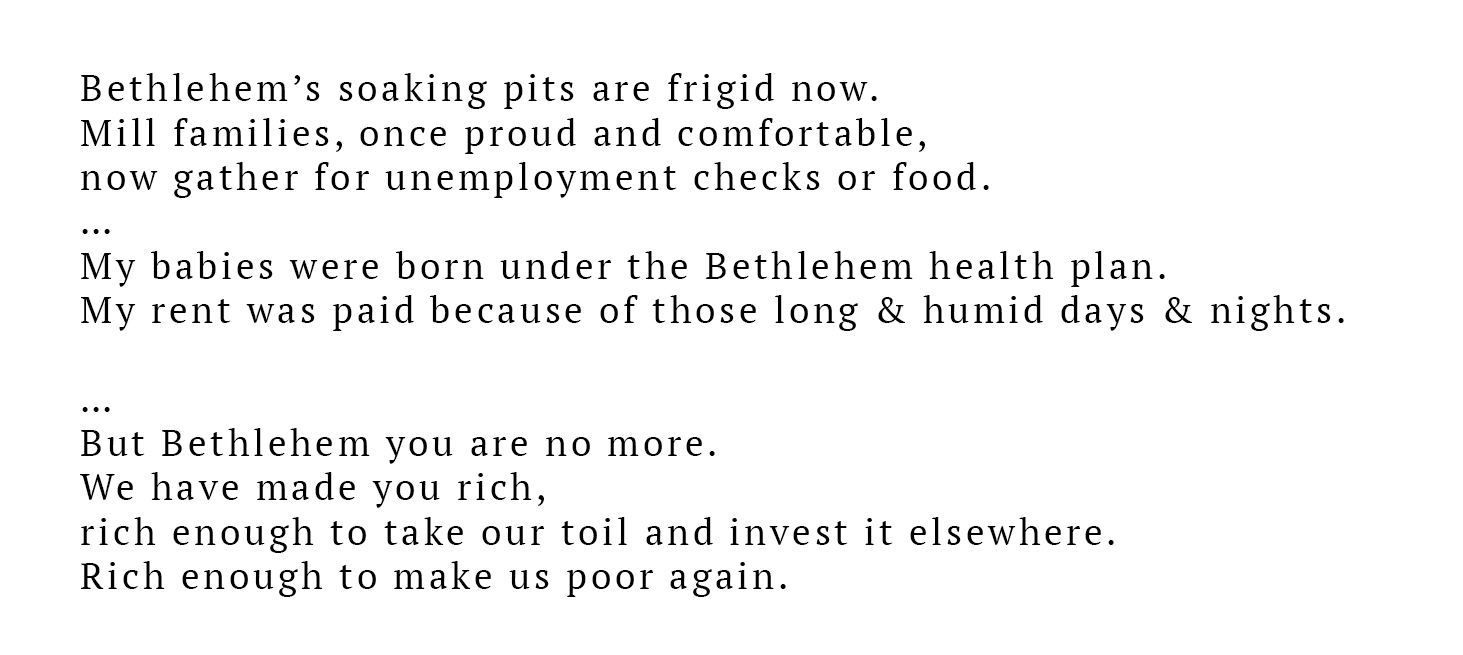 Despite the losses, labor remains at the center of the story of who we are as a country — including through slavery, farming and assembly lines. And today the headlines are about unionization — and the thwarting of these efforts — in previously unorganized places like Starbucks coffee shops and Amazon warehouses. The "singing" continues.