The Election That Could Determine the Future of Democracy in Ohio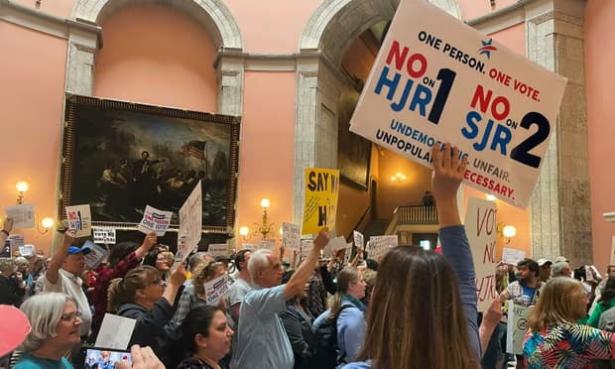 Supporters and opponents of the GOP-backed measure pack the statehouse rotunda in Columbus on 10 May.,Samantha Hendrickson/AP
An under-the-radar election in Ohio on Tuesday has quietly emerged as one of the most high-stakes stress tests for American democracy in recent years.
The question Ohio voters will decide on 8 August is simple: how easy should it be to amend the state constitution? Like 17 other states, Ohio allows citizens to place constitutional amendments on the statewide ballot if they get a certain number of signatures and more than 50% of the statewide vote. The process has been in place for more than a century in Ohio, and in November, voters will use it to decide whether to protect abortion rights.
In May, Republicans who control the state legislature abruptly sent a proposal to the ballot called Issue 1 that would make it much harder to change the constitution. If approved, a constitutional amendment would need 60% of the vote to pass instead of a simple majority. It would also make it significantly harder for citizens to even propose a constitutional amendment, requiring signatures from 5% of the voters in all of Ohio's 88 counties (the state currently requires organizers to get signatures in 44).

"It absolutely is minority rule," Maureen O'Connor, a Republican who served on the Ohio supreme court for nearly two decades and stepped down as chief justice at the end of last year, and opposes Issue 1, said in a telephone interview. "If you get 59.9% of a vote that says yes, 40.1% can say no. This is the way it's gonna be. We can thwart the effort of the majority of Ohioans that vote. And that's not American."
The change in signature gathering would make it nearly impossible to get something on the ballot, which is already difficult, and only allow deep-pocketed groups to do so, said Jen Miller, the president of the Ohio chapter of the League of Women Voters, which opposes the amendment.
The campaign to raise the threshold has been largely funded by Richard Uihlein, an Illinois billionaire and GOP mega-donor who has spent more than $5m on the effort so far. A conservative non-profit backed by Uihlein, the Foundation for Government Accountability, has been involved in efforts to raise the threshold for constitutional amendments across the country.
Republicans have made little secret of why they're in a rush to change the rules: this fall, Ohioans are set to vote on an amendment that would enshrine the right to an abortion in the state's constitution. "This is 100% about keeping a radical pro-abortion amendment out of our constitution. The left wants to jam it in there this coming November," the Ohio secretary of state, Frank LaRose, a Republican running for the US Senate and one of the most prominent supporters of the amendment, said last month.
Similar measures to protect abortion access have been extremely popular in other states and passed by wide margins after the supreme court overturned Roe v Wade last year.
Beyond reproductive rights, the August election has far-reaching implications for democracy in Ohio. Republicans hold a supermajority in the Ohio legislature after they manipulated district lines to their advantage last year, brazenly ignoring several rebukes from the state supreme court. Activists are already working to draft a constitutional amendment that would strip lawmakers of their redistricting authority entirely. But making it harder to change the constitution would essentially allow Republicans to keep their distorted advantage.
"Ohioans would no longer have a tool accessible to them to keep the Ohio government accountable when they are not acting in the interest of our communities and our families," said Jen Miller, the president of the Ohio chapter of the League of Women Voters, which opposes Issue 1.
"What we're talking about is that a small minority would be able to block the will of the majority of Ohioans."
'A very dirty trick'
Opponents of Issue 1 have assembled a wide-ranging coalition that includes civic action groups, unions, and environmental groups. The campaign, One Person One Vote, has received considerable funding from out-of-state progressive groups, and have aggressively canvassed across the state, sent mailings to voters, and held weekly community meetings throughout the summer.
One hot evening in July, Sarah Strinka, a 26-year-old canvasser with Ohio Citizen Action, one of the main groups opposing Issue 1, crisscrossed lawns in Westlake, a Cleveland suburb, in tie-dye sandals, making sure that people knew the election was happening on 8 August and trying to persuade them to vote against it. Nearly all of the voters who came to their doors that evening said they planned to vote against the change.
"It seems like a very dirty trick to try and not get a major issue like this pushed through in an August election," said Matt Jackson-McCabe, one of the voters who Strinka talked to. "I was like, 'This is bullshit.'"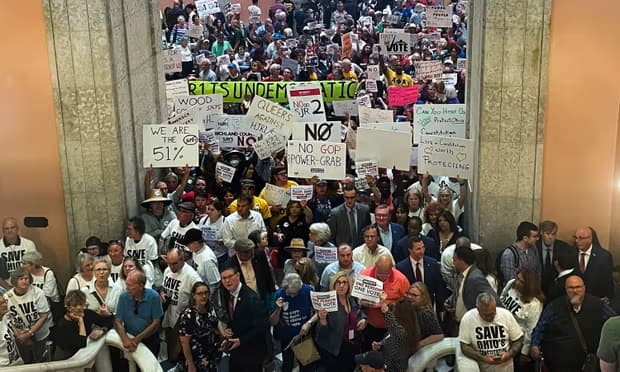 "It's like pulling the wool over the people's eyes," said Daniel Hayden, 76, another voter in Westlake. "Republicans – they want to take away the control, to control everything. They want to take control away from the people."
Not everyone Strinka spoke with was entirely convinced. "It's my understanding, because I'm Republican, that this is a Democratic-led issue. Correct?" one man said in his driveway. Strinka pointed out that there was actually bipartisan opposition to the amendment. "It impacts every single issue moving forward. I know a lot of people are talking about issues for November, but this could impact everything," she said.
The man said he would do more research.
Republicans 'can kind of do what they want'
Ohioans have voted on hundreds of constitutional amendments over the last century, but they haven't been asked to vote on one in an August election since 1926. Last year, the turnout in August was so anaemic, just 8%, that Republicans decided to cancel August elections altogether.
But in May, they abruptly reversed that decision, saying that the cost of the election was worth it ahead of the abortion measure. "If we save 30,000 lives as a result of spending $20 million, I think that's a great thing," Matt Huffman, an anti-abortion Republican who serves as the senate president, told reporters earlier this year.
The rush seems to be a cynical calculation that the election will have low turnout and those who do cast a ballot will be highly motivated 'yes' voters.
"I think it's a mistake to revive August elections for the sole purpose of passing an issue of such consequence," said Robert Taft, a Republican who served as governor of Ohio from 1999 to 2007 and opposes Issue 1. "If it were to pass, it'd either have, possibly have 11 or 12% of eligible voters in Ohio deciding that the constitution shouldn't be amended unless 60% agree."
And that calculation may be backfiring. Turnout during early voting has been strong – more than 533,000 people have cast their ballots so far. That far exceeds the 288,700 votes cast early in the May 2022 primaries. "This is gubernatorial-level turnout," an election official told the Associated Press, which also reported some offices throughout the state were struggling to staff the massive turnout.
Polling has been limited and it's difficult to predict the results of a ballot referendum. A USA Today/Suffolk University poll in July showed 57% of voters opposed Issue 1, while 26% supported it. A different July poll by Ohio Northern University showed voters were more evenly divided.
Those who support Issue 1 argue that it's already too easy for citizens to amend the constitution. That isn't supported by data; since 1912 citizens have sent 71 constitutional amendments to the ballot and just 19 have passed, according to Steven Steinglass, a professor emeritus at the College of Law of Cleveland State University, who has studied the constitution.
"I think there should be that high of a threshold," said Heidi M, a lawyer in Cleveland who declined to give her full name. "Is it going to be a higher burden to go out and get signatures for an initiative? Yes, but I don't think that's a bad thing."
"The constitution is supposed to be hard to change. But the constitution is not for making laws," said Tomie Patton, the president of the Republican club in Avon Lake, just west of Cleveland. "If you don't like the legislation then change the legislators like we have to everywhere else."
But in Ohio, changing the legislature isn't so easy. In 2015, voters overwhelmingly approved a constitutional amendment that required lawmakers to draw legislative districts that reflected the political balance of Ohio over the prior decade. When it came time to draw new districts in 2021, they should have drawn ones that reflected the 54-46 percent advantage Republicans have had in the state.
Instead, lawmakers drew maps that enabled them to keep a supermajority. The Ohio supreme court rejected the maps five different times, but Republicans were able to run out the clock and eventually adopt a map in their favor. Republicans used that supermajority to refer the measure to the ballot this year.
Republicans are well-aware of how critical that supermajority is. "We can kind of do what we want," Matt Huffman, the Republican senate president, said last year.
O'Connor served as the key swing vote in each of the Ohio supreme court's decisions until she stepped down from the court last year because she had reached the mandatory retirement age.
Now, she said, she and other activists are drafting a constitutional amendment that would take redistricting power away from the legislature entirely, putting it in the hands of a panel of citizens.
"We'll have a constitutional amendment, hopefully, and that will change the entire playing field," she said. "And it's nothing but a good thing unless you're a member of the Republican supermajority."
'Vote no' campaign presses on
With the election edging closer, the "vote no" campaign has been emphasizing what they say is the fundamental unfairness of what it would mean to raise the threshold to 60%.
The same evening that Strinka knocked on doors in Westlake, a group of volunteers with the League of Women Voters sat under the pavilion at the local library and, over pizza, wrote postcards to voters urging them to cast their ballots against the amendment. One of them was Donna McGreal, 68, who said she hadn't really been politically active since the Vietnam war. Each of the postcards she wrote essentially had some version of the same message.
"It's simple," she wrote in neat cursive on the postcards. "Issue 1 tries to change it so 59% of the vote will lose to 41%. Keep majority rule in Ohio."
They're hoping that message will resonate with voters like Sue Kuderca, 66, a retired nurse in Youngstown, who said she was leaning towards supporting the amendment because of her views on abortion.
"My mind is not 100% made up. It took me a while to even understand what yes or not meant. But the abortion thing, I'm pretty adamant about that. An abortion when ready to deliver at 9 months. That's murder," she told Ron Gay, a canvasser with the Communications Workers of America who approached her in her driveway and urged her to vote now. (The proposed amendment in November would allow the state to continue to prohibit abortion after fetal viability, generally at 22-23 weeks. Many states, even while Roe v Wade was fully intact, did not allow abortions at nine months.)
"I totally understand. People feel that way about that. But that's in November. They're going to take away our right to change anything by majority vote in August," Gay replied.
Kuderca said she would think about it.
---
Sam Levine a national reporter covering voting rights in the United States at the Guardian. He writes about issues such as voter ID, partisan gerrymandering, voter purging, felon disenfranchisement and the 2020 census.
The Guardian is a reader-funded news organisation, with more than 1.5 million supporters in 180 countries covering American and international news for an online, global audience. Guardian US is renowned for the Paradise Papers investigation and other award-winning work including, the NSA revelations, Panama Papers and The Counted investigations.
A message from Betsy Reed, Editor, Guardian U.S.
I hope you appreciated this article. Before you move on, I was hoping you would consider taking the step of supporting the Guardian's journalism. 
From Elon Musk to Rupert Murdoch, a small number of billionaire owners have a powerful hold on so much of the information that reaches the public about what's happening in the world. The Guardian is different. We have no billionaire owner or shareholders to consider. Our journalism is produced to serve the public interest – not profit motives.
And we avoid the trap that befalls much US media – the tendency, born of a desire to please all sides, to engage in false equivalence in the name of neutrality. While fairness guides everything we do, we know there is a right and a wrong position in the fight against racism and for reproductive justice. When we report on issues like the climate crisis, we're not afraid to name who is responsible. And as a global news organization, we're able to provide a fresh, outsider perspective on US politics – one so often missing from the insular American media bubble. 
Around the world, readers can access the Guardian's paywall-free journalism because of our unique reader-supported model. That's because of people like you. Our readers keep us independent, beholden to no outside influence and accessible to everyone – whether they can afford to pay for news, or not.
If you can, please consider supporting us just once from $1, or better yet, support us every month with a little more. Thank you.