labor
The New UAW Is Ready To Fight the Big 3 Automakers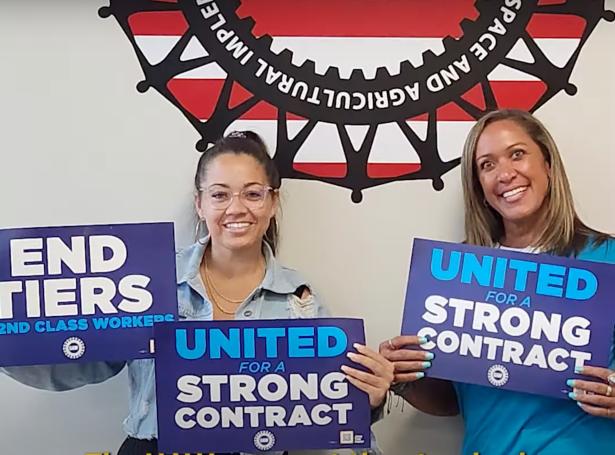 UAW members are fired up and ready to win a historic contract. ,UAW
In years past, the negotiations between the United Auto Workers (UAW) and the Big Three auto manufacturers — Ford, General Motors (GM), and Stellantis (formerly Chrysler) — began with the union's president shaking hands with the auto executives across the bargaining table. Not so this year.
Newly elected UAW president Shawn Fain declined to participate in the ritual, choosing instead to shake hands with members at Stellantis's Sterling Heights Assembly Plant, GM's Factory Zero Detroit-Hamtramck Assembly Center, and Ford's Michigan Assembly Plant in Wayne. The three plants represent some of the roughly 150,000 workers covered under the UAW's master agreement with the Big Three, which expires on September 14.
The move was a symbolic message: this year's negotiations will not be business as usual.

That comes as no surprise: Fain represents a new chapter for the union, the first international president directly elected by the members after decades of one-party rule by the union's Administration Caucus. Leaders of that caucus recently went to prison after decades of corruption, leading the federal government to appoint a monitor to oversee reform in the union and then a 2021 referendum on direct elections for leadership, which passed handily.
Fain ran on a slate called UAW Members United, and all seven of the slate's candidates won their leadership elections. They were backed by Unite All Workers for Democracy (UAWD), a reform caucus of which Fain is a member. The group first formed to push for direct elections and has since pivoted to building up rank-and-file leadership and engagement in the union.
The slogan of Fain's slate was "No corruption. No concessions. No tiers." Now, with the expiration date of the Big Three master agreement fast approaching, members hope to make those promises reality — even if it requires a strike to do so.
The UAW's contract proposals were presented to Stellantis on Tuesday, Ford on Wednesday, and GM on Thursday. On Tuesday evening, Fain laid out the union's ten priorities. The address was broadcast publicly — an increase in transparency from prior UAW leadership, which not only declined to communicate with members but even kept elected national negotiators in the dark. (Fain was one such negotiator, serving in such a capacity during Stellantis negotiations.)
"When I was elected, I said, 'The UAW is back in the fight,' and that's what the Big Three are going to see when we head into bargaining this week to deliver our economic demands," said Fain. While speaking, he was framed by two images in the background. One displayed headlines from the previous week, when the Big Three reported their quarterly earnings, which included soaring profits. The other image detailed how UAW members have lost ground over the past two decades. For instance, current starting wages are $18.04, lower than the rate workers received in 2007, which amounted to $19.60 when adjusted for inflation.
"When you put these two images together, they paint a damning picture of what's happening," said Fain. "Not just in our industry but across the economy: the rich are getting richer while the rest of us are getting left behind."
The UAW president said that the union's proposals include converting all temporary workers into permanent positions and placing strict limits on the future use of such workers, restoring cost of living allowances (COLA) and retiree health care benefits conceded by workers during the Great Recession, increasing pension benefits for current retirees as well as ensuring all workers receive defined-benefit pensions, and bolstering paid time off.
"Our members are working sixty, seventy, even eighty hours a week just to make ends meet," said Fain. "That's not a living; it's barely surviving, and it needs to stop."
On wages, Fain said that the union is proposing double-digit raises. He drew a contrast between autoworkers' pay and that of auto executives. GM CEO Mary Barra received $29 million in compensation in 2022, while an entry-level worker at GM's joint-venture Ultium Cells battery plant in northeast Ohio makes $16.50 an hour. Workers at that plant voted to join the UAW in December of last year.
"Big Three CEOS saw their pay spike 40 percent on average over the last four years," said Fain. "We know our members are worth the same and more."
Joint-venture battery plants are one of the union's most pressing concerns. Those plants are not covered by the master agreement and have far lower pay and benefits than legacy auto plants.
Joe Biden's administration has provided automakers billions of dollars in tax incentives and other inducements to speed the transition to EV production, but there are few strings attached concerning job quality.
Under such an arrangement, the inducements accelerate the trend whereby the growing EV sector threatens standards won over decades by autoworkers, leaving EV workers underpaid and, at times, in hazardous working conditions. The UAW has called on Biden to tie incentives to wage and safety standards if he seeks the union's endorsement for his reelection.
UAW members also want the right to strike over plant closures. The Big Three have shuttered sixty-five plants over the past two decades; Stellantis's decision to indefinitely idle the Jeep Cherokee plant in Belvidere, Illinois, in February of this year has provoked particular outrage. In his comments on plant closures, Fain also proposed a Working Family Protection Program, which would require an automaker to pay members for volunteer work if it closes the plant in their community.
In his address, Fain noted that in their recent hard-won tentative agreement with UPS, the Teamsters eliminated the widely despised new tier of drivers introduced in their prior contract by then president James P. Hoffa. The UAW president vowed that the union would win a similar victory at the Big Three.
Currently, UAW members in the lower tier can make as much as 25 percent less than their more senior counterparts. Such unequal pay for equal workers breeds mistrust, resentment, and higher turnover inside a workplace, anathema for any union.
"It's wrong to make any worker a second-class worker," said Fain. "We can't allow it any longer in the UAW."
The time is opportune for such an ambitious set of demands. Low unemployment, public support for strikes elsewhere in the private sector, and a membership that voted for internal reform suggest that now is the moment to both claw back prior concessions and win dramatic gains, much like in the Teamsters' tentative agreement with UPS (as for that contract, Teamsters are now voting on whether to ratify it, with results expected later this month).
"I know that these demands sound ambitious, but I also know that the Big Three can easily afford them," said Fain.
Alex N. Press is a staff writer at Jacobin who covers labor organizing.