Media Bits and Bytes – August 8, 2023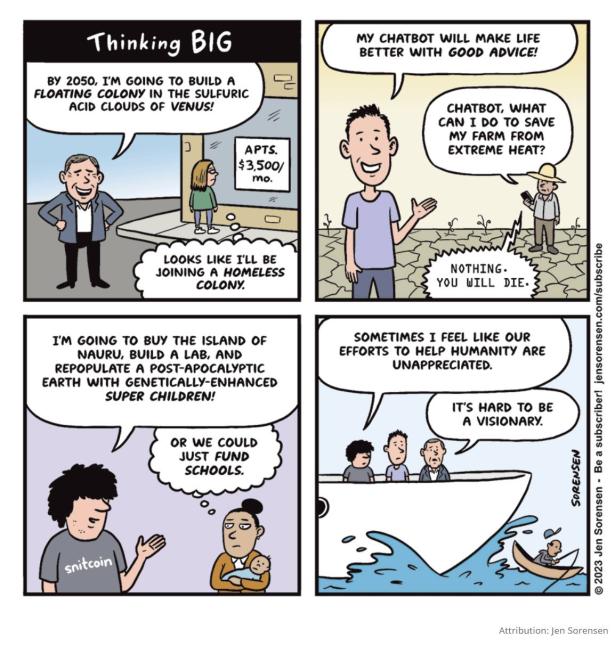 By Christina Colclough
Equal Times
Whilst the process of automation is nothing new, the extent and speed of it is. This is not least due to the launch this year of corporate-driven generative AI systems, such as OpenAI's ChatGPT and Google's Bard. It has been estimated that over 300 million jobs worldwide will be severely affected by these systems. In time, this disruption will hit workers across all occupations. 
By Amy Goodman, Nermeen Shaikh and Imran Ahmad
Democracy Now!
After the Center for Countering Digital Hate reported that hate speech has soared on the website formerly known as Twitter, now rebranded as "X," Elon Musk responded by filing a lawsuit against the center over the research. X accuses the watchdog group of unlawfully accessing data to "falsely claim it had statistical support showing the platform is overwhelmed with harmful content." 
By Julie Hollar
FAIR
When a new peer-reviewed study announces that a crucial Atlantic Ocean circulation system, a cornerstone of the global climate, may collapse as quickly as two years from now, you'd think news outlets might want to put that on the front page. Unfortunately for the planet and those who inhabit it, corporate media would rather look the other way.
By Amanda Silberling and Alyssa Stringer
TechCrunch
It's been over a year since Elon Musk announced his bid to buy Twitter, and those who opposed the sale have tried setting up shop on platforms like Mastodon, Substack Notes, T2… but none of these Twitter alternatives have really captured lightning in a bottle like Bluesky.
By Julia Rock
The Lever
As Hollywood actors and writers strike together for the first time since 1960 over pay, working conditions, and job security, Disney has purged dozens of original TV shows and movies from its streaming platforms, in a move that hurts workers and gives subscribers fewer options to watch.
By Diana Hodali
Deutsche Welle
The women of the Khateera team wanted to establish a platform from which they could present facts, comedy and conversation that would strike a chord with as many people in the region as possible, and where one can discuss subjects like feminism, the patriarchy and other societal issues in a more light hearted way, as if you were talking with friends. 
By Alex Lipton and Alex Pentland
Scientific American
The speed at which social media can spur massive financial movements is astounding. Before Twitter and Facebook, a spooked investor or customer would have to contact colleagues to urge them to withdraw funds from a troubled bank. This communication took days or even weeks. Social media alerts everyone all at once, and a few clicks on a computer screen can wipe an account clean.
The FBI and Section 702/Data Polarization
By Matthew Guariglia
Electronic Frontier Foundation
Section 702 of the 2008 Foreign Intelligence Surveillance Amendments Act authorizes the collection of overseas communications that can be queried by intelligence agencies in national security investigations under the oversight of the FISC. The FBI has access to the collected information, but only for limited purposes—purposes which it routinely and grossly oversteps.
By Jessica Beebe
SC Media
Hacktivism has seen a resurgence since the Russia-Ukraine conflict, with loosely affiliated groups of partisans or volunteers pitted against nation-states. These include the IT Army, a pro-Ukraine collective that attacks Russian assets; Guacamaya, which has exposed the secrets of Latin American governments and corporations; and SiegedSec, which has struck states that have enacted abortion bans.
Racist Algorithms? Facial Recognition
By Steve Neavling
Detroit Metro Times
Porcha Woodruff was eight months pregnant when six cops showed up at her door to arrest her for a crime she didn't commit. The 32-year-old woman spent 11 hours at the Detroit Detention Center and was charged with robbery and carjacking. She was the victim of a false facial recognition match, making her at least the third person to be arrested in Detroit based on the faulty technology.