Global Left Midweek – September 6, 2023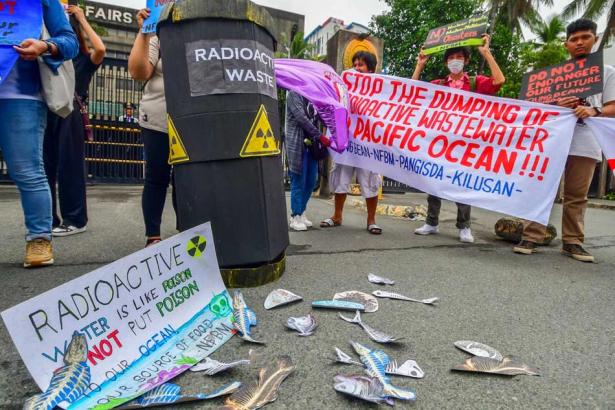 Multi-sectoral groups picket in front of the Embassy of Japan and the Department of Foreign Affairs in Pasay City, Philippines to denounce the Japanese government's plan to release treated water from the crippled Fukushima plant into the ocean. Credit, Mark Demayo, ABS-CBN News
__________
The Arab Spring is Not Dead
Haythem Guesmi / Al Jazeera (Doha)
Working classes, who spearheaded the early Arab Spring uprisings, did not get involved in the post-revolution experimentations with democracy in many countries. Lacking sufficient political education, and excluded from decision-making processes, they have been disillusioned by the empty discourse of NGO activism, and increasingly accepting of authoritarianism promises of order and prosperity.
__________
BRICS Debate
__________
Guatemala Turns the Tide
Dánae Vílchez / openDemocracy (London)
What set President-elect Bernardo Arévalo apart was his refusal to endorse the 'Life and Family' declaration, a campaign spearheaded by the ultra-conservative and influential group Family Matters (AFI) which advocates supposedly traditional family values, stringent opposition to abortion rights and equal marriage, and the appointment of like-minded individuals to executive positions.
__________
New Party Taking On ANC From the Left?
Victoria O'Regan / Daily Maverick (Johannesburg)
Three months after he was expelled from the ANC, the party's former secretary general Ace Magashule announced the formation of his new political organisation, the African Congress for Transformation. Magashule said the party wants to act against crime, unemployment, poverty, retrenchments, privatisation, hunger, famine, femicide, abuse against women, and discrimination.
__________
Sweeping Opposition to Fukushima Wastewater Release
Tessa Wong / BBC News (London)
Japan's controversial plan to release treated waste water from the Fukushima nuclear plant into the Pacific Ocean has sparked anxiety and anger at home and abroad. Fishing industry groups in Japan and the wider region are worried about their livelihoods. China has accused Japan of treating the ocean as its "private sewer". Many South Koreans have mobilized against the plan.
__________
French Left and State Islamophobia
John Mullen / Green Left (Sydney)
The French government has banned pupils from wearing the 'abaya' or 'kami' in school on the spurious grounds that is a form of religious expression. The question of Islamophobia can deeply divide the Left, which had been recently united to defend pensions. Last week leaders of the Communist Party, the Socialist Party, and the CGT union confederation all agreed with the government's decision.
__________
Translating Set Fear on Fire
Camila Valle / NACLA Report (New York)
Chilean feminist collective LASTESIS, creators of the viral interactive performance "A Rapist in Your Path," presented the English translation of their book in New York. Translator Camila Valle reflects on the feminist and political implications of South-North translation.
__________
Thai Politics: Progressive Hope Undone
Kriangsak Teerakowitkajorn / Jacobin (New York)
May's election in Thailand was a crushing defeat for its conservative bloc and a triumph for the progressive Move Forward Party. But the conservatives have used an undemocratic political framework to exclude the party and maintain their grip on power.
__________
Santiago de Chile and Tiblisi: International Meetings
__________
Guillermo Teiller (1943-2023)
Susan Borenstein / Special to Portside
Guillermo Teiller del Valle, 79, President of the Communist Party of Chile, died on August 29, 2023, at the Clinical Hospital of the University of Chile. He is survived by his partner, Margarita, a daughter Lorena, his two sons Fernando and Pablo, and two grandchildren. Teiller had been in fragile health for some months, suffering from issues associated with COVID, which he contracted in September 2022. His body lay in state in the Hall of Honor at the Chilean Congress in Santiago, where on August 31, diplomats, legislators, comrades and friends, including President Gabriel Boric and former President Michelle Bachelet, stood in an honor guard in a solemn act to bid farewell. Boric declared two days of national mourning "as a tribute to [Teiller's] dedication to Chile throughout his life and his tireless efforts to build a more just society."
A procession with the Communist Party flag draping the casket proceeded to the Santiago General Cemetery, accompanied by thousands of Communist Party and Communist Youth militants, holding their respective flags fluttering in the wind. At noon, a public act at the Plaza de la Paz began. Speakers included Lautaro Carmona, General Secretary of the Communist Party; Daniela Serrano, President of the Communist Youth; Camilo Hernández, Member of the Central Committee, Communist Party of Cuba; and Pablo Teiller on behalf of the family. There followed a cultural presentation which included the musical groups Huambaly, Illapu and Inti-illimani.
In an emotional tribute to his father, Pablo Teiller recalled the difficult years living without his father during the dictatorship. He said, "If you ask us if we are proud of the decisions our father made? Yes, we are proud of his decisions. … And we want to tell you that we do not regret them, we will not lower our heads because of my father's decisions, no matter how much there are political sectors that want to muddy the waters of the path that our party took. It fills us with pride to know that a man, our father, said, if we are going to die, we are going to die fighting."
Teiller's son went on to thank the doctors, nurses and staff of the Clinical Hospital of the University of Chile who cared for his father during his last days. He thanked the President, Gabriel Boric, for visiting his father in the hospital, and he thanked his father's closest comrades. He noted with pride that his father sought to promote and mentor the new generation of Communist leaders like Irací Hassler, Mayor of Santiago; Karol Cariola, Deputy Member of Congress; Javiera Reyes, Mayor of Lo Espejo, and Camila Vallejo, government spokesperson and Minister.  
Guillermo Teiller was born in 1943 in the town of Santa Bάrbara in the south of Chile. He joined the Communist Youth (JJCC) in 1958 and rose quickly into regional leadership positions in the Communist Party in Valdivia, including becoming Regional Political Secretary. He enrolled in the University of Chile, Temuco, in 1959, and later transferred to the University of Austral, Valdiva, where he studied literature and Spanish. He taught Spanish for four years and worked for six months in the Finance Committee of the Communist Party. He was a fierce defender of the Popular Unity government of Salvador Allende and in 1973 Teiller ran for a seat in Congress, but he lost to Carlos Lorca, a Socialist Party leader who was later arrested and disappeared after the military coup.
At the time of the military coup on September 11, 1973, Teiller was the Communist Party's Regional Secretary in Valdivia. Because he was a well-known political leader, for his own safety and that of his family and comrades, he was forced to go underground. He left Valdivia and moved to the city of Concepcíón, where he continued political activity clandestinely. He had many disguises and pseudonyms while working clandestinely. He was given the nickname "The Prince" by the secret police. In July 1974, at a regional meeting of the CP in Concepcíón, the Chilean secret police, DINA, located the clandestine meeting and arrested everyone in attendance. They were all, including Teiller, taken to the Air Force War Academy where they were brutally tortured for six months. Teiller was one of the few who survived and later transferred to three different concentration camps. He was released from prison in 1976, and rather than go into exile, chose to stay in Chile to rebuild the leadership of the Communist Party.
In 1978, with the clandestine return of Gladys Marin and others to Chile, Teiller joined the Internal Management Team of the Party. With tens of thousands arrested and imprisoned, hundreds disappeared, many thousands killed, and the leadership of the left political parties decimated, the CP reevaluated its tactics in fighting the dictatorship. In 1980, the CP called for all forms of struggle against the dictatorship, including armed struggle. Sebastían Larrain, Teiller's final nom de guerre, was credited as the architect of the politics of Rebellion. Teiller became the head of the Military Commission of the Party and in 1983, and the Manuel Rodríguez Patriotic Front (FPMR) appeared, the armed group associated with the Communist Party.
Teiller was the Communist Party's liaison to the FPMR and was tasked with funneling aid from Cuba to the group. In 1986, the FPMR attempted to assassinate Augusto Pinochet in his motorcade, but the attack failed. Pinochet survived, and five of his guards were killed. Later, in 1990, the FPMR pulled off a spectacular prison break at the General Prison in Santiago, where 49 members of the FPMR escaped through a tunnel they had built.
In 2005 with the death of then CP General Secretary Gladys Marín, Teiller became head of the Party, a position he held for 18 years. In 2010, Teiller was again a candidate for Congress, this time winning and serving three terms in Congress from 2018 to 2022.
On September 3, the Communist Party's newspaper El Siglo (The Century) published Teiller's last article, entitled "Fifty Years After the Coup, We Must Defend Democracy." It was written shortly before his death. He concluded his article:
"Historical memory allows us to project a better future. Collective learning should lead us to strongly reaffirm the defense of democracy and its continual perfection. That is why we must defend and fight to achieve the social, political and economic transformations that have driven President Boric's government and to which he has committed. We must defend the government's proposed redistributive policies contained in the new fiscal pact, whereby the richest pay the taxes that correspond to their wealth. Pension reform is a priority task because the elderly cannot continue to wait and live on poverty pensions; and we must fight for health reform so that everyone has access to quality care; and all those measures that benefit those who need it most. This must be our outlook. 
"Building a fairer society is the best tribute we can pay to those who gave their lives to make this possible. For Chile, for the defense of our democracy, for truth, for justice and guarantees that this will not happen again, 50 years after the coup, we will win a thousand times over."