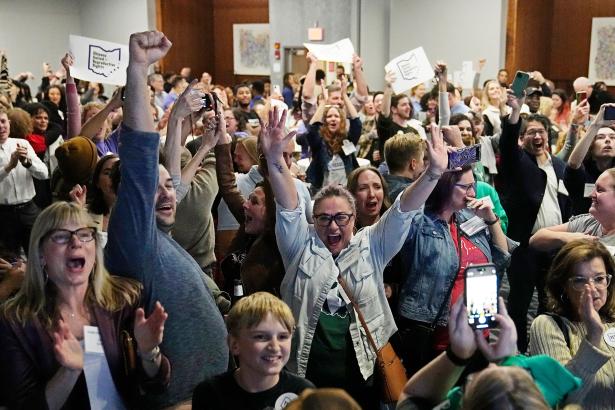 Issue 1 supporters cheer as they watch election results come in on Tuesday in Columbus, Ohio.,Sue Ogrocki/AP
I wish I was the kind of person who wins gracefully. Really, I do. But when you spend a year writing about raped children being denied care and women forced to carry doomed pregnancies to term, you tend to lose your magnanimity. 
So to every Republican politician who tried to keep voters from having a say on abortion, and to every anti-choice activist who worked to keep women under the government's thumb: 
Fuck you, we win. 

I cannot begin to tell you the amount of joy it brought me to find out a little after midnight last night that Democrats gained control of the Virginia legislature. Because not only did it mean that abortion access would remain relatively safe in the state—but that the multi-million dollar bet anti-abortion groups made on their much-touted strategy failed spectacularly. Remember, it was just over a week ago that Susan B. Anthony Pro-Life America president, Marjorie Dannenfelser, said that Virginia is "the clearest bellwether going into 2024." For the first time, I hope Miss Marjorie is right.
SBA and other anti-choice groups may have seen our Ohio win coming (and more on that in a minute), but they really thought they were going to do something in Virginia. These people spent months training candidates to claim that bans aren't bans, and to attack their opponents for abortion 'extremism'. Quite a nervy message considering voters can see with their own eyes which party is forcing women into septic shock!
And that's the thing: conservatives' strategy relied on the idea that voters weren't smart enough to see exactly what they were doing. The anti-abortion movement thought they could change 'ban' to 'consensus' and suddenly Americans would forget about the last year of suffering. 
That's what happened in Ohio, too: Republican lawmakers and the anti-abortion movement underestimated just how savvy—and mad!—voters would be. They didn't understand that people weren't only motivated by abortion bans, but by the constant attacks on democracy. Ohioans watched their state leaders try every trick in the book to keep them from having a say on abortion. The absolute walloping Republicans took last night was a clear message from voters: We see you. 
Obviously, it wasn't just anger that drove people to the polls: abortion rights advocates on the ground worked their collective asses off to make these wins happen. They knocked on doors, phone banked, and talked to neighbors, friends and family about what was at stake in this election. These incredible activists didn't stop for one single second and last night's wins belong to them. 
If there's any message that politicians should take from last night's results, it's that abortion wins elections. And not just by a little. Ohio's Issue 1 won with nearly 57%! Considering the incessant attacks from GOP leaders—whether it was misinformation spread by a state-run website, or getting a Republican-crafted summary on the ballot instead of the amendment itself—one vote over 50% would have been a massive win. 
Even in red state Kentucky, Gov. Andy Beshear won in large part by focusing on his opponent's anti-abortion extremism. His campaign spent millions on an ad featuring a young woman, Hadley Duvall, who was raped as a child. "This is to you, Daniel Cameron," she said. "To tell a 12-year old girl she must have the baby of her stepfather who raped her is unthinkable." Duvall was the first person that Gov. Beshear thanked in his victory speech after thanking his family, noting that, "Because of her courage, this commonwealth is going to be a better place." 
And that's the other big win from last night: the messaging war. For years, anti-abortion activists and legislators counted on Democrats treating abortion like a controversial, third rail issue. A Kentucky candidate campaigning on abortion rights would be unthinkable just a year ago.
Conservatives hoped that a few key wins last night would convince Democrats to stop talking about abortion so much. I think it's safe to say that's definitely not going to happen, and watching those hopes get dashed as results came in was a true delight. Abortion is going to be the central issue moving into 2024. I just wish it didn't take the end of Roe for politicians to figure out what feminists have been saying for decades: that abortion is a winning issue.
Obviously, there's more work to do. Last night's wins don't help the people who are suffering in other states with abortion bans, and we know that Republicans in Missouri, Florida, and any other state considering a pro-choice ballot measure aren't just going to roll over. They've already been undermining democracy in the same way that Ohio Republicans did, and we have lots of big fights ahead.
But for right now, for today, let's take some time to bask in last night's successes. Not just because we won, but because they lost. And sometimes it's okay to be a sore winner.
Jessica Vakenti is a writer, NYC native. 7 books, 1 kid & a lot of opinions.
For more columns like this one, and daily reports on abortion news, sign up for a subscription to Abortion, Every Day: