In Bangladesh Garment Worker Wages Were Increased to $112 a Month, They Are Demanding More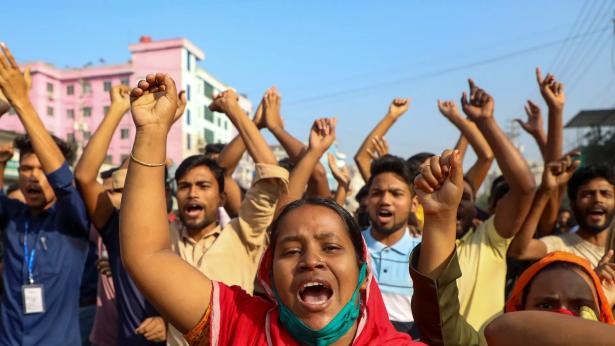 Nurphoto/Getty Images
Over 5,000 garment workers in Bangladesh are protesting the current minimum wage in the country. Tasmin Kurien of the Asia Floor Wage Alliance tells Teen Vogue that 70% of those protesting are women.
For months, workers have been calling on the government and factory owners to raise their wages from 8,300 taka, or $75 a month, to 23,000 taka, or $205 a month. When the Bangladesh Garment Manufacturers and Exporters Association initially offered to increase the wages to $90, the protests began. The last wage increase was in 2018.
On November 7, the association came back with an increased offer of 56.25% (12,500 taka, or $114 a month). Kalpona Akter of the Bangladesh Garment and Industrial Workers Federation told Al Jazeera that the offer was "very frustrating," adding "we can't accept it."

Taniya Begum, a garment worker who has been protesting for the minimum wage increase, tells Teen Vogue that workers are fighting for a wage that is in line with inflation and the rising cost of living. "We cannot afford a healthy life for our children. We cannot ensure enough nutritious food with the present wage," she says via Zoom. Most workers, she continues, choose to work overtime to make ends meet, even when, according to Begum, some factories don't honor those extra hours — another reason why protesters have decided to take a stand.
Teen Vogue has reached out to Denim Asia Ltd., a factory that employs several protesting workers, for comment.
On Wednesday, at least one worker was killed during the protests, and several others were injured in a clash with police, according to Reuters.
Bangladesh is one of the largest hubs of garment factories in the world, second only to China. An estimated 4 million workers are employed in Bangladesh's garment business, making clothing for popular brands like H&M, Abercrombie & Fitch, Adidas, Levi Strauss, Lululemon, and Inditex, which owns Zara.
In October, 16 brands sent a letter to the prime minister asking for a proper review of wages. "The consultations should seek to raise the minimum wage to a level that corresponds with a wage level and benefits that are sufficient to cover workers' basic needs and some discretionary income and takes into account inflationary pressures," the letter states.
While Prime Minister Sheik Hasina, who is running for reelection in January, did not directly respond to the letter, she did address the protesters in Dhaka saying, "Garment workers should remember that if they damage factories, they may have to return to their villages and live without employment." Despite this, workers are still fighting for better wages.
This week, Bangladesh Garment and Sweaters Workers Trade Union Center conducted a protest march on the Dhaka National Press Club (where the protest is visible to local media), demanding "basic wage to be 65% of total wages, declaration of 5 grades & uniform wage hike across all grades, and a 10% increment of minimum wages annually," according to the workers' memorandum.
According to Begum, workers say that until they have received the wage increases they demand, they plan on continuing to protest. "We will protest till the end of our breath," she says. "Our workers are dying in the road, and we are protesting in the road. We cannot go back home without 23,000 takas. We are dying to fulfill our needs, our family needs."
---
Alyssa Hardy is a journalist and the author of "Worn Out: How Our Clothes Cover Up Fashion's Sins." She was formerly the Fashion News Editor at Teen Vogue and the Senior News Editor at InStyle. Her work has appeared in Vogue, Business of Fashion, Marie Claire, NYLON, Refinery29 and more. She's currently a contributing editor at Teen Vogue.
Teen Vogue is the young person's guide to conquering (and saving) the world. We are the leading brand dedicated to amplifying the voice of young people on the issues they care about the most, across culture, fashion, politics, beauty, identity/wellness, and more.
At Teen Vogue, we pride ourselves on publishing reported pieces and essays that are inclusive and disruptive. With smart, authentic takes on culture, identity, and politics, we tell the stories that normally go untold, defining the zeitgeist for a new generation that demands style and substance. As our Editor-in-Chief Versha Sharma says, we aim to be a "guide and resource for young people who want to change the world for the better, all the while reminding them to have fun and find joy doing it."
Subscribe to our newsletters here.