Tidbits - February 14, 2013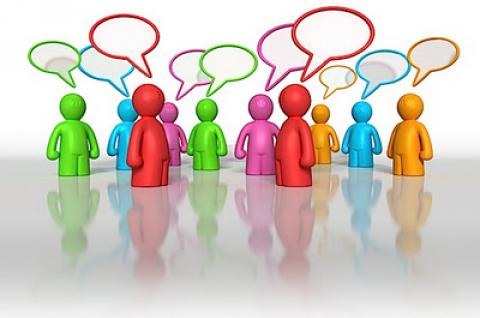 , credit: http://bytesdaily.blogspot.com/
Re: The Persistence of Racial Resentment
Interesting article but where is the understanding that the vote is skewed due to the GOP manipulation of the voting process which intentionally prevent many from voting, particularly people of color and poorer, working people who tend to vote Democratic.
Tanya Marquette
Very good article about the "double-bind: many feminists on the left find themselves facing when discussing/needing to take a stand against extremism in the Muslim world. Meredith Tax is proposing a methodology I myself advocate and call a "both/and" imperative.
Fawzia Afzal-Khan
Re: Carl Proper's comment in "Tidbits:
We know now that Europeans had encountered a land greatly emptied by their very arrival, with the diseases they unwittingly brought killing up to 90 percent of the original population, easing the path to bloody conquest.
This is the essence of the US American self-deceit. If the land was emptied, tell me why it took a century of bloody assaults on Indigenous farmers in the Ohio country, the southeast, and the rest of the continent. Ever hear of "the Indian wars?"  The US is founded on genocide. The continent was not empty when the settlers arrived. The US is a settler state, just as South Africa. The fact that the colonized people are a minority does not take away the settler-colonial mentality of the population, as exhibited in Mr. Proper's false assertion.
Roxanne Dunbar-Ortiz
An intriguing aspect of this case is why his Australian family (parents and siblings) as well as his friends in Jewish community of Melbourne won't talk either. And what of his Israeli wife and children? We can assume they all put the interests of the Israel state first, even though it imprisoned and may have even murdered their husband, son and friend as some kind of traitor or potential whistle blower like Mordechai Vanunu.
Michael Munk
For Immediate Release: Frustrated UIC Graduate Employees Bombard Chancellor with Valentines
Posted by geoweb
February 13, 2013
Chicago - The Graduate Employees' Organization, a labor union representing graduate student employees at UIC, has been without a contract for the past six months. This has resulted in a wage freeze for their approximately 1,500 members. The primary points of contention include high healthcare premiums, low wages, and increasing fees. Graduate employees have demanded that their compensation match UIC's own figure of the annual cost of living, $17,958, and the administration's proposals have thus far fallen more than three thousand dollars below this figure.
At noon on Valentine's Day, graduate employees will be urging the administration to not break their hearts, as they deliver hundreds of Valentine's Day messages to the chancellor in the effort to get the Administration to be more reasonable at the bargaining table.
"UIC calls itself a world class university. But when it comes to employee compensation, benefits, and working conditions, UIC is anything but world class," says Kevin Carey, a PhD candidate in the department of English. Grad employees find it particularly egregious that UIC has dramatically increased the salaries of many administrators already receiving very high salaries. UIC's chancellor, for example, received a 10% raise this year, bringing her salary to $411,752.11 while grad employees receive wages well below the cost of living for Chicago and often pay thousands of dollars in fees each semester.
"UIC is a public university, and education should be its primary aim. This does not square well with the fact that those working in classrooms are receiving less than a living wage while administrative staff are drawing exorbitant salaries. UIC's priorities are backwards," says Greg Sutliff, a teaching assistant in the Philosophy department.
Throughout the course of negotiations, members of the union have emphasized that their work is essential to the functioning of the university. "Teaching assistants are responsible for a large amount of the undergraduate teaching at UIC, and other graduate assistants perform vital administrative duties," says Jes Cook, a teaching assistant in the Sociology department. "UIC works because we do."
Please help us gather valuable input by taking this 10-12 minute survey yourself if you fall into this category and/or forwarding it to others who could use downloadable data on racial disparities, lecture slides, short videos defining racial justice terms, or other resources and tools for their educational work. The deadline for your participation is Monday, February 18th.
[Thanks to Nan Rubin for forwarding this information to Portside.]
Panelists:
Michael Merrill, Dean, Harry Van Arsdale, Jr. Center, Empire State College, SUNY
Andrew Ross, Professor of Social and Cultural Analysis, New York University
Kathryn Mills, editor (with Pamela Mills), C. Wright Mills: Letters and Autobiographical Writings
Stanley Aronowitz, Distinguished Professor of Sociology, CUNY Graduate Center will respond
Joshua Freeman, Professor of History at Queens College and CUNY Graduate Center will moderate
The Murphy Institute is part of the School of Professional Studies and The Graduate School, CUNY
or call 312-422-5580
Free and open to the public. Presented by The Public Square, a program of the Illinois Humanities Council. 
Join us for a talk by award-winning historian Barbara Ransby featuring photographic images from the Robeson family that help tell Eslanda's story. Following her presentation, Ransby will be in conversation with fellow historian and educator Cheryl Johnson-Odim about Black women's international solidarity and Eslanda's legacy. Stay for the reception and book-signing. Books available for purchase via Women and Children First. 
Feb. 13, 2013 - A team of political scientists and neuroscientists has shown that liberals and conservatives use different parts of the brain when they make risky decisions, and these regions can be used to predict which political party a person prefers. The new study suggests that while genetics or parental influence may play a significant role, being a Republican or Democrat changes how the brain functions.
Dr. Darren Schreiber, a researcher in neuropolitics at the University of Exeter, has been working in collaboration with colleagues at the University of California, San Diego on research that explores the differences in the way the brain functions in American liberals and conservatives. The findings are published Feb. 13 in the journal PLOS ONE
In a prior experiment, participants had their brain activity measured as they played a simple gambling game. Dr. Schreiber and his UC San Diego collaborators were able to look up the political party registration of the participants in public records. Using this new analysis of 82 people who performed the gambling task, the academics showed that Republicans and Democrats do not differ in the risks they take. However, there were striking differences in the participants' brain activity during the risk-taking task.
Democrats showed significantly greater activity in the left insula, a region associated with social and self-awareness. Meanwhile Republicans showed significantly greater activity in the right amygdala, a region involved in the body's fight-or-flight system. These results suggest that liberals and conservatives engage different cognitive processes when they think about risk.
In fact, brain activity in these two regions alone can be used to predict whether a person is a Democrat or Republican with 82.9% accuracy. By comparison, the longstanding traditional model in political science, which uses the party affiliation of a person's mother and father to predict the child's affiliation, is only accurate about 69.5% of the time. And another model based on the differences in brain structure distinguishes liberals from conservatives with only 71.6% accuracy.
The model also outperforms models based on differences in genes. Dr. Schreiber said: "Although genetics have been shown to contribute to differences in political ideology and strength of party politics, the portion of variation in political affiliation explained by activity in the amygdala and insula is significantly larger, suggesting that affiliating with a political party and engaging in a partisan environment may alter the brain, above and beyond the effect of heredity."
These results may pave the way for new research on voter behaviour, yielding better understanding of the differences in how liberals and conservatives think. According to Dr. Schreiber: "The ability to accurately predict party politics using only brain activity while gambling suggests that investigating basic neural differences between voters may provide us with more powerful insights than the traditional tools of political science."