Why the War in Iraq Was Fought for Big Oil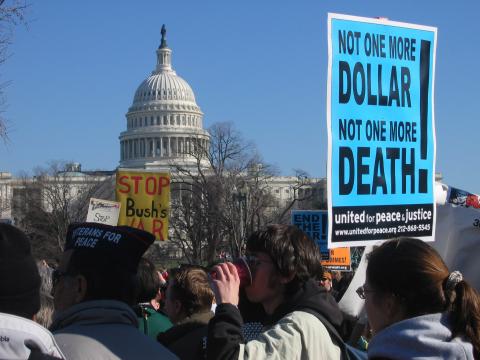 Iraq War protest on January 27, 2007 in Washington, D.C. organized by United for Peace and Justice., Photo by User:AudeVivere / Wikimedia.org
(CNN) -- Yes, the Iraq War was a war for oil, and it was a war with winners: Big Oil.
It has been 10 years since Operation Iraqi Freedom's bombs first landed in Baghdad. And while most of the U.S.-led coalition forces have long since gone, Western oil companies are only getting started.
Before the 2003 invasion, Iraq's domestic oil industry was fully nationalized and closed to Western oil companies. A decade of war later, it is largely privatized and utterly dominated by foreign firms.
The war is the one and only reason for this long sought and newly acquired access.
Oil was not the only goal of the Iraq War, but it was certainly the central one, as top U.S. military and political figures have attested to in the years following the invasion.
Here's how they did it.
People say we're not fighting for oil. Of course we are.

Then-U.S. Senator Chuck Hagel in 2007
Before the invasion, there were just two things standing in the way of Western oil companies operating in Iraq: Saddam Hussein and the nation's legal system. The invasion dealt handily with Hussein. To address the latter problem, some both inside and outside of the Bush administration argued that it should simply change Iraq's oil laws through the U.S.-led coalition government of Iraq, which ran the country from April 2003 to June 2004. Instead the White House waited, choosing to pressure the newly elected Iraqi government to pass new oil legislation itself.
In 2008, with the likelihood of the law's passage and the prospect of continued foreign military occupation dimming as elections loomed in the U.S. and Iraq, the oil companies settled on a different track.
The new contracts lack the security a new legal structure would grant, and Iraqi lawmakers have argued that they run contrary to existing law, which requires government control, operation and ownership of Iraq's oil sector.
But the contracts do achieve the key goal of the Cheney energy task force: all but privatizing the Iraqi oil sector and opening it to private foreign companies.
They also provide exceptionally long contract terms and high ownership stakes and eliminate requirements that Iraq's oil stay in Iraq, that companies invest earnings in the local economy or hire a majority of local workers.
Yes, the Iraq War was a war for oil, and it was a war with losers: the Iraqi people and all those who spilled and lost blood so that Big Oil could come out ahead.
     Antonia Juhasz