Media Bits & Bytes - Hacking, Stalking and Spying Edition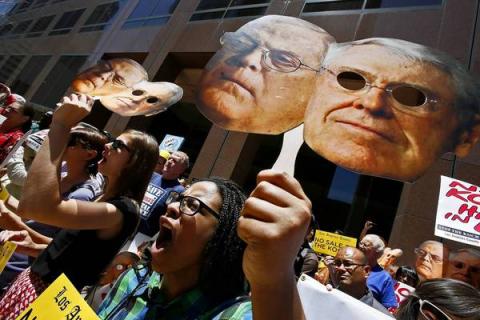 Erinn Carter, right, takes part in a rally organized by the AFL-CIO in front of Oaktree Capital Management's office in Los Angeles to protest the potential sale of the Los Angeles Times to the politically conservative Koch brothers. , (Irfan Khan, Los Angeles Times / May 14, 2013)
Unions Protest Over Potential Sale of L.A. Times to Koch Brothers
By Walter Hamilton
May 15, 2013
Los Angeles Times
About 300 labor union members and other activists staged a demonstration to protest the potential sale of the Los Angeles Times to the politically conservative Koch brothers.  Demonstrators marched outside the downtown L.A. headquarters of Oaktree Capital Management, an investment firm that holds a roughly 20% stake in Tribune Co., which owns The Times.
Protesters alleged that Charles and David Koch, billionaire siblings who fund conservative causes, want to buy The Times in order to skew the paper's coverage to favor anti-union objectives.  The protesters targeted Oaktree because the firm manages pension investments on behalf of unionized government employees, including those in the California Public Employees' Retirement System.  Oaktree said in a prepared statement that no decisions have been made about a potential sale of The Times.
Who Can Stop the Koch Brothers From Buying the Tribune Papers? Unions Can, and Should
By Matt Taibbi
May 10, 2013
Rolling Stone
The Kochs, after years of working through the media with relentless lobbying and messaging, are exploring the idea of skipping the middleman and becoming media themselves, with the acquisition of one of the biggest media groups in the country.
The Koch brothers have always taken powerful and unequivocal stances against public sector unions and their retirement plans.   Yet two of the major stakeholders at Tribune Co. are investment management firms that manage billions of dollars of public pension funds. This sale really can't happen, obviously, without the assent of these companies. Yet these companies are financially dependent upon public pension funds. What this means, essentially, is that public-sector workers in the very cities and states where the Kochs plan to take over these iconic newspapers will in a sense be subsidizing or enabling the sale by keeping their monies under management with companies like Oaktree and Angelo Gordon.
Biometric Database of All Adult Americans Hidden in Immigration Reform
By David Kravets
May 10, 2013
Wired
The immigration reform measure the Senate began debating yesterday would create a national biometric database of virtually every adult in the U.S., in what privacy groups fear could be the first step to a ubiquitous national identification system.
Buried in the more than 800 pages of the bipartisan legislation (.pdf)  http://www.judiciary.senate.gov/legislation/EAS13500toMDM13313redline.p…   Border Security, Economic Opportunity, and Immigration Modernization Act is language mandating the creation of the innocuously-named "photo tool," a massive federal database administered by the Department of Homeland Security and containing names, ages, Social Security numbers and photographs of everyone in the country with a driver's license or other state-issued photo ID.
Although this mandate is aimed at curbing employment of undocumented immigrants, the fear is that it would soon be required at polling places, to rent a house, buy a gun, open a bank account, acquire credit, board a plane or even attend a sporting event or log on the internet.
Use These Secret NSA Google Search Tips to Become Your Own Spy Agency
By Kim Zetter
May 8, 2013
Wired
There's so much data available on the internet that even government cyberspies need a little help now and then to sift through it all. So to assist them, the National Security Agency produced a book to help its spies uncover intelligence hiding on the web.
The 643-page tome, called Untangling the Web: A Guide to Internet Research (.pdf), was just released by the NSA following a FOIA request filed in April by MuckRock, a site that charges fees to process public records for activists and others.  The book was published by the Center for Digital Content of the National Security Agency, and is filled with advice for using search engines, the Internet Archive and other online tools. But the most interesting is the chapter titled "Google Hacking," which has been talked about at hacker conferences for years.
Everything You Wanted to Know About the DoJ/AP Controversy
By Josh Stearns
May 15, 2013
FreePress.net
The story of how the Justice Department secretly obtained journalists' phone records is developing quickly. Free Press lays out the issues.
What You Need to Know About That Bloomberg News Snooping Scandal
By Simon Dumenco 
May 20, 2013
Advertising Age
Remember that time Bloomberg News got caught using subscriber information from Bloomberg data terminals to spy on the financial industry?  You may have missed Bloomberg News Editor-in-Chief Matthew Winkler's admission and apology, titled "Holding Ourselves Accountable," that was published in the dead of the night last Monday -- at 12:11 a.m. ET. In it, he owned up to the fact that Bloomberg News reporters had access to "limited client information" for Bloomberg's financial-data-terminal business, a sibling division of the Bloomberg empire that serves more than 300,000 subscribers on Wall Street and beyond -- which allowed some Bloomberg journalists to behave rather like stalkers.
Advertising Age, which licenses Bloomberg content, deconstructs the story.
In Bloomberg Uproar, Ethics Flags For New Media
By Adam Geller, Associated Press (AP)
May 16, 2013
Huffington Post
Launching his namesake company's news division in the 1990s, Michael Bloomberg largely rejected long-held rules of the journalism trade that insist on keeping thick firewalls between reporters and the profit-making workings of their companies.  Now, a byproduct of Bloomberg's widely admired and novel business model has ensnared his company in a problem of its own making.
But the uproar is potentially about much more than Bloomberg. Instead, experts say, it highlights the uncertain and rapidly changing ethical landscape facing companies that, like Bloomberg, are reinventing the news business.  "Most news organizations never connect reporters and commerce. At Bloomberg, they're as close to seamless as it can get," the billionaire entrepreneur and New York City mayor wrote in his 1997 autobiography. In practice, that meant giving Bloomberg journalists access to data about individual customers' terminal usage. Technology has made it easier for reporters, and everybody else, to snoop.
Google, Microsoft, and Yahoo are Secret Backers Behind European Privacy Association
The privacy organization has hidden its ties to corporate backers
By Jennifer Baker 
May 20, 2013
IDG News Service
The Corporate Europe Observatory (CEO), which works to expose privileged access in E.U. policy making, said in a complaint Thursday that the European Privacy Association is working to represent industry interests in the debate on data protection in Europe, even though it has not listed any corporate backers on the E.U.'s "Transparency Register." The EPA is listed in the category of think tanks, research and academic institutions and claims to have only 10 private (non-corporate) members. However, EPA managing director Pietro Paganini confirmed to the IDG News Service that Google, Yahoo and Microsoft are members.  CEO has described the EPA as an "astroturf organization," or front group, defending the interests of large IT corporations.
Blind Advocates: Hollywood Lobbying Threatens Deal for Accessible Books
Disputes between blind groups and content companies could kill copyright treaty.
by Timothy B. Lee
May 10 2013
Arstechnica
For the last several years, negotiators at the World Intellectual Property Organization have been working on a copyright treaty that would make it easier for blind people to get accessible versions of books, like well-annotated audio books or large-print editions. But aggressive lobbying by the Motion Picture Association of America (MPAA), the Association of American Publishers (AAP), and other US copyright interests threatens to derail the negotiations, according to several advocates for the blind who spoke to Ars.
The AAP has said that any treaty that enhances access for blind people must be coupled with provisions that shore up the rights of copyright holders. The organization has also pushed for additional restrictions on when non-profit organizations would be allowed to produce accessible versions of books.
This 17-Year-Old Coder Is Saving Twitter From TV Spoilers (Spoiler: She's a Girl)
By Dana Liebelson
May 8, 2013
Mother Jones
Imagine you forget to watch a new episode of Game of Thrones the night it airs. Even if coworkers stay mum about important plot points, Twitter is abuzz with spoilers. Fortunately, there's Twivo, a new program that allows Twitter users to censor their feeds from mentioning a certain TV show (and its characters) for a set time period. Jennie Lamere, a 17-year-old girl, invented the software last month—and won the grand prize at a national coding competition where Lamere was the only female who presented a project, and the only developer to work alone.
Internet: Meet the reason we need more women in tech.  According to Girls Who Code, an organization that aims to provide computer science education and exposure to 1 million young women by 2020, women only represent 12 percent of computer science graduates, down from 37 percent in 1984.
Lamere is a high school senior from Nashua, New Hampshire, and she's the only student participating in 'hackathon' events. Lamere entered the TVnext Hack event on April 27 along with about 80 other competitors—all of them male, and she beat out professional developers sent by the event's sponsors, including ESPN, the Echo Nest, and Klout. She came up with the idea for Twivo the night before the competition, and it took her 10 hours and 150 lines of code to complete.