Bittorrent's Direct to Fan Collaboration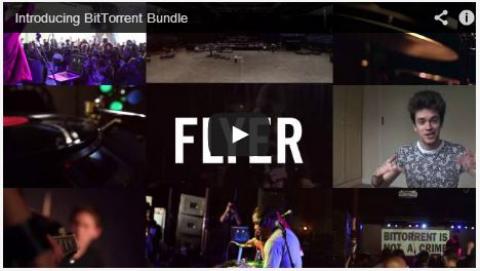 ,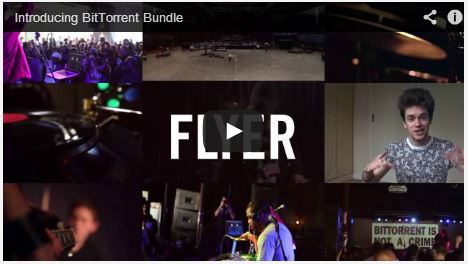 Ultra is a label that has changed the landscape and creative culture of music. Today, we're working with them to do it again.
Over the years, Ultra has been the home of, and catalyst for, artists like Kaskade, David Guetta, Tiesto, deadmau5, and Calvin Harris, among others. In 2013, starting now, they'll be the first label release content direct-to-fan using an Alpha media format we're calling the BitTorrent Bundle . Here's the deal.
We used to buy music at independent record shops downtown. We bemoaned their disappearance, but still shopped the chain mega-stores that took their place. When these moved online, in the form of iTunes or Amazon, we were there, wallets out. For fifty years or more, the path to purchase has essentially been the same. Go to the physical/digital record store, buy an album.
But what if the record store was inside the album instead?
What if every single piece of content could function as a flyer, and a standalone storefront?
What if you could code a checkout counter into each media file published by an artist?
You'd be able to reach the people who slip through the cracks of traditional retail outlets – the other 40% of the Internet. You'd be able to build content that appreciates in value over time; that grows more powerful, each time it's shared. That's the idea behind the BitTorrent Bundle.
The BitTorrent Bundle is not an album, an MP3, or an MOV. It's a multimedia format. It's an early build of a new type of torrent file where fan interaction, like email collection or donation, happens inside the torrent. We're collaborating with electronic music innovators Ultra Music to see what happens when you let people choose how they want to connect with content.
Ultra's BitTorrent Bundle is a behind-the-scenes look at Kaskade's 2012 "Freaks of Nature" tour, designed to support the artist's May 14th documentary release. It's a flyer. It's a direct-to-fan social object. And it's the world's largest stage; ready to reach 170 million fans from all over the world.
When you download the Ultra Bundle from BitTorrent, you get half the content gratis: the Dada Life remix of Dynasty, and the "Freaks of Nature" tour trailer. The other half of the content inside the file? It's a functional record store, with content you can unlock using your email. Opt to keep in touch, and Kaskade will hook you up with unreleased footage from his historic 2012's Staples Center show, as well as an exclusive digital tour booklet. Either way: you get to bring home a little piece of "Freaks of Nature".
In partnership with Ultra Music, Kaskade, and the people of the Internet, we're working on a distributed technology solution for creators. We don't need another digital radio station. We don't need another walled garden or standalone content store. We need ways to place value exchanges within the content itself – allowing these exchanges to travel freely, without barriers or limitations; allowing these exchanges to multiply as content is shared.
Our goal is to move the interaction to where it matters; making it a property of the file, versus the distribution framework; giving artists real data about, and real access to, their fans.
Go behind the scenes with Kaskade, and see how the Bundle Alpha works.