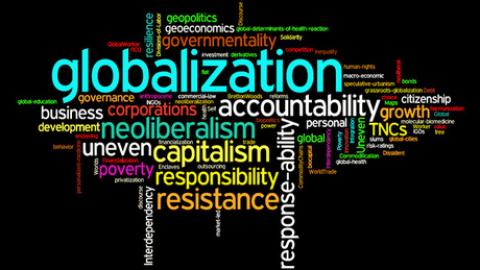 Globalization and You - University of Washington coursera, https://www.coursera.org/course/globalization
Left Margin
Earlier this year, when the young boss of Fiat appeared in Turin to mark the Tenth Anniversary of the death of the automaker's founder, Gianni Agnelli, he noted the company's roots in the northern Italian city. Afterwards, a journalist stood up and said, "You want us to be happy about Fiat now being an international company. Fine, we are. But what about the people in Termini Imerese? They no longer have jobs."
The exchange was reported by Rachel Sanderson in the Financial Times, May 31 as a lead into a story about how Fiat is considering "moving its main corporate headquarters to the US from Turin after a merger with Chrysler that is expected later this year." The "roots" comment, by 37-year-old Fiat Chair, John Elkann, Sanderson wrote, "have been remembered with some bitterness in Italy in the last few days as Fiat and its sister company Fiat Industrial crank up what appears to be the final stages of a push to become US-listed multinationals."
The journalist was referring to the auto plant in Sicily that closed two years ago after it was sold to a Chinese firm that, in cooperation with an Israeli firm, is reportedly planning to put it back in operation sometimes next year.
"Like the takeover of UK chocolate maker Cadbury by Kraft of the US, Fiat's withdrawal from money-losing Italy as it becomes part of a global group has created a national sense of loss at a time when the country is struggling with a deep two-year-old recession and unemployment at a near-20 year high." wrote Sanderson.
Fiat CEO Sergio Marchionne told the paper he "is looking at primary listings for the two groups in New York to gain better access to capital markets."
Max Warburton, a global autos analyst, told Sanderson that Marchionne's relocation plan is "genius." "This guy is saying, it is my job to run a profitable business," he said. "I'm a capital allocator and I'm not willing to sit here in Italy and burn cash into (sic) perpetuity. Leaving aside the national politics, no investors are going to complain about that, nor is the [Agnelli] family, nor should Fiat engineers and staff who will be part of a bigger and more secure business," Mr. Warburton says.
"Other analysts argue that Fiat has not gone far enough and should be closing more of its under productive factories in Italy and focusing on its 100 per cent productive plants in Brazil or Eastern Europe," wrote Sanderson.
Where, of course, wages are lower and benefits fewer.
The closure of the Sicilian auto plant and the corporate departure for New York underscore an essential truth about the economic and political situation in Europe today. Although most of commentary in the major mass media paints a picture of mismanaged and profligate countries in the southern part of the continent unwilling to carryout "reforms" necessary to overcome the effects of capitalism's contemporary crisis, the reality is something else indeed. What is underway is a drive to shift the burden of overcoming the system's malaise onto the backs of working people while maintaining the privileged position of the fortunate few - the one percent.
Last week, the front page of the New York Times revealed that there is such a thing as a "ruling class" in Turkey.
Well, there are ruling classes in Common Market countries as well. And just as the proponents of austerity in the U.S. and Britain insist that working people and the poor make the sacrifices to overcome the havoc created by the profit hungry banks and other centers of high finance, there will be no pay cuts, reduced benefits or cutbacks in retirement security for the ruling classes of Europe.
For a glimpse at the lifestyle of those on the upside of globalization, consider this. In September 2004, on the Island in the middle of Italy's second largest lake, Fiat's John Elkann married the Italian countess, Donna Lavinia Borromeo. The ceremony was followed by a reception that featured a 5 meter long chocolate cake depicting the Lingotto auto plant in Turin and a unicorn, the heraldic symbol of the Borromeo family, which owns the lake. According to press reports the guest list including Henry Kissinger, Former U.S. Secretary of State and National Security to former President Richard Nixon; Michel Platini, president of the Union of European Football Associations; fashion superstar Valentino Garanani, wealthy Australian model Elle Macpherson, and "technocrat" Mario Monti, Italian Prime Minister from 2011 until a couple of months ago.
These are a few of the people who move their money around the globe in a never ending search for greater profit, who close plants in one country and move to lower wage areas abroad, who try to weaken or smash labor unions wherever they can, and have their hands in the pockets of politicians across the planet.
Last month, thousands of people protested in Rome against austerity policies and high unemployment, urging new Prime Minister Enrico Letta to focus on creating jobs to help pull the country out of recession."We hope that this government will finally start listening to us because we are losing our patience," stated Enzo Bernardis, who joined the sea of protesters waving red flags and calling for more workers' rights and better contracts.
Italy is in a recession and unemployment has skyrocketed with youth unemployment at around 38 percent. "We can't wait anymore" and "We need money to live" were among slogans on banners held up by the crowds.
Labor leaders told the media that Letta needed to shift away from the austerity agenda pursued by former prime minister Monti, who Reuters reported "introduced a range of spending cuts, tax hikes and pension reform to shore up strained public finances."
"We need to start over with more investment. If we don't restart with public and private investments, there will no new jobs," said Maurizio Landini, secretary-general of the left-wing metalworkers union Fiom.
"This government will last a very short time," said demonstrator Marco Silvani. "What we need is a new leftist party that fights for the rights of the people."
[
BlackCommentator.com Editorial Board member and Columnist Carl Bloice is a writer in San Francisco, a member of the National Coordinating Committee of the Committees of Correspondence for Democracy and Socialism and formerly worked for a healthcare union. Bloice is one of the moderators of Portside. Other Carl Bloice writing can be found at leftmargin.wordpress.com
 ]