Dispatches from the Culture Wars - Matinee Idols edition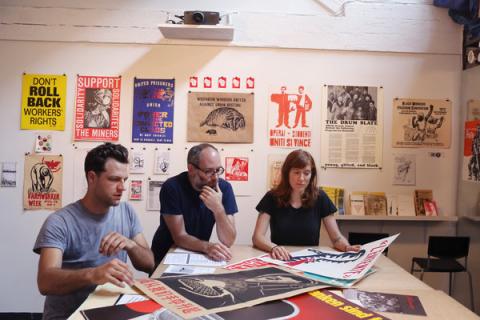 Kevin Caplicki, Josh MacPhee and Molly Fair at the Interference Archive., Michael Appleton for The New York Times
By Maya Lau
July 19, 2013
The posters, old and curled, shouted messages of women's liberation, Latin American solidarity and the struggle against apartheid.  One by one, Molly Fair flattened them on the table. She had in her hands a screen print, dated Feb. 22, 1987, commemorating Malcolm X - "Our Shining Black Prince." Another pictured Sonia Sanchez, a poet active in the civil rights movement. "That's pretty cool," Ms. Fair said, seeing Ms. Sanchez's signature.
The materials, over 200 posters, had been donated to the Interference Archive in Gowanus, Brooklyn, by Alexis De Veaux, an author, poet and political activist. They joined thousands of colorful objects - posters, fliers, zines, stickers, T-shirts, books, newspapers, games, videos - that tell the story of radical political movements in the United States and abroad.
"There are no white gloves here," Josh MacPhee, one of the founders, said. "Anyone can come in and take something off the shelves and use it."
Marc Anthony Addresses All-Star Game Viewers Complaints That He's Not American
By Kacy Capobres
July 18, 2013
Fans of America's favorite pastime were not thrilled to see Marc Anthony sing "God Bless America" during the eighth inning of Tuesday's MLB All-Star game.   Much like when mariachi sensation Sebastien de la Cruz sang the national anthem at the NBA Finals last month, viewers of the ESPN telecast were confused as to why a "Mexican" was chosen to sing the patriotic song.
However, the people calling out Anthony obviously were unaware that not only is he not Mexican, he was actually born in New York City.   "Let's get this straight," Anthony retorted, " I was born and raised in New York. You can't get more New York than me."
While many fans expect athletes playing for U.S. teams to speak English, it may surprise them to hear that according to numbers provided by MLB, 27 percent of the league is currently Latino.
The Inconvenient Image of Dzhokhar Tsarnaev
By Ian Crouch 
July 17, 2013
The magazine cover retains its unique cultural power-to amuse, to inform, to agitate, or, as is the case with the forthcoming August 1st issue of Rolling Stone, to enrage. That cover, unveiled on Tuesday night, features a photographic self-portrait of the Boston Marathon bombing suspect Dzhokhar Tsarnaev, who last week pleaded not guilty to thirty charges, including using a weapon of mass destruction to kill, and could face the death penalty for his alleged role in the April attack.
The full article was posted on Wednesday afternoon, two days earlier than originally planned, but public opinion regarding it, and the issue in which it appears, was already fixed earlier in the day.  The Rolling Stone article is about the still largely mysterious backstory of a young man who transformed, in what appears to be a short amount of time, from a seemingly normal college student into an alleged terrorist. The facts of his life are important, the larger social implications of his biography are important-and so this story has the potential to be a valuable contribution to the public record and to the general understanding of one of the most serious incidents of domestic terrorism in American history.
Newsroom Diversity: A Casualty of Journalism's Financial Crisis
By Riva Gold
July 9, 2013
The American Society of News Editors (ASNE) recently released its annual study of newsroom diversity. The results only confirmed what many who have lived through the industry's deep recession have already experienced: a steady decline in minority journalists and stagnation in prior progress. Despite claims by news organizations that they value and promote diversity, the numbers in this year's study show 90 percent of newsroom supervisors from participating news organizations were white.
At a time when non-whites make up roughly 37 percent of the U.S. population, the percentage of minorities in the newsroom has fallen to 12.37 percent from its 13.73 percent high in 2006, but the picture looked much worse -- down 5.7 percent -- for minorities.*   This means that the media is getting whiter as the country is getting browner.  Fewer minorities are getting the opportunity to work in news, and news organizations are losing their ability to empower, represent, and -- especially in cases where language ability is crucial -- even to report on minority populations in their communities.