Landmark Decision: Judge Rules NYPD Stop and Frisk Practices Unconstitutional, Racially Discriminatory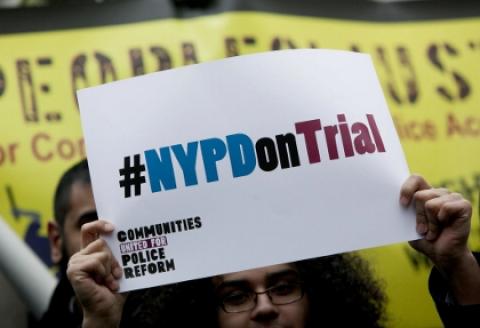 Judge rips NYPD stop-frisk policy, USA Today / Allison Joyce, Getty Images
Orders Independent Monitor and Community Input on Remedies
Rights Group, Activists Urge City to Forego Appeal, Make Real Change
In a landmark decision today, a federal court found the New York City Police Department's highly controversial stop-and-frisk practices unconstitutional. In her thorough, 198-page ruling, Judge Shira Sheindlin found the NYPD's practices to violate New Yorkers' Fourth Amendment rights to be free from unreasonable searches and seizures and also found that the practices were racially discriminatory in violation of the Equal Protection Clause of the Fourteenth Amendment. To remedy the widespread constitutional violations, the judge ordered a court-appointed monitor to oversee a series of reforms to NYPD policing practices and also ordered a Joint Remedial Process which will solicit input from a variety of stakeholders, including New York communities most directly affected by policing. The court's ruling follows a 10-week trial that concluded on May 20. The class action lawsuit, Floyd v. City of New York, was brought by the Center of Constitutional Rights (CCR), and the law firms of Beldock, Levine, and Hoffman and Covington & Burling, LLP.
Said CCR Senior Staff Attorney Darius Charney, "This historic victory is the result not only of our 14 years of litigation, but of decades' worth of efforts by activists, grassroots and legal organizations, and affected communities. The NYPD is finally being held to account for its longstanding illegal and discriminatory policing practices. The City must now stop denying the problem and partner with the community to create a police department that protects the safety and respects the rights of all New Yorkers."
In 2011, the NYPD reported a record 685,724 stops -- a 600 percent increase since Raymond Kelly took over as NYPD Commissioner in 2002. Eighty-four percent of those stopped were Black or Latino, and 88 percent of the people stopped were neither arrested nor received summonses. Despite the stated purpose of the policy, weapons and contraband were recovered less than 2 percent of the time.
In concluding that the City is liable for a widespread pattern and practice of stops and frisks in violation of the Fourth Amendment rights of all New Yorkers, the Court explained:
"[The City has] received both actual and constructive notice since at least 1999 of widespread Fourth Amendment violations occurring as a result of the NYPD's stop and frisk practices. Despite this notice, they deliberately maintained and even escalated policies and practices that predictably resulted in even more widespread Fourth Amendment violations. . . . The NYPD has repeatedly turned a blind eye to clear evidence of unconstitutional stops and frisks." 
The court found the NYPD guilty of violating both the Fourteenth Amendment, which prohibits racially discriminatory policing, and the Fourth Amendment, which prohibits unreasonable searches and seizures.
Said co-counsel Jonathan Moore of Beldock, Levine and Hoffman, "The Court correctly recognized that the City's unconstitutional practices date back to at least 1999, and that the overwhelming evidence at trial demonstrated that the City expressly relies on race  -  not reasonable suspicion  -  to make decisions about whom to stop and frisk. The opinion sends a strong, national message that racial profiling is unconstitutional as well as devastating to communities of color."
The Court also concluded that powerful evidence at trial proved the City intentionally discriminates against Black and Latino New Yorkers:
"Under the NYPD's policy, targeting the `right people' means stopping people in part because of their race. Together with Commissioner Kelly's statement that the NYPD focuses stop and frisks on young blacks and Hispanics in order to instill in them a fear of being stopped, and other explicit references to race . . . there is a sufficient basis for inferring discriminatory intent." 
The Floyd case, filed in 2008, stems from the earlier racial profiling case,
Daniels, et al. v. City of New York, et al
. that led to the disbanding of the infamous Street Crime Unit and a settlement with the City in 2003.
To read today's decision and learn more about the case,
visit
.
[The Center for Constitutional Rights is dedicated to advancing and protecting the rights guaranteed by the United States Constitution and the Universal Declaration of Human Rights. Founded in 1966 by attorneys who represented civil rights movements in the South, CCR is a non-profit legal and educational organization committed to the creative use of law as a positive force for social change.]
Synopsis
Floyd, et al. v. City of New York, et al. is a federal class action lawsuit filed against the New York City Police Department (NYPD) and the City of New York that challenges the NYPD's practices of racial profiling and unconstitutional stop-and frisks. These NYPD practices have led to a dramatic increase in the number of suspicion-less stop-and-frisks per year in the city, with the majority of stops in communities of color.
On August 12, 2013, a federal judge found the New York City Police Department (NYPD) liable for a pattern and practice of racial profiling and unconstitutional stop-and-frisks in a historic ruling.
CCR issued the following statement: "Today is a victory for all New Yorkers. After more than 5 million stops conducted under the current administration, hundreds of thousands of them illegal and discriminatory, the NYPD has finally been held accountable. It is time for the City to stop denying the problem and work with the community to fix it." 
CCR has joined with a movement of community members, lawyers, researchers and activists to launch an unprecedented campaign to end discriminatory policing practices in New York.
Communities United for Police Reform
(CPR) is a campaign that promotes public safety and policing practices based on cooperation and respect - not discriminatory targeting and harassment. It includes a number of community-based, legal and advocacy organizations such as the Justice Committee, Make the Road-NY, New York Civil Liberties Union, Picture the Homeless and Bronx Defenders.
Status
On August 12, 2013 the Judge issued two rulings:
For more information:
CONTACT:
David Lerner, Riptide Communications, 212.260.5000