Bill de Blasio's Primary Finish a Win for Blacks, Progressives and New York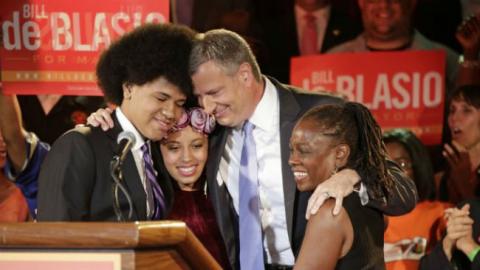 New York City Democratic mayoral hopeful Bill de Blasio embraces his son Dante, left, daughter Chiara, second from left, and wife Chirlane, right, after addressing supporters at his election headquarters after polls closed in the city's primary election, AP Photo/Kathy Willens
Call it "afro-mentum." Call it the dawning of the Age of Aquarius. Either way, Bill de Blasio's sweeping victory in the New York Democratic primary for mayor is a hint of change progressives can believe in.
De Blasio won every age group, religious faction and income group, both men and women, and every borough, to take just over 40 percent of the vote, technically enough to avoid a run-off, though second place finisher Bill Thompson is not done fighting yet.
He won among  women and gay voters, despite the presence of a gay, female contender, Christine Quinn, the city council leader, who was seen as too close to Bloomberg — and in every borough, and every pocket of the city with the exception of some enclaves of the very rich like the Upper East Side and Upper West Side, which sided with Quinn (though she did lose Chelsea, one of the city's oldest and wealthiest neighborhoods). He tied Bill Thompson, the only African-American in the race, overall at 42 percent of the vote, by winning black women 47 percent to 37 percent, and losing among black men 49 percent to 36 percent. And he won Hispanic men and women, white women with 36 percent, and 46 percent of white men. For Democratic primary voters, at least, de Blasio was the ultimate uniter.
And he ran an unabashedly progressive campaign, vowing to raise taxes on the rich, end the emphasis on "stop-and-frisk" policing, stopping a string of community hospital closures and working to make New York housing more affordable for ordinary people — an anathema to a city overtaken by mass gentrification over the last 20 years. For that, he was rewarded with a commanding 50 percent of the vote of very liberal voters, and 34 percent of those describing themselves as "somewhat liberal." He lost moderate voters to Thompson by 3 points.
More importantly, de Blasio's independence, and the inability of the big city papers, his well-funded rivals and their institutional backers, or the Michael Bloomberg media and cash machine to stop or even slow his late and sudden rise, signals a potential end to a period in the Big Apple's history dominated by two pugnacious mayors who put the city squarely in the service of the rich, and who cast all of the blame for the city's ills on squeegee men and black teenagers. Or to put it in Bloombergian terms, it's the rich people who pay the bills, people, so all you 47 percenters bow down and say thank you.
De Blasio, the city's public advocate, triumphed with a great deal of help from his attractive, multi-cultural family: his African-American wife, Chirlane (which couldn't have hurt him with black women voters), their adorable, confident and quirky daughter Chiara, for whom Tuesday was her first chance to vote, and particularly their son Dante, with his tremendous, picture-perfect and sky-high Afro. Dante was getting major credit on Twitter on election night, with New York Times columnist Charles Blow tweeting before the final returns came in that the father might have to extend his curfew indefinitely.
Many credit the campaign commercial starring the 15-year-old with permanently turning the tide for de Blasio. Dante became the physical embodiment of the change his father could deliver — after all, as a young black man, he was precisely the kind of person Michael Bloomberg and police commissioner Ray Kelly's prized "stop-and-frisk" regime was likely to target, before it was knocked down by a federal judge this month, sending Hizzoner directly over the edge.
Contrast to Bloomberg made a difference
Beyond the aesthetics of his family, it was de Blasio's first-out-of-the gate declaration of opposition to "stop-and-frisk" that likely helped him most with black voters, who de Blasio won last night according to exit polls,
For Thompson, the city's former comptroller, Tuesday was his second bitter pill in five years — he lost to Bloomberg for mayor in 2009. Thompson joined the anti-stop-and-frisk bandwagon, with a surprise statement on Trayvon Martin at a black church in August, but his commitment to ending the practice seemed half-hearted (and tainted by his strong support from the police union), as did his candidacy, which lacked the charisma New Yorkers are accustomed to.
From Fiorello LaGuardia, who reigned during the New Deal era, to John Lindsey, who in the mid-1960s doubled as a Good Morning America guest host, to the string of colorful mayors who led during the racially divisive years between the late 1970s and 1990s, including the pugnacious Ed Koch, the city's first and (so far) only black mayor, David Dinkins, and the divisive Rudy Giuliani, who kicked off the "stop-and-frisk" era with the nightmare for black New Yorkers known as "Giuliani Time," Gotham prefers its mayors with personality. (As someone who lived in New York City during "Giuliani time," I can attest that "personality" is no substitute for decency, and that era is not missed by many African-Americans.)
De Blasio triumphed by presenting the clearest contrast to Bloomberg, whose grandiose, authoritarian style has worn many New Yorkers out, even as he gets praise for standing strong on national issues like gun control. In the closing weeks of the campaign, Bloomberg had a genuine de Blasio meltdown, accusing the candidate of running a racist campaign just for showing his kids' faces on TV, proving to any doubters that de Blasio's real crime was to be the most un-Bloomberg of them all, and giving many progressives even more reason to support him.
Without a big, overarching issue to cloud the race — the crime surge that swept Giuliani past David Dinkins and into Gracie Mansion in 1994, or the 9/11 terror attacks that rocked downtown Manhattan and helped keep City Hall in Republican (turned Independent) hands with Bloomberg in 2002 — New York voters were free to vote purely on personality and issues. And progressives can feel heartened that the most authentically liberal candidate won.
Clearly, the race isn't in the bag — since de Blasio's progressive stances could send wealthy liberals among the city's dominant Democratic voters into the arms of the Republican candidate, Joe Lhota, who ran the Metropolitan Transportation Agency (think subway, and then try and feel good about him), and was an aide to Giuliani (ditto). But Lhota got fewer primary votes on the Republican side than Anthony Weiner, who finished fifth.
Bloomberg could choose to throw the platinum-veneered kitchen sink at de Blasio in the general election to try and push Lhota through, though that could further aide de Blasio among New Yorkers who are ready to wrest the crown and scepter out of King Soda Ban's grasp. And Bloombergian bloviation, if it's of the quality of his "race" and stop-and-frisk comments, could actually be the best thing that ever happened to the de Blasio campaign.
So while it's not over, de Blasio's primary success signals the possibility of a progressive New York that's moving on from the ritual humiliation of black men, the fixation on terrorism, and the serial displacement of ordinary working people in favor of the Wall Street barons in top hats. It feels like the ordinary city dweller might actually have a shot, and a friend in City Hall.
Maybe that's a pipe dream, but watching that attractive, multi-racial family standing on stage celebrating victory in the Democratic primary Tuesday night, it sure felt like afro-mentum.