Government Crackdown on Greek Fascists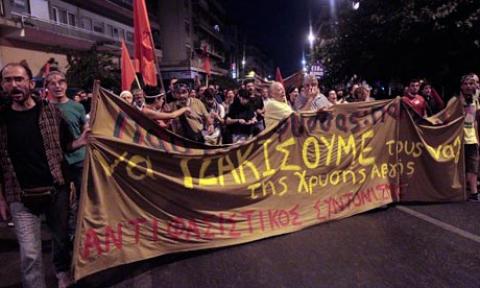 Antifascist demonstrators hold a banner that reads 'crash the Nazism' at a demonstration in Athens on 25 September., Orestis Panagiotou/EPA
Golden Dawn Leader Charged With Heading A Criminal Gang
By Helena Smith
The Guardian
http://www.theguardian.com/world/2013/sep/28/greece-golden-dawn-leader-…
28 September 2013
The leader of Greece's Golden Dawn party, widely viewed as Europe's most violent political force, appeared in court on Saturday night on charges of heading a criminal gang after police mounted an unprecedented crackdown on the neo-fascist party, arresting Nikos Michaloliakos and other key members of his organisation.
After a police operation in which anti-terrorism officers stormed the homes of Golden Dawn politicians across Athens, Michaloliakos and five of his MPs were seized. Fifteen other senior party activists, including a female police officer, were taken into custody accused of fomenting violence as members of a criminal organisation. Reading from a nine-page charge sheet, a public prosecutor accused the far-rightists of murder, extortion and money laundering.
The crackdown was hailed as "a historic day for Greece and Europe" by the public order minister, Nikos Dendias, who oversaw the operation, known only to three security officials before it was launched a little after dawn. "Golden Dawn tried to test the endurance of democracy," he said in a televised address, insisting that the inquiry into the party's illegal activities would continue apace. "Today it got an answer from state justice."
Earlier in the day, following emergency talks with the prime minister, Antonis Samaras, the justice minister, Charlambos Athanasiou, promised "just justice" for those who had been arrested. "Justice has moved with decisiveness and transparency," Athanasiou told reporters gathered outside the prime minister's city centre office. "I want to say for all those who have been arrested, if they are sent to trial there will be just justice."
By nightfall, authorities said 25 counter-terrorism units were still trying to track down the party's deputy leader, Christos Pappas, who is accused in a strict hierarchy of command of jointly running a gang that, masked as a political organisation, had spawned terror on the streets of Greece. At least 11 others were also being sought, police officials said, citing "incontrovertible evidence" from intercepted telephone calls.
Michaloliakos was arrested in his Athens home at 7am. Greek media quoted the politician as telling police: "What you are doing is not right. The truth will shine," as he was taken into custody in handcuffs. Hundreds of Golden Dawn supporters gathered outside Athens's police headquarters spurred on by a text message reportedly sent by the party to "support our moral and just struggle against the corrupt system".
Michaloliakos and his chief lieutenant, the party's spokesman, Ilias Kasidiaris, were inside the building as the supporters massed. Only on Friday, Kasidiaris, who became infamous when he assaulted two female leftwing MPs on live TV last year, had openly joked that "we are here to hand ourselves in", as the party launched a lawsuit against Pasok, the junior leftwing party in Samaras's fragile coalition. Police officials said a number of weapons had been discovered in the crackdown. Three unlicensed guns allegedly found in Michaloliakos's home were to undergo ballistics tests, and tens of thousands of euros was also apparently found, the media reported.
Greece's third biggest party, Golden Dawn, has seen its popularity soar on the back of desperation. The organisation is accused of making violence its calling card, and human rights groups hold it responsible for hundreds of attacks on dark-skinned immigrants in the three years since the debt-stricken country plunged into crisis.
Since being elected to parliament with 18 MPS and 7% of the vote for the first time in June last year, the party has been linked to a wave of violence directed mostly against migrants, gay people and leftists on Greece's increasingly fractious political scene. The fatal stabbing this month of Pavlos Fyssas, a hip-hop star popular among anti-fascists, prompted widespread outrage and galvanised the governing coalition into taking action.
Amid revelations that Golden Dawn had set up hit squads with the help of commandos in the special forces and openly colluded with the police, the authorities launched a far-reaching inquiry into the group's activities.
Two senior police officers resigned and several officers were suspended after allegations of links with the party. More than a dozen Golden Dawn members, including the 45-year-old man who confessed to murdering Fyssas, were rounded up. Not since the collapse of military rule have MPs been arrested en masse. "This is without precedent in Greek political life," said a lecturer in constitutional law, Kostas Chrysogonos. "Authorities are acting within the law, but I also think it would have been constitutionally more correct if they had asked parliament to lift their [MPs'] political immunity first."
Even if the politicians are imprisoned pending trial, they will still retain their standing as MPs, experts said.
As he was hauled under armed guard from police headquarters to the court, Kasidiaris shouted: "Long live Greece. Nothing will bend us, nothing will frighten us." Previously he had told a TV show that "they can arrest us, they can put us in prison, but we will still be MPs. We are not going to go back even one step."
Samaras's shaky coalition has been applauded for its tough stance, with opinion polls showing a drop in support for Golden Dawn and a slight rise for his conservative New Democracy party, but there are fears the crackdown could ultimately damage the government.
The opposition leader, Alexis Tsipras, of the radical left Syriza party, said last week the party should be confronted "within the law, not outside it".
Before the crackdown Golden Dawn was polling at around 15%, prompting it to boast it had "more than a million" supporters in Greece. Michaloliakos warned last week that he might withdraw his 18 MPs from parliament, a move that threatened to unleash political instability in a country dependent on international rescue funds to survive.
The politician had also said that "mudslinging and slander" against his party would "open the gates of hell".
The Arrest of Golden Dawn's Leader Will Do Little to Counter Institutional Racism
The authorities in Greece have long been aware of this neo-Nazi group. So why are they only now taking action?
By Costas Douzinas, Hara Kouki and Antonis Vradis    
The Guardian
http://www.theguardian.com/commentisfree/2013/sep/29/arrest-golden-dawn-racism-greece
29 September 2013
Imagine an Athenian who went on an overseas trip for a couple of weeks and returned to the city on 28 September. The traveller left before Pavlos Fyssas's assassination, and the awakening of media and government to the neo-Nazi threat, leading to the arrest of Golden Dawn leader Nikolaos Michaloliakos and some of its MPs and supporters.
The initial reaction of the traveller to the crackdown would be jubilation mixed with surprise: the change in the authorities' attitude following Fyssas's murder was dramatic. And yet, the same authorities have had detailed information about the party's criminal activities for years. Racist violence is experienced daily and has been widely reported by international media, national and international NGOs and the EU commissioner for human rights. Indeed, racist violence had become normalised for many. Legal and political authorities were unwilling to take action; Greece's anti-racist law was never applied (an improved version was recently rejected in parliament); and perpetrators of racist attacks were offered impunity.
Less than a year ago, Nikos Dendias, the minister of public order, insisted that no link existed between the police and Golden Dawn, and threatened the Guardian with a libel suit when it reported that policemen tortured anti-fascists. Yet in the wake of Fyssas's assassination, Dendias was forced to launch an inquiry into such links. Several senior officers were sacked or suspended. A day after the assassination, 32 legal cases were filed against Golden Dawn including violent, even lethal incidents.
Our Athenian would be puzzled by the obvious questions: why did the authorities not step in earlier? Why are they stepping in now? Could it be because a Greek has been murdered?
Golden Dawn should have been designated a criminal gang and legally confronted a long time ago. This course of action would have been automatic in most European countries. After the murder, European politicians indicated their displeasure, with several suggesting that unless Greece confronts the neo-Nazis it should not assume the EU's rotating presidency in January.
But perhaps the main motive in the government's fluctuating response has been political calculation: until very recently senior rightwing politicians and commentators suggested that the rightwing New Democracy (ND) party should consider entering a coalition government with the neo-Nazis, if they became more "moderate". The government presented the left and anti-fascist movement as one of the two pro-violence "extremes", even though they resisted Nazism all those years.
This historically ignorant and morally perverse "theory of two extremes" was meant to instil fear and turn people away from the leftist organisations and grassroots movements resisting neo-Nazi attacks and supporting their victims. The ND/Pasok coalition government now hopes that the exposure of Golden Dawn criminality will attract its voters to their natural home.
And so, the feeling is bittersweet: even if delayed, the heavily publicised arrest of the Golden Dawn leadership will be a relief to many. To the city's migrants, who may find it easier to walk the Athenian streets, to homosexuals, leftists, to all anti-fascists to everyone resenting Golden Dawn's shameless entry into everyday life and in the country's politics.
Every dark-skinned person had to take precautions in Athens. Evil walked the streets.
Little has changed at the institutional level, however. The application of the criminal law to thugs will not change the widespread racism fuelled by the New Democracy-Pasok coalition government. It was Andreas Loverdos, a prominent Pasok member at the time, who likened Golden Dawn to a "Greek Hezbollah" because they are "active in the big issues" and "create trust".
It was Vyron Polydoras, a former New Democracy minister, who urged a coalition with them. And it was prime minister Samaras himself who declared, in March 2012: "Our cities have been occupied by illegal migrants; we will take them back." Sticking to its word, this government launched the ironically named hospitable Xenios Zeus operation, rounding up dark-skinned people and detaining undocumented immigrants in camps euphemistically named "holding centres".
The same government repealed the reform of the 2010 Greek citizenship law, the first to offer second-generation migrants a potential entitlement to citizenship. The government and authorities criminalised HIV patients and drug addicts; persecuted and illegally detained anarchists and anti-fascists; slashed salaries and pensions; saw youth unemployment rocket to over 60%; shut down hospitals; and pushed universities to the point of collapse. This is the great paradox of dismantling Golden Dawn: the same government which threatens democracy and indulges fascism gives itself democratic credentials for its supposed curbing of extremism.
Golden Dawn is both a political party and a gang – and outlawing political parties often proves problematic and ineffective. The law can prohibit, but it cannot eliminate, fascist ideas; these must be confronted politically instead. For ordinary people, the struggle against Golden Dawn is not limited to the welcome though theatrical arrest of its leadership. Anti-fascism is a political struggle about the kind of life we want to live. It is fought daily by citizens, activists, civil society groups and migrant communities. It is a battle for democracy, solidarity and social justice. It cannot be won unless the systemic injustice of austerity is defeated.