labor
Irish Doctors Strike to Protest Work Hours Amid Austerity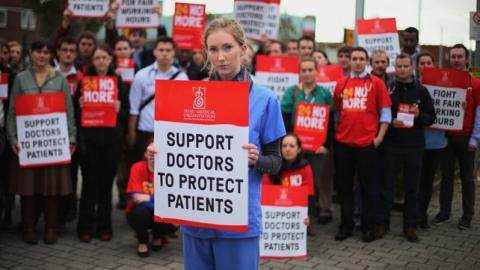 Hospital doctors demonstrating outside St James Hospital, Dublin,RTE News
DUBLIN—Irish doctors started a one-day strike at all of the country's public hospitals amid tight austerity budget measures, their first such action in 25 years.
The doctors, proportion of in hospitals, say that the government is forcing them to work dangerously long hours. The strike is a rare instance of action taken against the government employer, despite pay and pension cuts imposed on more than 300,000 public-sector workers in recent years following the country's international bailout.
The Irish Medical Organization, which represents about 3,000 doctors working in Irish hospitals, said they would provide only limited emergency cover at 51 hospitals, marking an escalation in their long-running dispute. Though doctors will cover emergency incidents, the dispute will result in the cancellation of 15,000 hospital appointments. Their day of action will last from 7 a.m. local time Tuesday to midnight.
Emergency rooms are open, but delays are expected, the government's Health Service Executive said.
The medical organization said the doctors are routinely required to be available for work for stretches of up to 36 hours straight, and can work 100 hours a week, breaching European employment law and putting patients' safety at risk. The government doesn't dispute that some of the shifts may violate European law, and has been in negotiations with the IMO for more than two years to identify ways to reduce hours.
A health agency spokeswoman declined to comment on the medical group's claim that working hours were endangering patients, and said the talks with doctors were making progress.
The government is "fully committed to achieving a maximum 24-hour shift" and is working toward full compliance with European work-time laws, she added.
Last week, members of a large high school labor union, the Association of Secondary Teachers of Ireland, or ASTI, started limited industrial action against government plans to cut pay and benefits by withdrawing cooperation, including refusing to attend meetings scheduled outside normal school hours.
ASTI was one of the few unions that broke ranks with a new pay deal eventually struck between public-sector workers and the government in June following on-off negotiations. That agreement seeks to make additional pay-bill savings through 2015, but without forcing layoffs on public-sector workers.
The strikes are a reflection of growing impatience with austerity among public-sector workers, as the government prepares a budget for 2014 that will inflict a seventh year of spending cuts and tax increases.
Voters also appear to be growing weary of austerity, on Friday rejecting a proposal by the government to close down the upper house of the legislature, which was seen by many analysts as a protest against the government, rather than a vote for the senate.
Irish governments have sought to control costs in response to the country's worst-ever property and banking crisis that started more than five years ago. The country is obliged by its bailout with the European Union and International Monetary Fund to cut its public sector pay bill and reduce public-sector jobs over several years.
The government next week details its budget for 2014. Irish Finance Minister Michael Noonan on Tuesday said the budget will feature cuts of about €2.5 billion ($3.4 billion), much less than the €3.1 billion in tax increases and spending cuts urged by the country's international creditors.
"We can achieve our targets by not going the full way to €3.1 billion because there are other savings in the system which can be reckoned as part of the adjustment," he told reporters before attending a government meeting that will discuss details of next week's budget.
Ireland is obliged to continue cutting its budget deficit, a legacy of its huge property and banking crash that started more than five years ago, to below 3% of its annual economic output through 2015.