Media Bits & Bytes - New Stuff edition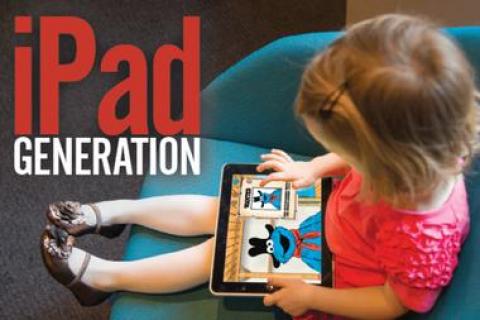 Cover story on the touch-screen generation in the Oct. 21 issue of The Christian Science Monitor Weekly, The Christian Science Monitor / Ryan Heffernan Photography/Sesame Workshop
Toddlers on Touch Screens: Parenting the 'App Generation'
By Stephanie Hanes, Correspondent
October 20, 2013
The Christian Science Monitor
A 2011 Nielsen survey found that 8 out of 10 parents with a tablet let their under-12-year-old children use it, while the nonprofit Common Sense Media released a study that same year showing that 39 percent of all children ages 2 to 4 had used some sort of mobile touch-screen device at home.   Indeed, the Joan Ganz Cooney Center at Sesame Workshop found in 2012 that toddler and preschool apps were the fastest growing category of educational apps, and there is little, if any, regulation. And in 2012 the US Federal Trade Commission reported continuing privacy concerns with children's apps.
What Happened to the Internet During the Government Shutdown?
By Kevin Taglang  
October 18, 2013
Benton Foundation
Meeting in Montevideo, Uruguay, the leaders of organizations responsible for coordination of the Internet technical infrastructure globally recognized that the Internet and World Wide Web have been built and governed in the public interest through unique mechanisms for global multistakeholder Internet cooperation, which have been intrinsic to their success. OK, all good so far. But the leaders went on to discuss "the clear need to continually strengthen and evolve these mechanisms, in truly substantial ways, to be able to address emerging issues faced by stakeholders in the Internet." And that's what's raising eyebrows.
The main criticism of Internet oversight by the Internet Corporation for Assigned Names and Numbers (ICANN) has revolved around it being an outgrowth of, and influenced continuously by, the U.S. government - and all the problems inherent in such single-sided oversight. ICANN was intended, over time, to assume all Internet governance responsibilities and eventually become fully autonomous. But the U.S. government has been slow to allow this and the attendees were explicit that resistance to continued US control was a "significant manifestations of the fallout from the Snowden revelations about NSA spying on the global Internet..."
'60 Minutes'' Shameful Attack on the Disabled
By Michael Hiltzik
October 7, 2013
Los Angeles Times
[Thanks to Ron Blum for referring this item to Portside. - moderators]
Is it possible for a major news organization to produce a story about the Social Security disability program without interviewing a single disabled person or disability advocate?
That's the experiment "60 Minutes" conducted Sunday. The result was predictably ghastly.
The news program's theme was that disability recipients are ripping off the taxpayer. Anchor Steve Kroft called the program "a secret welfare system... ravaged by waste and fraud." His chief source was Sen. Tom Coburn, an Oklahoma Republican with a documented hostility to Social Security. Coburn has a report on the disability program's purported flaws due out Monday. Good of "60 Minutes" to give him some free publicity.
Stories like the "60 minutes" and NPR pieces perpetuate the false image of disability recipients as the undeserving poor, slackers and frauds. That will make it easier for wealthy lawmakers like Coburn to hack away at the program in its time of need.

Why Glenn Greenwald's New Media Venture is a Big Deal
By Henry Farrell
October 17, 2013
The Monkey Cage/Washington Post
Glenn Greenwald, who has published many of the most important scoops from the Edward Snowden leaks, is leaving The Guardian and setting up a new media venture with long-time journalist Laura Poitras and Jeremy Scahill from The Nation. The venture is being funded by eBay founder Pierre Omidyar, who has suggested that he's prepared to invest more than $250 million in the new venture.
The venture has the potential to become the kind of news source that can turn information into knowledge. Yet it doesn't sound as if it'll be bound by the kinds of political relationships that most newspapers are embedded in. The Columbia Journalism Review gets this best when it describes the venture as I.F. Stone's Weekly, if it had been lavishly funded by a friendly billionaire.
If this works, it is likely to change the relationship between information, knowledge and politics in some very interesting ways. Most obviously, it will make it even harder for the U.S. government to control the politics of leaks by pressuring newspapers not to publish stories that it thinks hurt the national interest.
An Unfinished List of Ventures in Journalism You Should be Watching (and why)
by David Bauer
Oktober 20, 2013
DavidBauer.ch
One thing that makes current times so interesting for journalism is that everybody is still looking for a model that will work for journalism in the 21st century. Given the speed of technological change and the complexity of what is now the media landscape, it's unlikely we'll ever find a model that will work for more than a few years for more than a few publishers. The hype around native advertising or metered paywalls is primarily a manifestation of the hope for silver bullets.
There will have to be lots of experiments.  So here's a  partial list of journalism ventures worth watching closely, each for a different set of reasons.  My view is inevitably biased towards European and English language ventures, so I'm especially glad if you point me to ventures from Africa, South America and Asia.
Stop the Media Giants from Devouring Local TV. Share This Now!
Free Press has released a new infographic, updating the latest on the consolidation TV ownership