Socialists Made Strong Showing on Election Day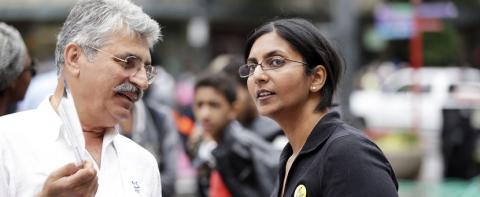 Seattle City Council candidate Kshama Sawant, right, speaks with a restaurant worker during a demonstration in Seattle, Aug. 1, 2013., MSNBC / Elaine Thompson/AP photo
Socialists Made Strong Showing on Election Day
By Ned Resnikoff
November 6, 2013
MSNBC
It's a far cry from a revolution, but socialists had a surprisingly strong showing in two city council races on Election Day, November 5. In Seattle, Kshama Sawant picked up 46% of the vote while challenging 15-year Democratic incumbent Richard Conlin. And in Minneapolis, Ty Moore is only 131 votes behind Democratic candidate Alondra Cano.
While Sawant and Moore both trail their opponents, neither race has been officially called. And even if they both lose, they will have received an unusual amount of grassroots and institutional support for two avowedly anti-capitalist candidates running in major American cities. Additionally, they both received major labor union endorsements, and Moore even managed to raise more money than the Democrat in the race.
"This is an indication of how eager people are for real change," Sawant told msnbc. Both she and Moore ran as members of the Socialist Alternative party, an organization alternatively described as Trotskyist or democratic socialist.
"I think the situation across the country is ripe for this, and our organization Socialist Alternative. What's unique is our organization took the initiative," said Moore. "I think in the post-Occupy world, with the political discrediting of most capitalist institutions, including the two major parties, Wall Street, the corporate-owned media - no offense intended - there's openness to a more bold working class challenge to the two-party system."
Among the issues Moore campaigned on: A $15 minimum wage, public ownership of Minneapolis utilities, and declaring housing to be a human right. Sawant also focused on low wages and affordable housing as key issues, and was a vociferous supporter of the SeaTac, Wash. referendum that raised that town's minimum wage to $15 per hour.
Both candidates have a history of grassroots activism outside of the electoral process. Sawant is a member of the teachers union AFT Local 1719, one of six unions to endorse her candidacy. Moore is a cofounder of the anti-foreclosure group Occupy Homes; his campaign was endorsed by the powerful labor organization SEIU Minnesota State Council. Sawant also received the support of a handful of Democratic Party activists under the banner "Democrats for Sawant," and the endorsement of Seattle alt-weekly The Stranger.
"In fact, we created quite a stir within the labor movement in Seattle and the Democratic Party," said Sawant. Her campaign says that it managed to raise $110,000 entirely from individual donors.
Bhaskar Sunkara, editor and publisher of the socialist publication Jacobin Magazine, said that a younger generation of voters might be slightly more sympathetic to the socialist cause.
"In general, a lot of young people are demographically a lot less white, a lot of us are first generation or immigrants coming from places where the word has less of a taboo," he said. "And the Cold War is over."
In fact, young people between the ages of 18 and 29  have a slightly more favorable view of the word "socialism" than "capitalism," according to a 2011 Pew Poll. Socialist magazines like Jacobin Magazine and Dissent have developed a small cult following among millennials, and their young editors have popped up in mainstream news outlets like the New York Times.
Even when wielded by Republicans as an epithet, the "s" word, as Sunkara calls it, doesn't seem to carry as much weight as it used to. In New York, Democrat Bill de Blasio's campaign was barely affected by repeated accusations that he was a socialist or Communist sympathizer. De Blasio trounced Republican Joe Lhota on Tuesday with a 49% margin of victory.
"In some ways, I think the right wing has done us a favor" by accusing Democrats of being socialists, said Moore.
But Sunkara cautioned against overestimating the meaning of Moore and Sawant's campaigns, arguing that they probably do not herald "the coming tide of some third-party push."
"I think if anything, these are just kind of exceptional examples that we can maybe turn into a generalized trend over the course of years," he said.
"Our campaigns have shown in a couple small areas how the anger at the present system can be translated into an electoral challenge," said Moore, "but I don't think it will be only electoral." He highlighted the recent fast food strikes as an example of crucial non-electoral organizing.
Sawant said she believed campaigns like hers would spread, but "it's not an automatic thing."
"Especially young people of color are feeling a deep sense of betrayal," said Sawant, herself an Indian-born immigrant. "What have they gotten from society? And they are looking for an alternative, something that speaks to them."
Conlin Lead Over Sawant Continues to Narrow - At Rate Where She Will Now Win Race for City Council
by Clay Showalter
November 07, 2013
VoteSawant.org
Seattle City Council candidate Kshama Sawant today increased the rate at which she is drawing closer to incumbent Richard Conlin, in the Seattle City Council Position 2 race. Contrary to Conlin's own claim of victory and the reports of many local media outlets, post-election returns now clearly indicate that Sawant has a good chance of beating Conlin in the Position 2 race.
The new numbers include 6,950 new votes for Sawant (52.79 percent) and 6,174 new votes (46.90 percent) for Conlin, bringing the overall total to 56,313 (47.60 percent) for Sawant and 61,717 (52.17 percent) for Conlin with slightly less than 60 percent of ballots now counted. Sawant would win the election with 53 percent of remaining ballots in her favor (see below). The arc of support in later ballots is expected to continue to swing in Sawant's favor.
King County Elections has now released four tallies of ballots in three days. Increasingly, these releases will correlate with when voters sent in their ballots, with late votes counted correspondingly late in the process - thus, an increased total for a candidate over time indicates a late surge that can reasonably be expected to continue or strengthen as ballot-counting continues.

If we assume that 200,000 non-write-in votes will eventually be counted in this race, 59.01 percent have been counted so far. In order for Sawant to win (reach 100,001 votes), she would need to win 53.3 percent of the remaining ballots. She is nearing that percentage already, and the trend is clear as ballot releases continue. All of the remaining ballots will have been cast in the final days of the election, when the Sawant campaign was surging.
"This isn't over," Sawant reiterated. "The final result will clearly be very close. We are preparing for a recount if one is needed. Even as we prepare for future efforts, we are keeping a close eye on the unfolding election results."
The next ballot tally release by King County Elections will be tonight (Thursday) night at 8:30 PM, followed by Friday afternoon. The campaign will issue another update after tonight's numbers.
To schedule an interview with Sawant, contact Geov Parrish at 206-719-6947.