The Walmartization of Aerospace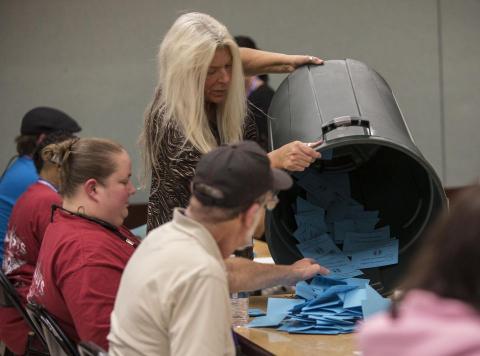 The giant aircraft manufacturer Airbus is charging its chief rival Boeing with densely cramming narrow seats in one of its new wide-body 777 planes in order to say it will accommodate 406 passengers in order to unfairly compete for sales with the European company's 350-seat A350-1000 jumbo model.
And here we thought that it was the airlines that were packing us into tight spaces in coach in order to reap extra profits by selling "extra leg room" to others willing to pay for the ability to unfold their laptops on the serving tray. Well, actually, we were right. The suggestion that the plane makers might themselves be shrinking available passenger space is just an indication of the cutthroat antics besetting the airlines and the aircraft industry as a whole.
The motive force here is profit. Just how strong the lust is to maximize it is well illustrated by what U.S.-based Boeing is trying to do to its workers in Washington State.
Boeing recently proposed to build the new 777X in Washington, possibly involving 10,000 jobs, if the 30,000 unionized machinists there would agreed to an immediate eight-year extension of their contract, now set to expire in 2019. The bosses also demanded that pension benefits be frozen at current levels, that additional healthcare cost be borne by the employees and that salary increases be limited to one percent every other year. They also insisted on a no strike pledge covering the next 11 years.
The bosses also made it clear that if their proposals were not agreed to they would consider moving operations to another location where people would make the planes for less. Washington State Boeing workers, members of the International Association of Machinists and Aerospace Workers union (IAM) rejected the proposal by a margin of 2 to 1.
As a result, Boeing said it would open the competition for the plant to cities in South Carolina, Alabama, California and Utah.
Here, we have on naked display the reality of contemporary capitalism: give the consumers as little as possible and charge them whatever the market will bear and compel the workers to produce more and better while compensating them as little as possible.
And, while you're at it, enable the top brass to rake off as much as possible. Boeing CEO James McNerney saw his total compensation package increase 20 percent last year for a total of $27.5 million.
The extraordinary thing here is that Boeing is not pleading hardship. The company is not threatening bankruptcy. It isn't even doing what bosses often do in such cases: claiming it will be unprofitable unless its concessionary demands are meet. Boeing posted a $3.9 billion net profit in 2012. So far this year the company stock price has risen 83 percent.
Furthermore, this week Boeing racked up orders that have been characterized as "the largest product launch in commercial jet history." Along with an order already in from Lufthansa, it has now agreed to supply the new planes to three airlines in the United Arab Emirates, Abu Dhabi and Qatar with a total initial price tag of nearly $100 billion.
Last week, Reuters reported that it had been told by IAM President Thomas Buffenbarger, that "Boeing had pushed hard for a quick contract extension in Washington because it worried that the development of the A350 was running about two years ahead of the 777X." No problem there. When the results of the behind-the-scenes bargaining were revealed at the Dubai Airshow, Boeing had sold 342 planes against the struggling Airbus' 142.
On Sunday in Dubai, CEO McNerney told the Financial Times, "We are starting here, but I think we see broad worldwide demand for the 777… I am highly confident that [the 777X] will be a big global success on every continent around the world."
Ari Paul, a lecturer at Columbia University's School of International and Public Affairs, wrote recently, "Boeing's stingy demands are part of a trend at companies where historically American capitalism has actually functioned fine for workers. In 2010, employees at an upstate New York factory making Mott's applesauce went on strike after its parent company, the Dr Pepper Snapple Group, which posted a $555 million profit the year before, demanded deep wage and benefit cuts on grounds that other companies in the region were paying less. In 2011, Verizon phone workers who maintain the vast landline system for the telecom giant went on strike when it asked workers to accept cuts on the grounds that nonunion workers at its wireless subsidiary were more responsible for company profits.
Ray Conner, head of Boeing's commercial aircraft business, told the media last week that the company would now have to decide where it wants to build the new plane in order to start deliveries in 2020. "What has happened with the IAM union is not going to impact anything we have to do with respect to what we have committed to our customers," he said.
Much of the commentary on the situation at Boeing – from unionists and outside observers – has tended to view with considerable skepticism the idea that the company would actually move operations out of state, given that it has, in Puget Sound, existing facilities and a trained and experienced workforce. A report by Jenny Brown on Labor Notes said, "Some analysts say moving 777X production to South Carolina or another state will be more disruptive to efficiency and quality than basing the program in Washington, where similar fuselages are already being produced. The very long composite wings for the new airplane are hard to transport if they're built far away." However, a veteran unionist I spoke to over the weekend cautioned, "A number of times in situations like this it's been said, 'Oh, they'd never leave' right before the employer packed up and moved."
A strong argument can be made that the conflict in Washington State involves far more than a local dispute over wages and benefits. Boeing appears determined to set the bar higher in its labor relations. As is the trend in much of labor negotiations these days, the bosses have simply decided that moving forward, workers are going to have to forfeit the medical and retirement benefits their unions have previously secured. To accomplish this, they may well be willing to move operations, at great initial cost, to areas where unions are weak or non-existent. In the U.S. today, that means relocating in "right to work" states in the South or Southwest.
I suspect the suggestion appearing in some media reports, that operations might be moved from Everett to Long Beach, California, where Boeing now builds the C-17 military transport aircraft at a unionized plant, are management's attempt to distract from that impression. Surely, the labor movement in California would be expected to resist transforming Southern California into a cheap labor location.
As the Machinist Union members were voting on the take-away contract, some began to refer to it as "the Walmartization of aerospace" and Dean Rutz of the Associated Press noted, "vultures circled, among them Gov. Rick Perry of Texas, who tweeted last week that his low-tax, low-wage state was ready to help Boeing."
"This is how the middle class dies, not with a bang, but a forced squeeze," wrote Timothy Egan in the New York Times (Nov. 14). "After a global corporation posts record profits, it asks the state that has long nurtured its growth for the nation's biggest single tax break, and then tells the people who make its products that their pension plan will be frozen, their benefits slashed, their pay raises meager. Take it or we leave. And everyone caves."
Egan continued, "It is not impelled, as the auto industry was five years ago, in the midst of bailouts and cutbacks. Boeing could afford to be generous, or at least not onerous. But it's easier to play state against state, the race to the bottom."
Carl Bloice is a writer in San Francisco, BlackCommentator.com Editorial Board member and columnist and a member of the National Coordinating Committee of the Committees of Correspondence for Democracy and Socialism. He formerly worked for a healthcare union. Bloice is one of the moderators of Portside. Other Carl Bloice writing can be found at leftmargin.wordpress.com.